Remembering Nipsey Hussle: Celebrities and Fans Mourn Death of Rapper and Philanthropist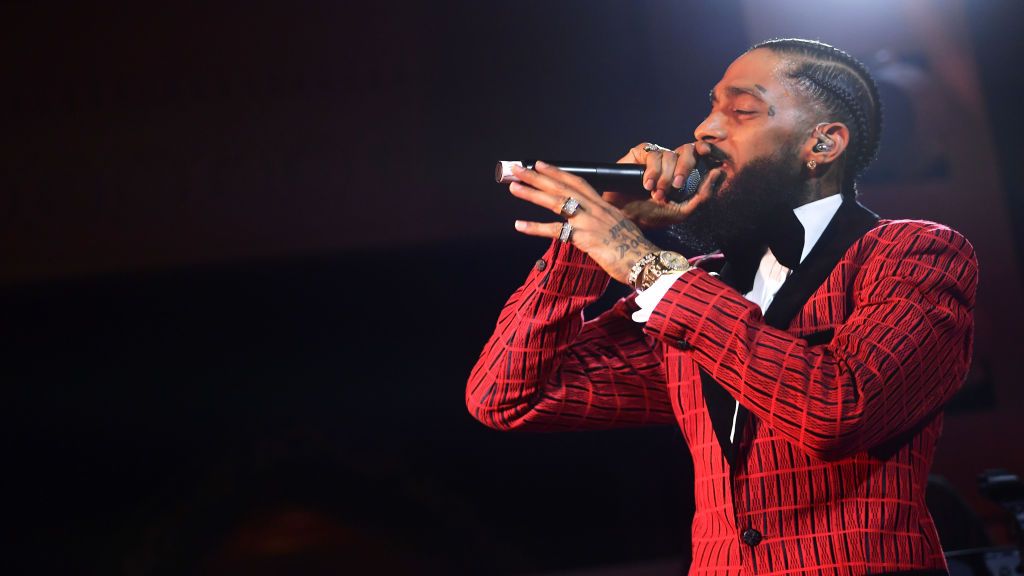 Celebrities and fans alike mourned the death of Nipsey Hussle. The West Coast rapper and philanthropist, whose birth name was Ermias Ashgedom, was shot multiple times outside his Los Angeles retail store, Marathon Clothing, on March 31. He was pronounced dead upon arrival at a local hospital.
Two other men were shot during the altercation; one was listed in stable condition, and the other declined medical treatment.
A veteran of the Los Angeles hip-hop scene, Hussle was a signed artist and representative of Roc Nation, Jay-Z's entertainment agency. His most recent album, Victory Lap, dominated the charts following its February 2018 release and landed him his first Grammy nomination for best rap album.
Some of the music industry's biggest stars shared their grief over Hussle's death on social media, including Drake, who revealed their plan to release another new song together in the summer. Drake and Hussle previously worked together on "Killers," a track off Hussle's 2013 mixtape Bullets Ain't Got No Name Vol. 3.1.
"My whole energy is just at a low right now hearing this," Drake wrote in an Instagram post late Sunday night. "You were having the best run and I was so happy watching from distance fam nobody ever talks down on your name you were a real one to your people and to the rest of us."
Rihanna, J. Cole, Chance the Rapper, A$AP Rocky, Vince Staples, 21 Savage and Wiz Khalifa also shared their condolences, while a number of Los Angeles public and government figures also spoke out on Hussle's death.
In addition to being one of Los Angeles' musical gems, Hussle was a prominent and active figure in his Crenshaw community. The 33-year-old was praised for developing a number of philanthropic projects for underserved inner-city youth, including his latest effort, Too Big to Fail, which provides a STEM and co-working space for young aspiring black entrepreneurs.
Los Angeles Police Commissioner Steve Soboroff noted plans he'd had to meet with Hussle just this week. Soboroff said he and Police Chief Michael Moore were supposed to discuss ways they could work together to stop gang violence and help children. "I'm so very sad," Soboroff tweeted Sunday night.
Meanwhile, fans paid tribute to Hussle by sharing songs, lyrics and quotes by the rapper on social media. The hashtag #NipseyHussleForever topped Twitter trends within hours of his passing and continued well into Monday.
See a few more reactions to Hussle's death below.