Nipsey Hussle Funeral: Lauren London Says She Feels the Rapper 'Everywhere'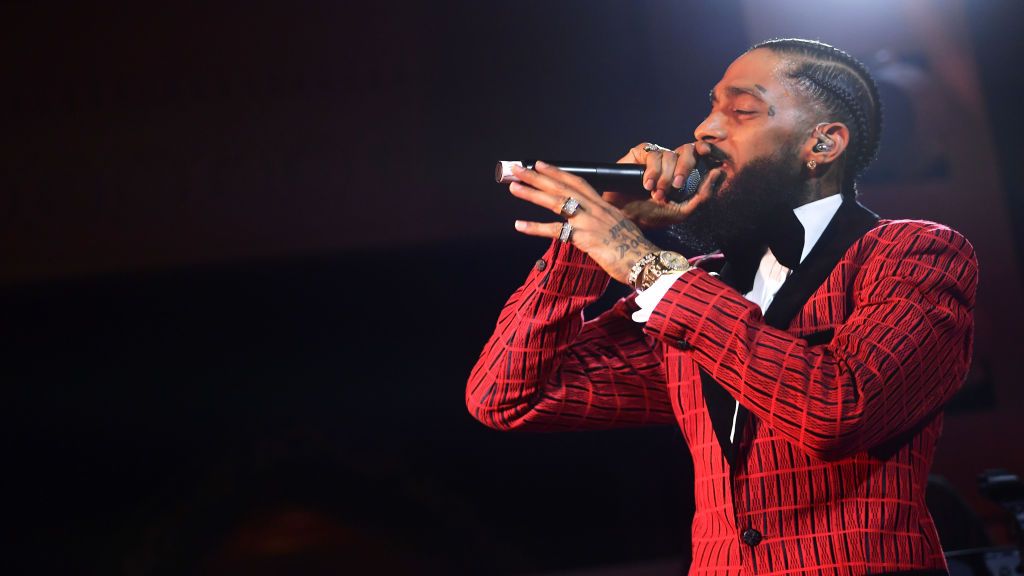 Nearly two weeks after beloved rapper Nipsey Hussle–born Ermias Joseph Asghedom–was killed in Los Angeles, mourners gathered at Staple Center Thursday to celebrate the life and legacy of the rapper. His long-time girlfriend, Lauren London, spoke at the memorial service and tearfully said she feels Hussle "everywhere."
"Never was I prepared for anything like this so bear with me," London told the crowded auditorium. She then shared a text she wrote to Nipsey while he was sleeping, earlier this year.
"Ermias, I want you to know that I feel real joy in my heart when I'm around you. I feel safe around you, protected, like a forcefield around me when you're around. I'm totally myself when I'm around you," she read.
"I feel him everywhere," London continued after reading the text. "As he said before, the marathon is never over."
Newsweek subscription offers >
London previously addressed Hussle's shocking, untimely death via an Instagram post of a portrait shot of the late rapper, saying she was "lost for words." The post garnered over 5 million likes, with numerous celebrities voicing their condolences in the comment section.
"I am completely lost I've lost my best friend," London wrote. "My sanctuary. My protector. My soul....I'm lost without you. We are lost without you, babe. I have no words."
Kameron Carter, London's son from a previous relationship with rapper Lil Wayne, also took the stage Thursday to share a dream he had days following Hussle's death.
"I was in paradise, and I was playing in the ocean water when Ermias popped up right behind me," he told the crowd. "I turned around and I yelled his name and I gave him a hug."
Newsweek subscription offers >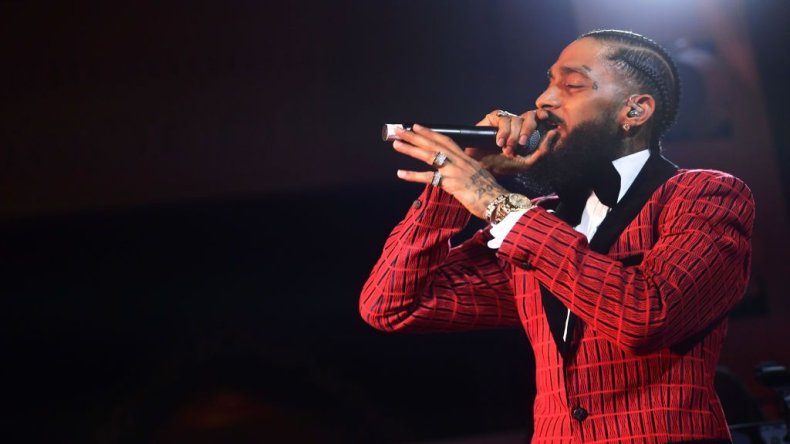 He continued: "I realized that Ermias told me what heaven was like — he told me it was paradise."
Speaking at Thursday's celebration of life was also the mother of Hussle, Angelique Smith, asking his ancestors "to guide him in safe transit to his final resting place."
"I know that we are divine creatures, we are all divinity within," she said. "We don't look to the sky for a God, God is within. I have perfect peace. I am happy, I am complete. I am strong, and if I can feel this way, so can you."
"We ask those ancestors to guide him in safe transit to his final resting place," Smith added. "We are also asking for these ancestors to greet him."
As previously reported, viewers were able to watch Hussle's memorial on various networks in Los Angeles including Fox 11, NBC 4, ABC 7 and KTLA. While KTLA only live streamed the event on its website and Facebook page, Fox's Los Angeles affiliate provided live television coverage of the funeral and procession all morning, along with ABC 7 and NBC 4. ABC 7 also offered a live stream on its website and app. Local broadcast coverage and streams began in Los Angeles at 7 a.m. PT.
BET also provided a live, commercial-free broadcast of the memorial, dubbed BET Remembers: Nipsey Hussle, in addition, to live streaming the event on the BET News' Facebook Page starting at 10 a.m. PT. BET's coverage was fronted by BET News host Marc Lamont Hill and entertainment news journalist Gia Peppers.
"We are deeply saddened by the passing of Nipsey Hussle. Nipsey is part of the BET family and first appeared on the Network in 2009 in a Hip Hop Awards cypher, we share this loss with his millions of fans around the world," Connie Orlando, the network's head of original programming, said in a statement released Thursday. "From his insurmountable talent to his commitment to reaching back to underserved communities Nipsey's kind spirit will be sorely missed. We will keep his entire family as well as our BET sister, Lauren London, in our thoughts and prayers during this immensely difficult time."
Hussle's memorial is expected to conclude at 12 p.m. PT, after which a 25-mile procession will be held. The Victory Lap rapper will be carried across the neighborhoods he impacted the most within South Central Los Angeles, including Inglewood and Crenshaw where his retail store Marathon Clothing is located. The procession will end at the Angelus Funeral Home.
Nipsey Hussle Funeral: Lauren London Says She Feels the Rapper 'Everywhere' | Culture