Nipsey Hussle Memorial Service: Rapper's Funeral Will Not be a Ticketed Event, Karen Civil Confirms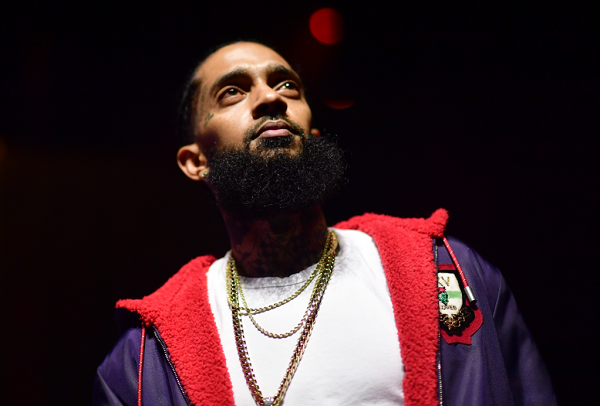 Planning for Nipsey Hussle's memorial service is underway, but contrary to earlier reports, tickets will not be sold to the event.
Media maven and Hussle's friend Karen Civil shared details of the rapper's upcoming funeral on Twitter on Saturday.
"I want to officially let @NipseyHussle fans & supporters know there will be NO selling of tickets to his funeral," she wrote.
A TMZ report claimed Hussle's service was planned to be held at Los Angeles' Staples Center, as the memorial is expected to attract thousands. The arena, home to the Los Angeles Lakers NBA team and the NHL's L.A. Kings, can hold up to 21,000 people.
The report said tickets would be sold online for an undisclosed price through an unidentified website, and only ticketholders would gain access to the service, which was reportedly scheduled for Thursday. However, Civil disputed those claims.
"A lot of incorrect information was released today, please know in the upcoming days and [sic] official statement will be made soon," she wrote.
Regardless of when or where Hussle's memorial is held, the funeral service is likely to be flooded with fans and spectators. In cities all across the U.S., hundreds of people have gathered together and held vigils honoring the West Coast rapper's legacy.
In addition to being a successful rap artist, the Grammy nominee was also a prominent figure in his Los Angeles community and invested much of the fortune earned from his music back into the neighborhood he grew up in.
"He was a brother, a musician, an entrepreneur, a people's champ," Samiel Asghedom, Hussle's older brother, said in his first interview with ABC News following Hussle's death. "He was somebody that believed in the process of hard work, determination and just the positivity of somebody staying in the area that he grew up in and making something out of nothing…he was a role model to the community, to the kids, and to the mothers and grandmothers and the community that watched him grow up and seen him as a youngster, (and now) a family man, a father, raising his kids."
The father-of-two was shot outside of his retail store, Marathon Clothing, in the Hyde Park area of Los Angeles on March 31. He was transported to a nearby hospital where he was pronounced dead. Two other men were also hit by bullets but survived the incident. One of the men did receive medical treatment for injuries.
A man named Eric Holder, who allegedly had an altercation with Hussle before his death, is suspected of shooting him. Holder, also known as S**tty Cuz, was charged with two counts of attempted murder and one count of possession of a firearm by a felon on Thursday, according to Los Angeles District Attorney's office. If convicted, he could be sentenced to life in prison.