Remembering Nipsey Hussle: Memorial Service Live Stream, Procession Route and Everything Else to Know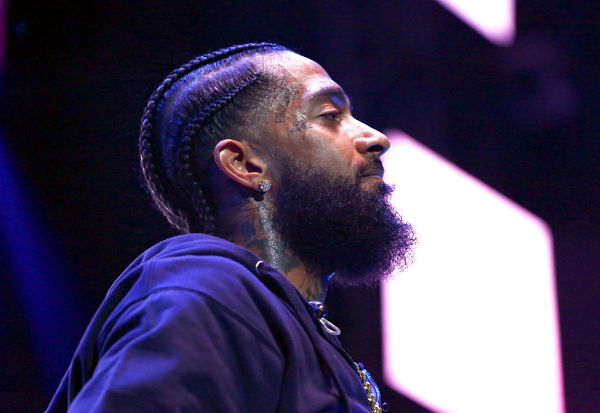 Thousands are expected to flood the streets of Los Angeles to pay their final respects to Nipsey Hussle on Thursday. A memorial service will be held at the city's Staples Center arena, drawing fans and supporters from all around the country.
Free tickets for the event, pegged Nipsey Hussle's Celebration of Life, were distributed on Tuesday but were all issued within 10 minutes. Those who do not have tickets will not be allowed inside the Staples Center, and there are no plans show the service on outdoor screens.
Hussle's family is requesting for fans to refrain from bringing cameras and recording devices inside the venue. Those who are caught filming or taking photographs during the funeral service will be asked to leave.
However, viewers will be able to watch Hussle's memorial on various networks in Los Angeles including Fox 11, NBC 4, ABC 7 and KTLA. While KTLA will only live stream the event on its website and Facebook page, Fox's Los Angeles affiliate will provide live television coverage of the funeral and procession all morning along with ABC 7 and NBC 4. ABC 7 will also offer a live stream on its website and app. Local broadcast coverage and streams will begin in Los Angeles at 7 a.m. PT.
BET is also providing a live, commercial-free broadcast of the memorial, dubbed BET Remembers: Nipsey Hussle, in addition to live streaming the event on the BET News' Facebook Page starting at 10 a.m. PT. BET's coverage will be fronted by BET News host Marc Lamont Hill and entertainment news journalist Gia Peppers.
"We are deeply saddened by the passing of Nipsey Hussle. Nipsey is part of the BET family and first appeared on the Network in 2009 in a Hip Hop Awards cypher, we share this loss with his millions of fans around the world," Connie Orlando, the network's head of original programming, said in a statement released Thursday. "From his insurmountable talent to his commitment to reaching back to underserved communities Nipsey's kind spirit will be sorely missed. We will keep his entire family as well as our BET sister, Lauren London, in our thoughts and prayers during this immensely difficult time."
The Staples Center doors will open at 8 a.m. PT, however, the funeral service will not start until 10 a.m. PT. Details on guest speakers expected at the funeral have not yet been released.
Hussle's memorial is expected to conclude at 12 p.m. PT, after which a 25-mile procession will be held. The Victory Lap rapper will be carried across the neighborhoods he impacted the most within South Central Los Angeles, including Inglewood and Crenshaw where his retail store Marathon Clothing is located. The procession will end at the Angelus Funeral Home.