What It Was Like to Meet Kurt Cobain Backstage In 1991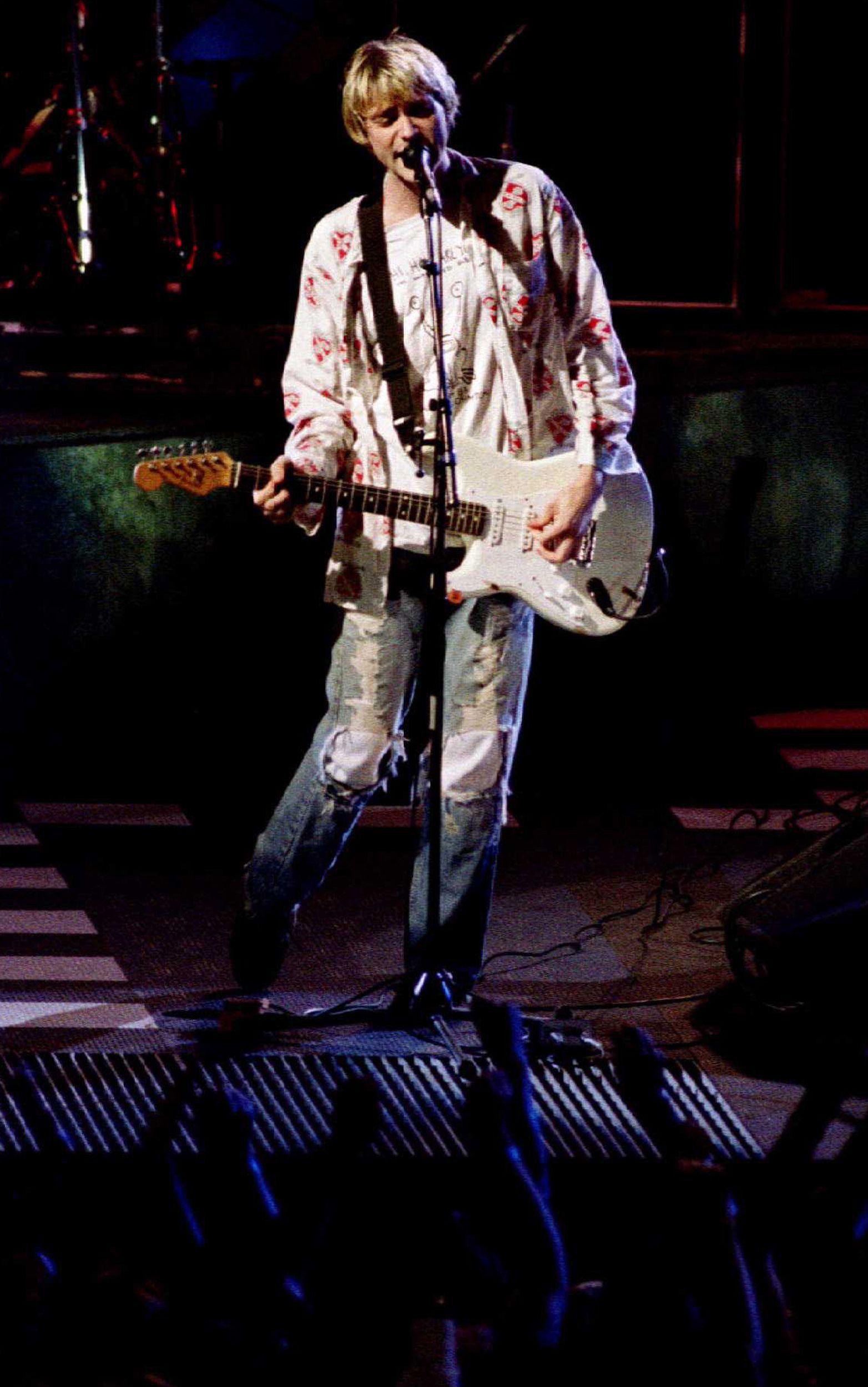 Kurt Cobain would have turned 50 years old on Monday. Cobain, the founding member of Nirvana and the last rock-and-roll star who truly mattered, died of a self-inflicted gunshot wound in April 1994 when he was 27. Long live rock, as Roger Daltrey of The Who would say. For me, the memory of meeting Cobain on a winter evening in 1991 will live for as long as I continue to care about rock music, which is always.
By the night of December 29, 1991, Nirvana was no longer the Pacific Northwest's best-kept secret. The band's seminal hit, "Smells Like Teen Spirit," a monster anthem that simultaneously celebrated and denigrated its audience, had by this time been out since September 10. The album, Nevermind, was released two weeks later. Cobain and his two band mates, drummer Dave Grohl and bassist Krist Novoselic, had spent much of the subsequent autumn on tour—doing 31 shows between September 19 and Halloween— liberating American teenagers (and MTV) from the likes of Milli Vanilli, Poison and Right Said Fred.
In late December, having spent a few weeks before Christmas on a well-earned hiatus, Nirvana arrived at the Arizona State University Activity Center (now Wells Fargo Arena) in Tempe, refreshed for a Sunday night show. My sister Lorraine was at the time working in artist management for Geffen Records in Los Angeles. We were both in Arizona to visit family over the holidays.
It may sound unfathomable now, like hearing that the Beatles and the Rolling Stones appeared on the same bill (it happened twice, in 1965 and 1966), but that night's lineup included both Nirvana and their Puget Sound grunge frenemies, Pearl Jam. Even more incredibly, neither band was the headliner. That honor went to the Red Hot Chili Peppers.
Lorraine secured backstage passes for herself, our brother, his friend and myself. At the time Guns N' Roses was still the biggest band in the world and while we were more than willing to drive the four miles from my parents' house to the show, it was not exactly as if we were jonesing to see this lineup. In fact, we arrived just as Pearl Jam's set was ending.
When we did arrive backstage, the scene was almost nothing like what you've seen in Almost Famous. There were no groupies—outside of us, I guess—and my sister recalls one of us, she can't recall exactly whom, lifting a few beers out of Pearl Jam's dressing room. "One of you handed a beer to [Pearl Jam bassist] Jeff Ament, oblivious to who he was," she says.
Then my sister introduced us to the band. Grohl was friendly and animated and by far the most sociable of the trio. Kurt, I remember, was diminutive and wan-looking, in a pair of old jeans, canvas sneakers and Goodwill thrift store-quality sweater. His hair was dyed purple and he was standing up, placidly eating a bowl of cornflakes.
"And this is Kurt's girlfriend, Courtney," my sister said. "She's got an album coming out, too. "
We nodded politely. What else to say? Your boyfriend just released one of the top-10 rock albums of all time, so, good luck with that? As it turned out, Pretty on the Inside had been released one week before Nevermind and while not the monster hit that 1994's Live Through This would be, was not the work of a hanger-on.
Kurt had a presence to him. We were the same age but from entirely different universes. I had never even tried scotch yet, much less harder drugs. I sensed he did not know, nor much care, whether my college's football team deserved to play for the national championship. Wayne's World was still a few months away from being released, but I was experiencing my own "We're not worthy!" moment, doing my best to avoid revealing myself as an idiot. I let my big brother, George, and his inimitably affable friend, Jones, do the talking, but it was a brief conversation. Grohl was motioning that it was time to take the stage.
As our brief encounter was about to end, Kurt asked us a question. "Would you like to watch the show from the stage?" he asked.
Of course. My sister remained, talking to Courtney, as the rest of of us walked out of the tunnel. Kurt was still nursing that bowl of cornflakes. As we passed into the audience area, the house lights were still. Few in the venue seemed to realize that the genius behind "Smells Like Teen Spirit" was in their midst (perhaps it was his purple locks). We ascended the steps up the left side of the stage as the arena went dark ("With the lights out, it's less dangerous/ Here we are now, entertain us"). Kurt placed his bowl of cereal down on top of an amp and strapped on his left-handed Fender guitar.
Nirvana opened the show with "Drain You," and while I don't recall the entire set, the internet tells me that they churned out a dozen songs. I just recall that I had to pick up the pieces of my brain after that massive explosion of raw energy. I spent much of the next week cursing myself for not having stage dived into the crowd. Looking back, maybe I was afraid that if I did dive, I'd never get back up on stage again. I know better now: that's no way to go through life.
My sister recalls that as the show ended, Novoselic, mistaking us for band techs, handed one of us his bass as he exited the stage. And then they were gone, back onto the tour bus for a New Year's Eve show at the Cow Palace in San Francisco. Less than two weeks later, the band would play Saturday Night Live for the first time and their lives would never quite be the same.
Kurt Cobain would have turned 50 on Monday. He will be remembered as a genius and an artist, and rightfully so. I'm fortunate to remember him also as someone who prepped for a gig eating cornflakes and was thoughtful enough to give a few guys the rock 'n' roll thrill of our lives.