Nissan Debuts 6 New Heisman House Ads, Plans to Bring Road Show to HBCUs
The 11th season of Nissan's Heisman House advertising campaign is set to kick off this week along with the start of the college football season. This year's installment in is inspired by fans from Texas, Wisconsin and Michigan.
Each year, the ads are noted for their comical hijinks starring former Heisman Trophy winners, some of whom have had long and successful careers in the NFL. This year's Trophy winner Devonta Smith, a University of Alabama alumnus and current Philadelphia Eagles wide receiver, stars alongside past winners including Tim Tebow, Eddie George, Kyler Murray, Desmond Howard, Barry Sanders, Baker Mayfield, Bo Jackson, Archie Griffin and Derek Henry.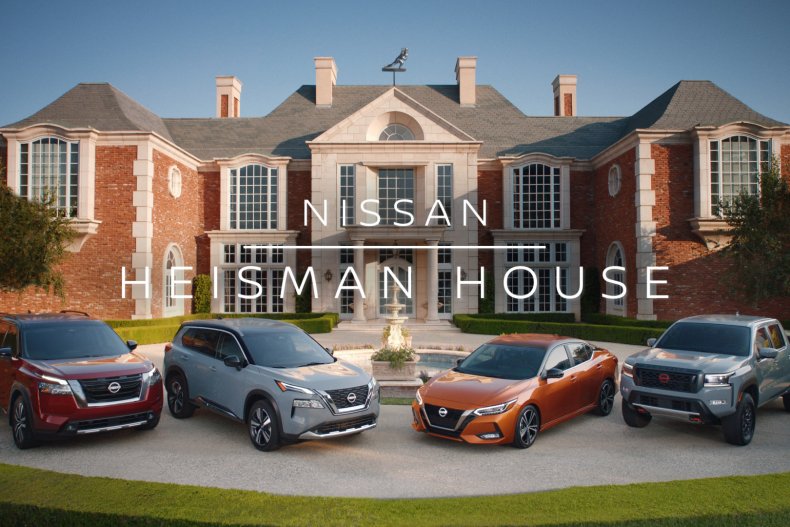 The athletes will appear in the spots with a variety of Nissan vehicles like the next-generation 2022 Nissan Pathfinder, new 2022 Nissan Frontier and 2021 Nissan Rogue.
First out of the gates is the ad titled "How We Heisman". It stars Griffin, Howard, and Mayfield showing rookie Smith the ropes. Inspiration for the spot, in part, came from a tweet by Eric Dietze of Brookfield, Wisconsin, that reads, "As part of his initiation, @DeVontaSmith_6 ('20) has to clean all of the Heisman trophies. By ancient laws of the Heismans, he needs to finish before sunset, or else."
The new Frontier stars alongside Howard and Smith in "Good Hands", a spot that was created as a response to a tweet from Kennedy Plieth of Warren, Michigan, who writes, "Desmond and Devonta MUST have a Heisman House commercial together."
Mitchell Allen of Houston, Texas wrote on Twitter, "Who would win a spike ball tournament in the #heismanhouse? My money is on @K1." The tweet inspired "Spike", a spot featuring Mayfield, Bo Jackson, Howard and Sanders.
The Heisman House spots will run across ESPN, ABC, ESPN2, Fox, FS1, CBS, CBS Sports Network and during Monday Night Football on ESPN.
Behind-the-scenes footage and bloopers from the shoot will be made available on Nissan's and ESPN's digital channels.
This year, as in other years, the Heisman House Tour will be present on college campuses on game day. Stops include a number of Historically Black Colleges and Universities (HBCUs): Grambling State University, Hampton University, Howard University, North Carolina A&T State University, Southern University and A&M College and Tennessee State University (TSU).
The tour brings together the vehicles, athletes, and interactive games, as well as appearances by ESPN First Take host Molly Qerim and Clinton Yates of The Undefeated.
While the Heisman House campaign was being shot, ESPN sat down with George, who is currently TSU's head coach, to talk about the impact of HBCU football. The interview will be shown October 15 on The Undefeated's social media feeds.
The ads aren't just an important part of pop culture. They help Nissan spread brand awareness to a different and diverse audience. "Nissan's annual Heisman House campaign is a fun way to connect with sports fans, and increases brand awareness and overall opinion amongst a younger buyer," Allyson Witherspoon, Nissan vice president and U.S. chief marketing officer, told Newsweek.
"As we head into the 11th season, we are engaging with fans even more as their tweets are the inspiration for the 10 new spots. Over the years, the campaign has consistently delivered peak levels of performance across all purchase funnel metrics, and is driving consideration and intention for the brand while helping to launch new Nissan models, such as the all-new 2022 Pathfinder and 2022 Frontier this fall.
"This season we are also introducing the new Nissan@Home online shopping program that allows customers to buy a vehicle from the comfort of their home. Or, 40 Pathfinders like Heisman House rookie Devonta Smith in one of the new spots!"