Nixon Foundation Distances Itself From Indicted Ex-Trump Aide and Nixon Superfan Roger Stone
The Nixon Foundation moved to distance itself from Roger Stone, a fan of the 37th president and former adviser to President Donald Trump, who was on Friday indicted by Mueller's probe into Russian interference.
"This morning's widely-circulated characterization of Roger Stone as a Nixon campaign aide or adviser is a gross misstatement," the foundation wrote in a tweet. "Mr. Stone was 16 years old during the Nixon presidential campaign of 1968 and 20 years old during the reelection campaign of 1972... Mr. Stone, during his time as a student at George Washington University, was a junior scheduler on the Nixon reelection committee. Mr. Stone was not a campaign aide or adviser."
Stone is a longtime political operator and proponent of Nixon's "dirty tricks" campaign tactics. He has a large collection of Nixon campaign memorabilia and a tattoo of Nixon on his back.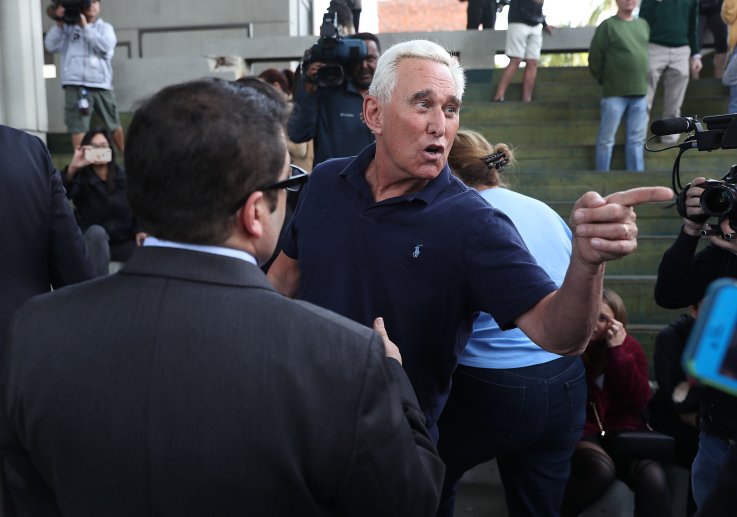 After leaving a Florida courthouse where he was indicted on charges including lying to Congress and obstructing the Mueller probe, Stone imitated Nixon's double handed v for victory sign to supporters on Friday.
Stone's political career began when he worked for Nixon's re-election campaign back in 1972.
But the foundation, which works to promote the legacy of the 37th president and helps run the presidential library in Yorba Linda, California, took issue with reports describing Stone as a former Nixon aide.
It described him as a mere "junior scheduler on the Nixon reelection committee. Mr. Stone was not a campaign aide or adviser."
"Nowhere in the Presidential Daily Diaries from 1972 to 1974 does the name 'Roger Stone' appear."
Stone maintains that he played an important role on the campaign, and in congressional hearings in 1973 in the wake of the Watergate scandal it was revealed that Stone had hired a Republican operator to infiltrate the campaign of Democrat George McGovern and also worked to discredit a Republican rival to Nixon.
In an interview with the New Yorker, he described why he respected Nixon, whose presidency collapsed in scandal after the Watergate scandal.
"The reason I'm a Nixonite is because of his indestructibility and resilience. He never quit. His whole career was all built around his personal resentment of élitism. ... We had a non-élitist message. We were the party of the working man!" he told the publication in 2008.
Stone denies the charges filed against him Friday, and was freed after posting $250,000 bail.