Richard Nixon Laughed As Ronald Reagan Called African U.N. Delegates 'Monkeys… Still Uncomfortable Wearing Shoes'
Former U.S. President Ronald Reagan uttered a racial slur about African delegates to the United Nations, calling them "monkeys" in a phone conversation with the then president, Richard Nixon.
In the recording from 1971, when Nixon was still in power and Reagan was the governor of California, the pair discuss how African countries had opposed the United States in a vote to recognize the People's Republic of China.
Reagan was angry that the U.N. had voted to recognize China and expel Taiwan from the assembly, which Beijing considers its territory. A tape of the pair's conversation, unearthed by The Atlantic, has Reagan making the racial slur.
"To see those… monkeys from those African countries—damn them, they're still uncomfortable wearing shoes!" he said.
As he finished the sentence, Nixon, who resigned in disgrace in 1974 after the Watergate scandal, is clearly heard laughing and adding, "The tail wags the dog there, the tail wags the dog."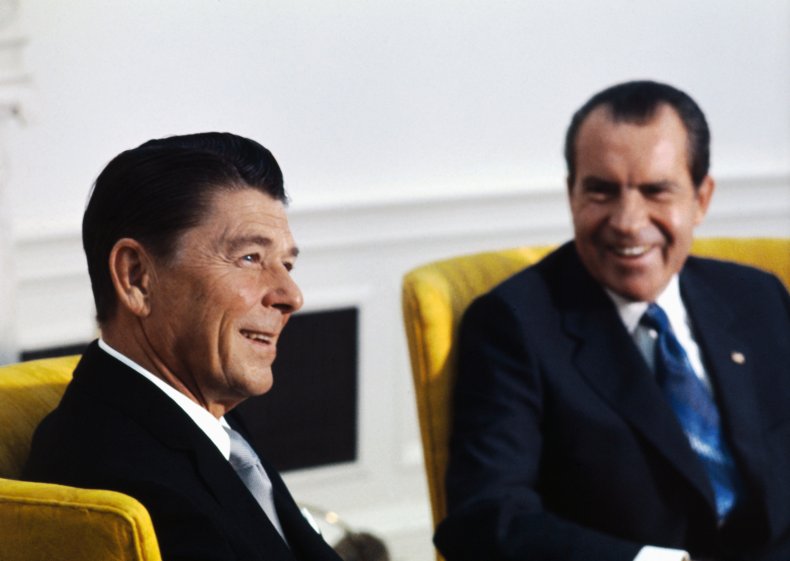 Tim Naftali, a clinical associate professor of history at New York University, who directed the Nixon Presidential Library from 2007 until 2011, said the exchange was removed from the original tapes for privacy reasons until Reagan's death in 2004.
"I requested that the conversations involving Ronald Reagan be re-reviewed and, two weeks ago, the National Archives released complete versions," Naftali told the magazine.
Reagan was a supporter of Taipei and took exception to a delegation from Tanzania dancing in the General Assembly after the U.N. voted to seat a delegation from Beijing, instead of Taiwan. He had phoned Nixon to push him to withdraw from the U.N. but the conversation ended up focusing on Reagan's broader complaints about Africans.
The Atlantic reported that Nixon later apparently used Reagan's language as an excuse to make racial slurs of his own. An excerpt from another conversation to then Secretary of State, William Rogers, has Nixon paraphrasing Reagan's sentiment.
Nixon referred to how the California governor had told him he had seen, "these…cannibals on television last night. Christ, they weren't even wearing shoes, and here the United States is going to submit its fate to that."
Nixon emphasized how Reagan's reaction was what racist Americans may have felt, telling Rogers "that's typical of a reaction, which is probably quite strong."
Reagan publicly defended the apartheid states of Rhodesia and South Africa in the 1970s. Naftali said that Nixon did not consider himself a racist and felt more comfortable hiding behind Reagan's words.
"These new tapes are a stark reminder of the racism that often lay behind the public rhetoric of American presidents," Naftali said.
The current president, Donald Trump, faces accusations of racism, the most recent following his comments about Rep. Elijah Cummings and four congresswomen of color, known as The Squad—Alexandria Ocasio-Cortez, Ilhan Omar, Ayanna Pressley, and Rashida Tlaib.
This week, CNN presenter Don Lemon said that the racially insensitive comments by Trump made him the "race baiter-in-chief."
Richard Nixon Laughed As Ronald Reagan Called African U.N. Delegates 'Monkeys… Still Uncomfortable Wearing Shoes' | U.S.