Nixon Returns—and Hits the High Notes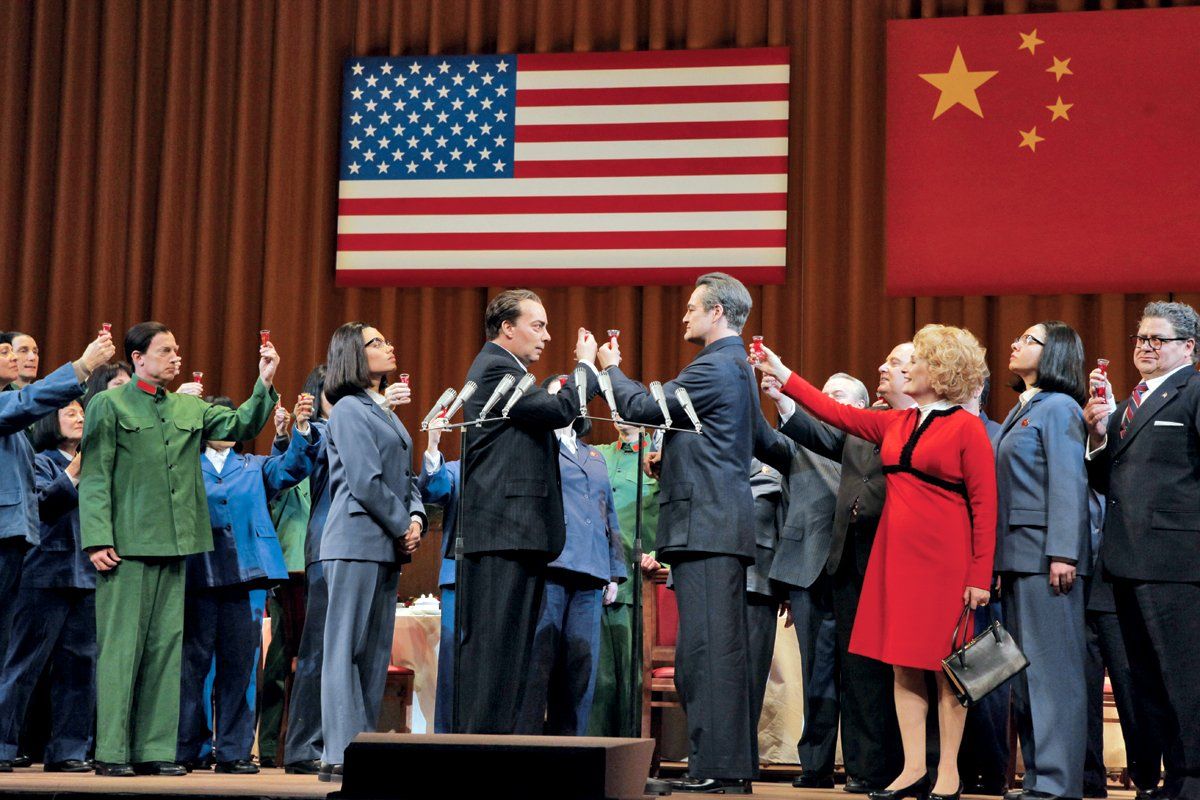 Picture this on an opera stage: President Richard Nixon lands in Beijing to deliver an aria about the mystery of the news industry beaming his story back to the West. Then he receives a philosophical lecture from his host about Confucius—after which Madame Mao enters and promptly freaks everyone out by putting on a violent agitprop play that insults Henry Kissinger. No grand breakthrough comes of the heavily symbolic meeting, and so the main characters all retreat to their bedrooms and wonder whether their efforts to make the world anew amount to anything but a poetic failure. Curtain.
When Nixon in China premiered in Houston in 1987, few knew what to make of this first stage piece by composer John Adams (yes, a namesake of the president, but no relation). With visions of Rich Little's Nixon impersonation dancing in their heads, half the audience was expecting a shallow, satirical hit job against the 37th president. The other half was probably wondering whether an American composer steeped in minimalism could do justice to the operatic form.
Today, Adams is one of the few living composers with something approaching a household name (after 9/11, he was the New York Philharmonic's choice to eulogize the dead, with a piece that netted him the Pulitzer). And Adams's Nixon is finally about to get the respect it deserves. On Feb. 2, the original Peter Sellars production of Nixon will debut at New York's Metropolitan Opera, with Adams conducting. The Met will also broadcast the opera to some 600 theaters across the country on Feb. 12 as part of its Live in HD series, followed by a PBS showing later this year.
This blend of critical esteem and public accessibility would have made Nixon in China the most important classical- music event of any season. But Adams's opera feels especially relevant this year—and not just because President Obama recently had Chinese President Hu Jintao over for dinner. With concern over partisanship the flavor of the day in Washington and on cable TV, here comes an American music drama that elevates Nixon's 1972 trip to the level of nonpartisan myth. And in doing so, it discovers the hidden profundities that typically elude real-life politicians.
Nowhere else in Alice Goodman's libretto to Nixon in China is this clearer than when the president describes the long path that brought him to communist China. After waxing banal about "flying east of the sun, west of the moon," Nixon recalls that in order to get there, he had to vault over "the bodies of our lost" from Vietnam. With this deft turn from the saccharine to the serious, we see a figure who suggests complexities beyond Oliver Stone's imagination, or those of Frost/Nixon.
During rehearsals last week, you could see Adams teasing those distinctions from his orchestra. At one point, he instructed the basses "to be as strict as the Red Army." Then, when Nixon's aria about the news industry took its turn toward the persecuted and paranoid ("the rats begin to chew the sheets"), Adams stopped everyone and asked the trombones for less Ellington-like growl and more lyric moan—for empathy instead of caricature. Later, when the actress playing Pat Nixon had finished her aria, Adams bid her adieu with a cheery "Say hello to Dick for us!" And why not? After all these years, this Nixon's return is most welcome.