On Nixon's 100th, GOP Faithful Look Mournfully Back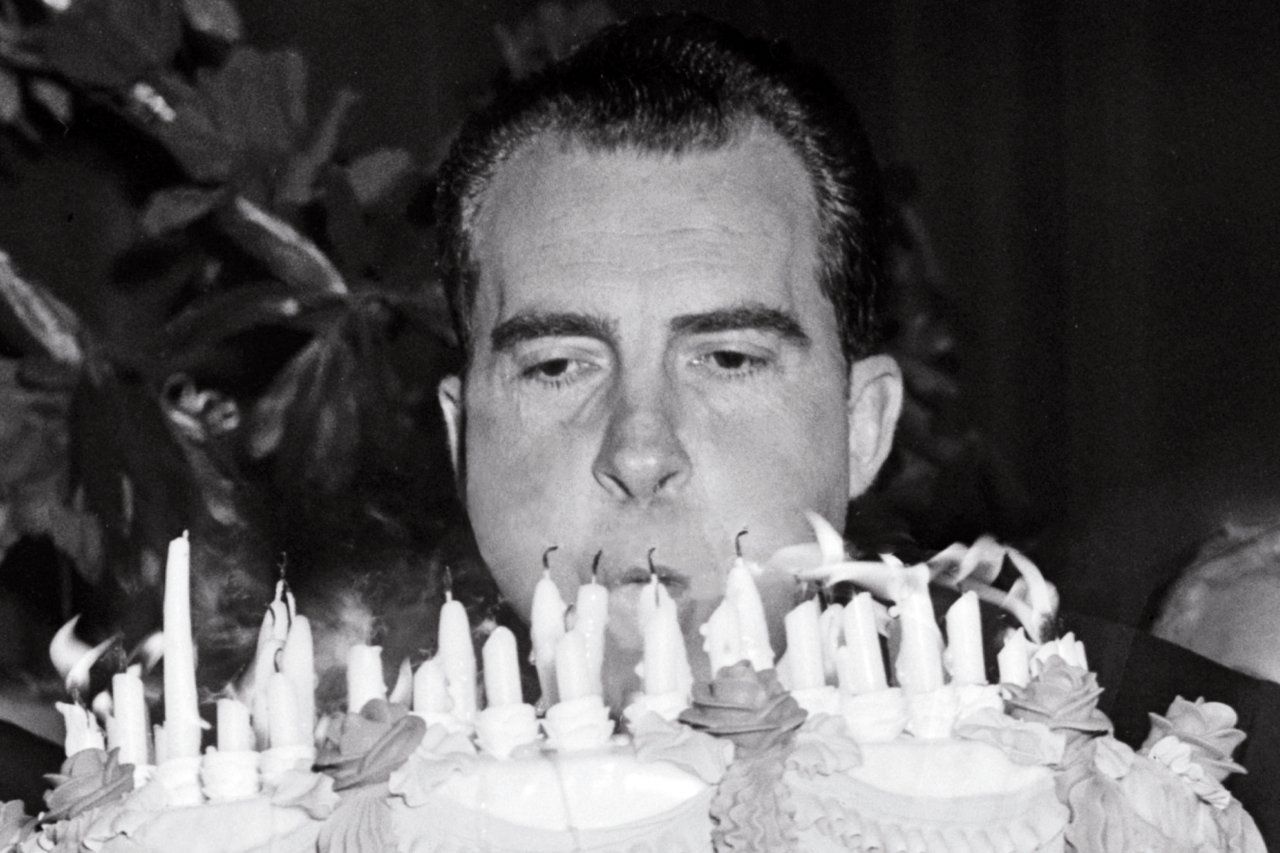 This is what nostalgia looks like: It's Jan. 9, and the Grand Ballroom of Washington's storied Mayflower hotel has been decked out for the Richard Nixon Foundation's centennial-birthday gala celebrating the late president, who would have turned 100 today. Reproductions of campaign posters and buttons trumpet slogans like "Had Enough? A vote for Nixon is a vote for change." And "Nixon's the one." Towering screens in the corners of the hall show Nixon photos and quotes through the decades. Some 400 of the president's kin, ex-staff, and enduring fans have powdered, coiffed, and stuffed themselves into their finest party duds, rendering the dining room a sea of dark suits, balding pates, sequins, and fiercely teased hair. Servers wheel out a massive birthday cake in the shape of Nixon's boyhood home in Yorba Linda, Calif.
This is what nostalgia sounds like: Hundreds of attendees sing along to grainy video footage of Nixon playing "Happy Birthday" on the piano. The Rev. Franklin Graham reads a wish-I-could-be-there letter from his ailing father, Billy, who lauds Nixon as "one of my warmest lifelong friends." Legendary Secretary of State Henry Kissinger, his trademark growl grown even more halting with age, extols his former boss's foreign-policy vision. Nixon aide turned pundit and presidential candidate Pat Buchanan takes the room on a historical stroll through the tumultuous 1960s. When guests mingle, the air is filled with "Do you remember ..." and "I haven't seen you since ..." This is definitely your (grand)father's Republican party.
Any event dedicated to the unadulterated praise of America's 37th president carries with it a certain cognitive dissonance. Whatever his achievements, Richard Nixon remains, for many Americans, the embodiment of political ambition gone wrong. Watergate didn't simply bring down his presidency, it changed how much of the nation viewed its political leaders. And not in a good way. For the Mayflower crowd, however, it was as though time had frozen shortly after Nixon's 1972 landslide reelection, as if the scandal had never been. As speaker after speaker took the stage—adorned with a presidential seal altered to describe Nixon: "Patriot. President. Peacemaker"—to laud the courage, goodness, and all-around greatness of Richard Milhous Nixon, the evening began to resemble less a celebration than a canonization.
Underlying all the singing and storytelling, though, was an inescapable melancholy. To some degree, this is to be expected at such events. As Buchanan told me sadly at evening's end, "There is a sense among these people that the country has moved away from them." But this sense of loss is particularly pronounced these days among the Republican faithful. If the gala guests miss Nixon on a good day, their party's growing string of bad days has them downright bereft. "People are longing for real leadership," said attendee Jim Lake, who volunteered for Nixon's campaigns. Lake delicately characterized the past four years as "not exemplary," suggested Mitt Romney was too "stiff" to be a good candidate, and expressed deep pessimism about the political future. Actor Ben Stein, a former Nixon speechwriter, was feeling even more misty-eyed. "Those were the glory days," he told me. Then he reached for some Springsteen lyrics for dramatic effect. "They pass you by in the wink of a young girl's eye."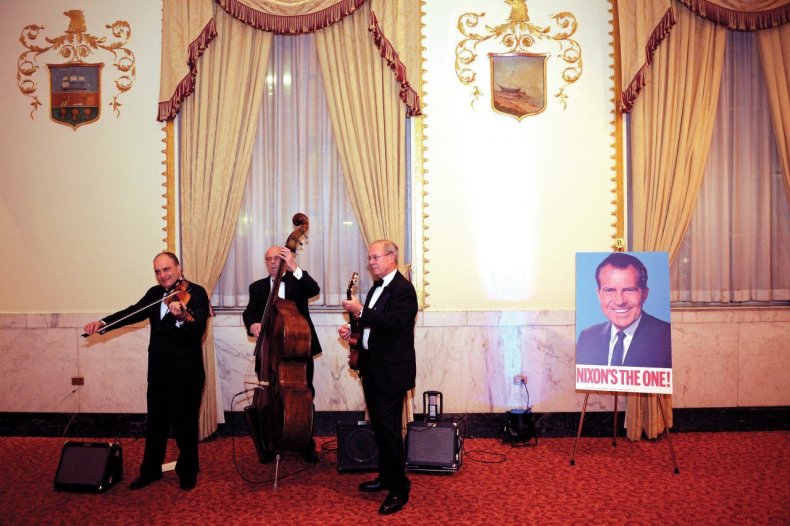 A few blocks away, in front of the White House, the reviewing stands were going up in preparation for President Obama's inaugural parade. Inside the Mayflower, the mood could be summed up by the old slogan uttered by more than one speaker: "Nixon. Now more than ever."