NJ Attorney General Gurbir Grewal and L.A. City Attorney Sued for Threatening Legal Action Over 3-D Printed Guns
Cody Wilson, the owner of Defense Distributed, a company that created plans for printing a 3-D gun, filed a lawsuit on Sunday against New Jersey Attorney General Gurbir Grewal and Los Angeles City Attorney Michael Feuer for attempting to block the plans from being downloaded.
The suit charges Grewal and Feuer with waging "an ideologically-fueled program of intimidation and harassment against Defense Distributed" in an effort to "silence the organization" through criminal and civil tribunals.
On Thursday, Grewal sent a cease-and-desist letter to Wilson with the demand that Defense Distributed prevent New Jersey residents from being able to download printable gun computer files.
"The files you plan to publish offer individuals, including criminals, codes that they can use to create untraceable firearms—and even to make assault weapons that are illegal in my state," the letter stated, also threatening legal action if published.
On Wednesday, Feuer, along with Manhattan District Attorney Cyrus Vance, Jr., urged the State Department to block the blueprints from being published, because "no one is safer if criminals can print untraceable guns on demand."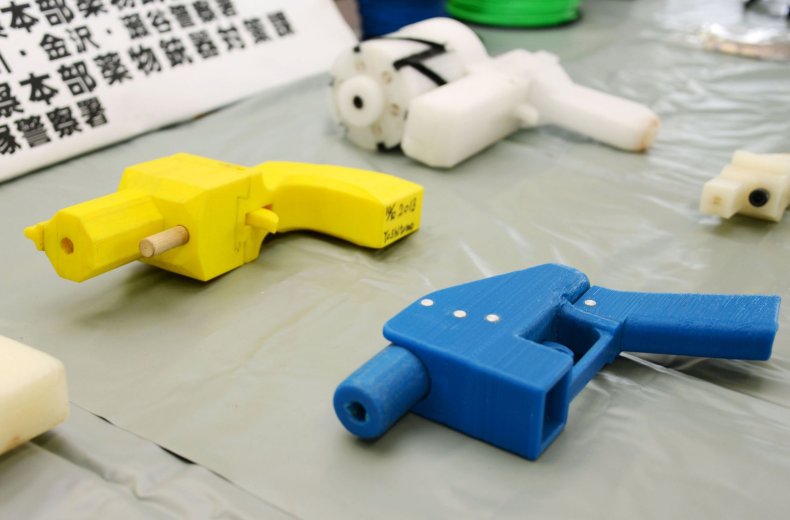 In response to the Grewal and Feuer's actions to prevent the plans from being downloaded by all Americans, Wilson's suit charged the defendants with a total of nine counts, including:
Violation of Defense Distributed's First Amendment rights
Violation of the Dormant Commerce Clause, which prevents states from discriminating against interstate commerce
Violation of the Second Amendment right of Defense Distributed and its customers
Four counts of violation of the Supremacy Clause, which establishes the authority of federal law over state laws
Tortious interference with contracts for harming current advertising contracts with third parties
Tortious interference with prospective contracts in New Jersey and Los Angeles
Among the points made in the suit was that the State Department authorized Defense Distributed to publish the plans and grant every person in the United States access to the files, thereby taking precedence over state firearm laws.
"New Jersey and Los Angeles can no more prohibit the operation of a federally licensed export framework than could Maryland prohibit the operation of a federally chartered bank," the suit states.
The suit was filed with the United States District Court for the Western District of Texas and seeks declaratory and injunctive relief, damages and attorney fees. The plaintiff requested a jury trial.
Ahead of filing the suit, Defense Distributed put in measures that blocked users with IP addresses in Los Angeles and New Jersey from accessing the files, which the suit claimed would not have been implemented if the letters had not been sent.
Following an emergency hearing on Sunday, Pennsylvania Attorney General Josh Shapiro, Governor Tom Wolf and state police announced that Defense Distributed also agreed to block access to the files for Pennsylvania users as well, according to WGAL.
Starting August 1, the plans for a 3-D-printed gun called "The Liberator" are set to become available nationwide after a yearslong battle with the State Department, which ended in a settlement that permitted their release.
SaveSave