NJ Cops Clung to Trees for Hours, Fired Guns for Help After Being Swept Away by Flood
Three police officers in Hopewell Township, New Jersey, found themselves clinging to trees on Wednesday night after being caught up in floodwaters. The three men fired their guns as help signals until they were finally rescued after approximately two hours.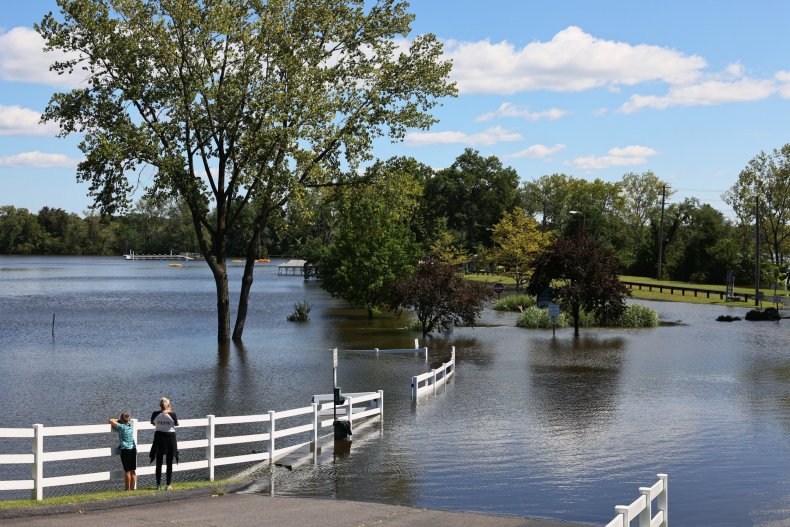 Hopewell Township Police Director Bob Karmazin recounted their story to NJ Advance Media in a Thursday article. The incident began with Police Officer James Hoffman responding to a rescue call in Hopewell Township at about 8:30 p.m.
On the way to the scene, Hoffman encountered floodwaters caused by the storms that passed through the area as remnants of Hurricane Ida, according to Karmazin. Soon, Hoffman's patrol car started taking on water and floated into deeper water.
The officer then climbed out of the car window and swam until he found a tree and held on.
Later, two officers—Michael Makwinski and Robert Voorhees—were sent out to find the missing Hoffman, Karmazin told NJ Advance Media. They were also met with rising waters and similarly abandoned their vehicle. Like Hoffman, the two men soon found themselves clinging to trees.
Rescue firefighters next began a search all over the surrounding Mercer County for the missing officers. They looked for nearly two hours, Karmazin said, and they began to fear the worst.
Since the cops were hanging on to trees, they were not able to radio into headquarters to give their locations. Instead, they fired their guns, hoping someone would hear the shots.
Eventually, a crew from the Hamilton Fire Department were able to use boats to bring the men away from the floodwaters.
"We owe them a debt of gratitude," Karmazin told the news outlet of the firefighters.
Hoffman, Makwinski and Voorhees were examined at a local hospital and reportedly did not sustain any significant injuries.
"Real heroes," Karmazin said to NJ Advance Media of the officers. "They had a total disregard for their own safety, and we're very lucky they were able to hold on the way they did."
The New Jersey State Policemen's Benevolent Association referred to the rescue as the "Miracle in Mercer County" in a message posted on its Twitter account Wednesday night.
Severe storms swept through the northeast Wednesday and into the early hours of Thursday. New York City experienced extreme flooding, as did New Jersey and areas of Pennsylvania.
New Jersey Governor Phil Murphy declared a state of emergency Wednesday due to the storms causing tornados, damage and power outages in addition to extensive flooding.
On Thursday, Murphy tweeted out his thanks to first responders, emergency workers and everyone else in the state who worked to minimize the havoc caused by the intense weather conditions.