NJ Democrat Calls for Rudy Giuliani, Other Trump Attorneys to be Disbarred
Democratic New Jersey Congressman Bill Pascrell asked bar associations in five states on Friday to prevent President Donald Trump's personal attorney and 22 other members of Trump's legal team from continuing to practice law.
Although many media outlets have called the presidential election for President-elect Joe Biden, Trump has repeatedly stated that he actually won the election. Trump has alleged that widespread voter fraud tipped the election in Biden's favor. Trump's legal team has challenged the voting process in some states.
On Thursday, Giuliani held a press conference in which he asserted that he was in possession of hundreds of affidavits proving voting improprieties. Many observers have described Trump's claims of voting fraud as unsubstantiated. On Friday, Pascrell described lawsuits filed by Trump's legal team as "frivolous."
"We live together in extraordinary and increasingly dangerous national circumstances," Pascrell wrote in his letters requesting the disbarment of Trump attorneys. "At present, our sitting President has refused to accept the outcome of our national election and is attacking the integrity of our electoral system to keep himself in power. The pattern of behavior by these individuals to effectuate Mr. Trump's sinister arson is a danger not just to our legal system but is also unprecedented in our national life."
Pascrell added that the attorneys violated the "Rules of Professional Conduct they swore to uphold and should face the severest sanction your body can mete out: revocation of their law licensures."
In a letter to the State of New York Grievance Committee for the Second, Eleventh and Thirteenth Judicial Districts, Pascrell called for an investigation into Giuliani's actions on behalf of Trump. Pascrell asked the committee to "consider sanctions for his conduct up to and including revocation of Mr. Giuliani's licenses to practice law in your jurisdiction."
Newsweek reached out to Giuliani for comment.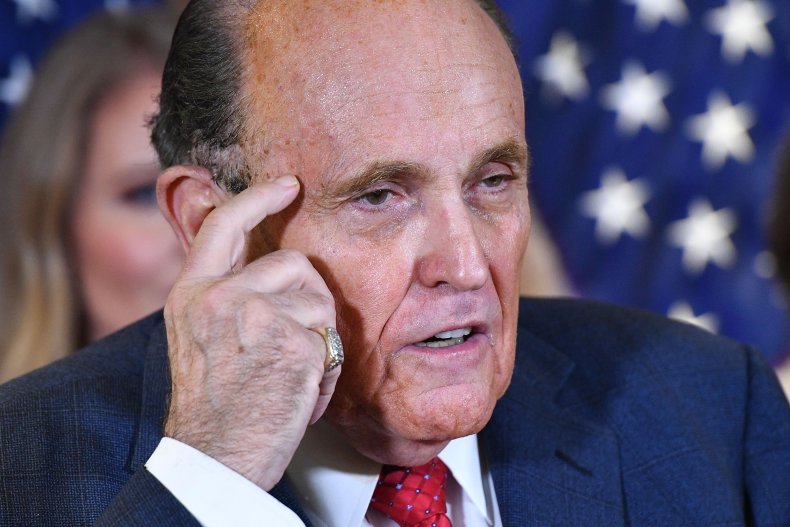 Pascrell also sent letters to the bar associations in Arizona, Michigan, Nevada and Pennsylvania requesting sanctions against Trump campaign lawyers. Trump's campaign has filed election-related lawsuits in all of those states.
During his Thursday press conference, Giuliani alleged election workers conspired with the Democrat Party to funnel votes away from Trump. Giuliani claimed that cities in which voter fraud had allegedly occurred were "controlled by Democrats, which means they can get away with anything they want to do." The Democratic influence Giuliani referred to allegedly included exerting control over election boards and law enforcement officials.
"And unfortunately," Giuliani added, "they will have some friendly judges that will issue ridiculously irrational opinions just to come out in their favor."
Critics of Giuliani's press conference noted a lack of presented evidence for his assertions. Trump campaign legal adviser Jenna Ellis told reporters that the press conference served as an "opening statement."
"This is something where we have told you what the evidence will show and we have given you a brief description," Ellis said. "That happens in a courtroom all the time, where that's not the fact-finding process, this is just an overview."
Biden spokesman Michael Gwin dismissed the Trump campaign's attempts to obtain a second term in the White House. "No matter how hard Trump and the flailing Giuliani try," Gwin said Thursday according to CNBC, "they cannot overturn the will of the American people, who resoundingly picked Joe Biden to be the next President of the United States."
Although the final results have yet to be determined, Biden has been projected to win the election. According to the Associated Press, Biden has received 306 electoral votes while Trump has received 232 electoral votes. A candidate needs to receive 270 electoral votes to become the president.