N.J. Gov. Calls Rep. Gaetz a 'Fool' for Violating Event's COVID Restrictions
New Jersey Governor Phil Murphy blasted Florida Representative Matt Gaetz on Friday, calling him a "fool" and a "knucklehead," and said he was not welcome in the state after he was seen on social media violating the state's coronavirus restrictions.
During a daily COVID-19 press conference, Murphy spoke about the recent gala that was hosted in Jersey City by the New York Young Republican Club. Photos of the event were shared across social media and showed people, including Gaetz, at the event violating social distancing measures and the statewide mask mandate.
"I can't believe this. On social media this morning, from the New York Young Republican Club that allegedly snuck into Jersey City last night to hold a gala fundraiser after they couldn't find a venue in their own city due to the pandemic," Murphy said, while an image of Gaetz at the event was shown.
"So from the videos on social media and certainly this picture there is no obvious attempt to enforce social distancing or face masks, even though wearing masks indoors in New Jersey is mandatory at organized gatherings when individuals are not eating or drinking," the governor, a Democrat, said.
Murphy went on to criticize Gaetz, saying that "it is beyond the pale that a member of Congress" would attend this event. He also accidentally referred to him as "Matt Putz."
"It is obvious being a knucklehead is not beyond the pale for him," Murphy said. "What a fool. He and they should be ashamed of themselves."
The governor continued, "I hope you're watching, Matt. You are not welcome in New Jersey, and frankly, I don't ever want you back in this state."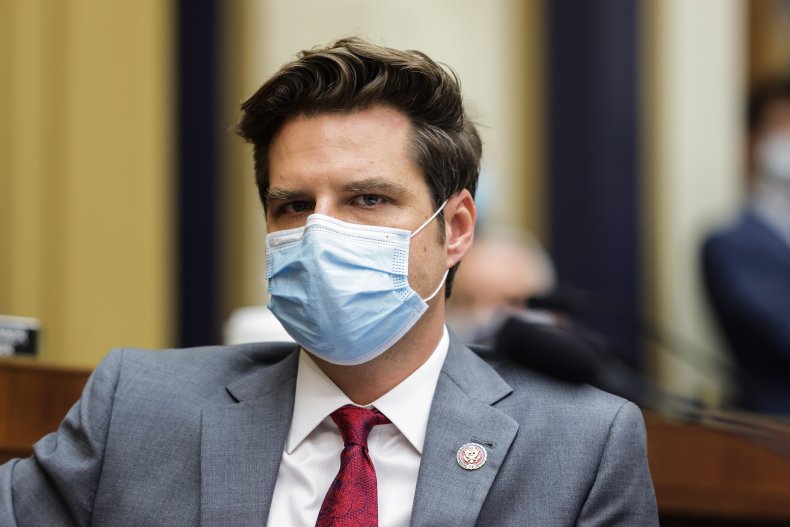 The comments from Murphy come shortly after the Thursday event, where at least 150 people gathered at the Maritime Parc in Jersey City's Liberty State Park, prompting Jersey City Mayor Steve Fulop to tweet an administrative order ordering the shutdown of the venue.
Before his comments on Friday, Murphy posted two tweets containing similar criticism of Gaetz and the New York Young Republican Club.
"Last night, the @NYYRC allegedly snuck into Jersey City to hold a 'gala fundraiser' – ignoring our social distancing and mask rules," Murphy wrote. "It is beyond the pale that anyone would willingly endanger people in another state. Jersey City law enforcement is investigating this matter."
A subsequent tweet from Murphy featured a photo of Gaetz wearing a gas mask. The caption contained wording the governor used at his press conference: "It is also beyond the pale that Rep Matt Putz – I mean @RepMattGaetz – would participate in this. What a fool. Matt – You are not welcome in New Jersey, and frankly I don't ever want you back in this state."
Murphy's office declined to make a further comment or statement on this matter.
In response to Murphy's criticism, Gaetz took to Twitter and wrote, "You're gonna regret this tweet when you move to Florida like the rest of New Jersey."
"Thank you for calling me handsome, Governor! I'm only considered handsome in New Jersey, though," Gaetz wrote in a separate tweet. "In Florida I'm barely a roundup 6."
Newsweek was directed to Gaetz's tweets after reaching out to his office for comment.