NJ Gov. Says About 7 in 10 Residents Not Cooperating With COVID Contact Tracers
New Jersey Governor Phil Murphy said nearly seven in 10 residents who have spoken with contact tracers have not agreed to provide information about their close contacts despite the state's rising numbers of COVID-19 cases and hospitalizations.
With case numbers expected to rise further over the coming weeks following the Thanksgiving holiday, Murphy on Monday encouraged residents to "take the call" when contact tracers try to warn them about possible exposure to the virus.
"Nearly 70% of individuals refuse to cooperate with our contact tracers," Murphy wrote on Twitter. "This is not a witch hunt. This is about protecting you, your loved ones, and your community. Take the call."
Murphy included in his tweet a screenshot of the New Jersey Department of Health's COVID-19 dashboard, which includes information regarding case counts, deaths, hospitalizations and contact tracing efforts. By Monday, state health officials reported a total of 337,304 cases and more than 15,000 deaths since the start of the pandemic.
According to the state's contact tracing data, contact tracers have tried to reach about 69 percent of New Jersey residents who tested positive for COVID-19 and successfully reached about 49 percent. Two percent of those individuals refused to cooperate entirely, while another 69 percent refused to provide information for their close contacts, the department's data shows.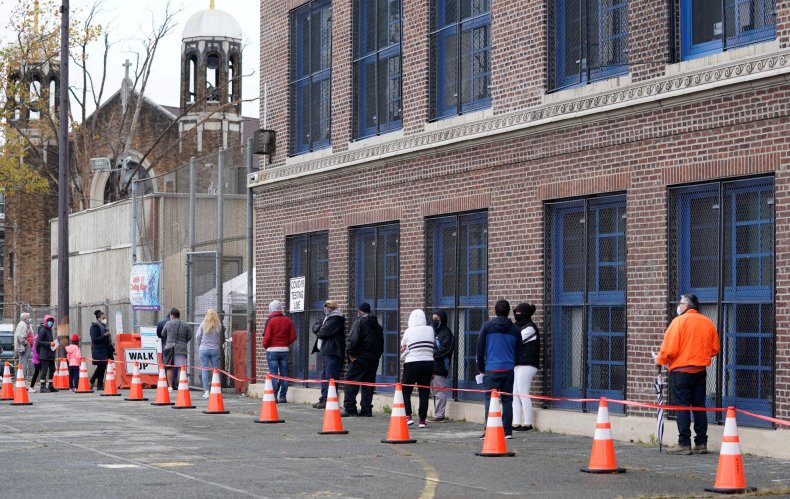 The data appeared to show an increase since the summer in the number of people who refused to share information on their close contacts after testing positive for COVID-19. When Murphy announced the department's launch of its contact tracing dashboard in early August, he said about 45 percent of those reached by contact tracers refused to share information about their close contacts.
Aside from those who would not provide the information requested by contact tracers, about one in five attempted calls from contact tracers did not go through because residents did not answer their phone, state data shows. The state's health department has on its website guidance for residents that alerts them to the information a contact tracer will request to help protect people from COVID-related scams. Anyone who is unsure if a call or text message from a person claiming to be a contact tracer is authentic can call their local health department for clarification, according to state health officials.
Like most states, New Jersey has reported a rise in COVID-19 case numbers in recent weeks and had an average testing positivity rate exceeding 7 percent over the past month, according to Johns Hopkins University's Coronavirus Resource Center. Murphy said on Monday that while some indoor sporting activities will be temporarily banned beginning December 5 and outdoor gathering limits will tighten on December 7, officials were not currently considering another statewide shutdown.
"The rumors we've begun hearing about some impending statewide shutdown/lockdown are just that – rumors," Murphy posted on Twitter. "We're not in the same situation we found ourselves in this spring – when we had to take drastic actions to save lives."
Murphy went on to say that the state's health-care system was a concern for health and government officials as hospitalization numbers rose in the state and across the country. According to the COVID Tracking Project, the U.S. hit a new high in terms of COVID-19 hospitalizations on Sunday, with more than 93,000 reported.
"Our concern remains the situation in our hospitals," Murphy wrote. "Maintaining the stability of our health care system and ensuring the ability of our frontline medical workers to treat patients starts with implementing restrictions that will keep people from becoming a hospital patient."
Newsweek reached out to the New Jersey Department of Health for comment but did not receive a response in time for publication.