NY, NJ Governors, White House Reject Reports of Friction Over Coronavirus Response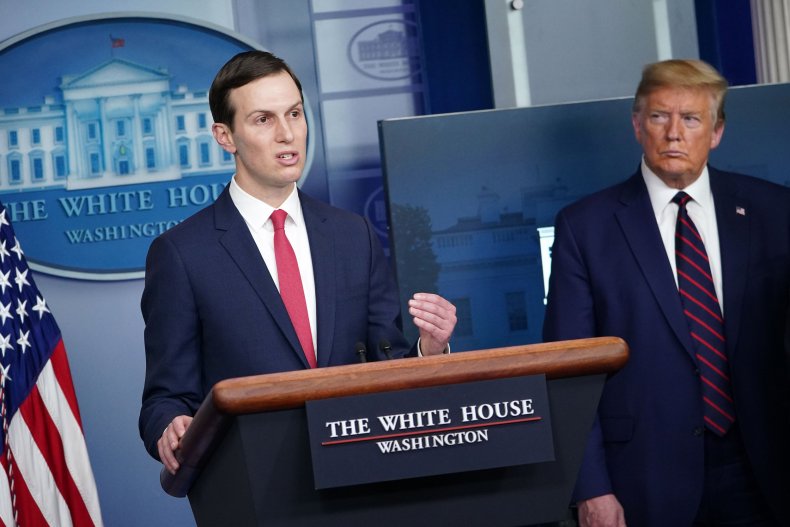 At least two Democratic governors are pushing back on reports of friction with the White House at the height of the coronavirus pandemic, as the Trump administration also seeks to quell claims that politics played a role in its COVID-19 response.
Both the Trump administration and the administration of New Jersey Governor Phil Murphy told Newsweek they rejected the idea that there was politically motivated friction involved in the federal government's coronavirus response.
"From the president on through the highest levels of the administration, we always felt we were a priority to the administration," George Helmy, chief of staff to the New Jersey governor, told Newsweek. "There was never a moment in which I felt that New Jersey was not a priority."
A Vanity Fair piece that has been widely shared by Democrats and other critics of President Donald Trump this week claimed Trump's son-in-law and senior adviser Jared Kushner had a plan for a nationwide testing system that was abandoned because it would have helped states with Democratic governors.
But those same governors have largely praised the White House efforts to untangle supply chains and increase their states' testing capacity.
A top aide to Democratic New York Governor Andrew Cuomo also told Newsweek that the state also had received help from Kusnher's team.
"After we met with Jared and the White House in April, they helped New York secure sufficient reagent allocations to double our testing output and provided New York with enough swab and vial test kits to meet our demand," said Melissa DeRosa, secretary to the governor.
Louisiana Governor John Bel Edwards, another Democrat whose state saw a coronavirus surge early in the pandemic and has continued to see spikes, last month joined Vice President Mike Pence for a roundtable discussion in Baton Rouge, where Edwards heaped praise on the White House's efforts in helping Louisiana build up its testing capacity.
"Governor Edwards has enjoyed a good working relationship with the White House Coronavirus Task Force, with access to key experts and the Vice President," Edwards spokeswoman Christina Stephens told Newsweek. "Early on, the Governor reached out to [Assistant Health Secretary] Admiral [Brett] Giroir about testing, which led to Louisiana having some of the first federally supported drive through testing sites in the country because of New Orleans' status as an early COVID hotspot."
The Vanity Fair article is based on the account of one or more unnamed people identified as "participant(s)" in the creation of testing plans.
Kushner's decision to assemble a White House kitchen cabinet made up of long-time allies and people from the private sector early in the coronavirus pandemic has been widely reported. The team was chiefly charged with establishing testing plans and securing critical supplies, including ventilators and personal protective equipment, as the virus spread.
In an interview with Newsweek, Kushner pushed back on the suggestion that the nation's coronavirus testing abilities have been marred by politics or that a secret plan had been discarded.
"There is only one testing plan," he told Newsweek. "There's no secret testing plan — it's just a testing plan. It's the one that Admiral Giroir led the creation of and that he unveiled publicly at the White House and sent to Congress."
Kushner said his priority in the coronavirus response has been making sure governors have whatever they need — whether it's masks, ventilators, testing supplies or other equipment.
"We speak to governors in the hot states whether they are red or blue," Kushner said. "The White House has stayed in daily contact with them."
Helmy confirmed he and others in Murphy's administration have been in constant contact with the White House.
"We're all in this fight together — the virus has not gone away," Helmy said. "I don't think it's a time for political gamesmanship."
Kushner said he was frustrated by stories that could lead people to distrust the government's response.
"People need to have confidence in their government, and people need to have real facts," he said.
"The [Vanity Fair] article consistently misstates and misrepresents," White House Press Secretary Kayleigh McEnany said in a statement. "Our testing strategy has one goal in mind — delivering for the American people — and is being executed and modified daily to incorporate new facts on the ground."
During a Fox News interview on Friday, Giroir, who was designated as the administration's testing czar, refuted claims that Kushner's team didn't work with his Health and Human Services team. He said Kushner's team was working directly out of his office at the HHS headquarters.
"There was no separation," Giroir told Fox News' Dana Perino.
He said that testing plans melded and shifted over time to respond as officials learned more about what was happening and rejected the claim that politics had played a part in changes in testing plans.
"I have never heard something so preposterous as 'We're not gonna do a national plan because it's affecting Democratic states,'" Giroir said. "We worked on everyone's behalf. We worked tirelessly."