NJ Man Charged with Sex Assault after Prior Case Dropped Amid Trooper Protests
A New Jersey man is facing new sexual assault charges after a prior case was dropped four years ago amid protests by state police that fueled a corruption probe with far-reaching ramifications, Newsweek has learned.
Ian Schweizer, 38, was charged Wednesday with domestic violence after accusations by his partner and is being held at the Keogh-Dwyer Correctional Institute, according to an inmate record. A complaint warrant also seen by Newsweek states that he is accused of "knowingly or recklessly causing bodily injury to [the victim], specifically by holding her down by her wrists and neck with his hands."
Two sources with direct knowledge of the investigation characterized the wounds sustained by the victim as violent and supporting sexual assault. The sources also confirmed to Newsweek that further charges are pending.
His arrest was confirmed to Newsweek by the New Jersey Attorney General's Office, which offered further details.
"Ian Schweizer, 38, was arrested by the New Jersey State Police shortly after 2:30 a.m. on Wednesday, April 21, on a charge of simple assault," a spokesperson said. "Later that same day, the Attorney General's Office superseded the investigation and prosecution from the Sussex County Prosecutor's Office and assigned it to the Morris County Prosecutor's Office following a full conflicts check."
Schweizer "is scheduled for a detention hearing at 1:30 p.m. on Tuesday, April 27, before Superior Court Judge N. Peter Conforti in Sussex County," according to the spokesperson.
Schweizer, son of the former executive director of the Morris County Municipal Utilities Authority, was featured in Newsweek's reporting last June regarding a January 2017 incident in which a New Jersey woman, Laura Gallagher, accused him of sexually assaulting him. State troopers quickly detained him after Gallagher's complaint and, while the troopers felt charges were warranted, the Sussex County Prosecutor's Office felt otherwise and Schweizer, who has always denied guilt, was released.
Troopers suspicious of the decision at the time filed a corruption case against Sussex County Prosecutor Francis A. Koch, who would learn of the investigation into his office when Acting State Police Superintendent Patrick J. Callahan, then the deputy superintendent of operations, informed him during a March 2017 informal diner meeting with two other officials.
That meeting further raised suspicions among troopers, who would be subject to punitive measures for subverting command to back Gallagher's testimony. All but two of these troopers were later cleared of wrongdoing in a grievance hearing.
One senior New Jersey law enforcement official said the latest developments have further proven the troopers justified in their initial bid against the system.
"This second arrest of Schweizer serves as vindication, not only to the initial victim," a senior New Jersey law enforcement official told Newsweek, "but also to the troopers who were the only government officials who displayed courage and refused to be influenced by politics."
Callahan, for his part, remains in command, yet unconfirmed for his position leading the state police three and a half years after his initial October 2017 nomination to the top post by former Governor Chris Christie. Callahan has so far been retained by Governor Philip Murphy and no hearing has yet been set for his potential confirmation.
"Colonel Callahan is exactly the reason why police reform is needed," the official said, "he discredited the badge and chose corruption and political expediency over protecting the very people that needed him most."
And as for Koch, the official also had harsh words.
"The role of the Prosecutor is to find the truth," the official said. "In this case, political influence and an old boy network prevented justice."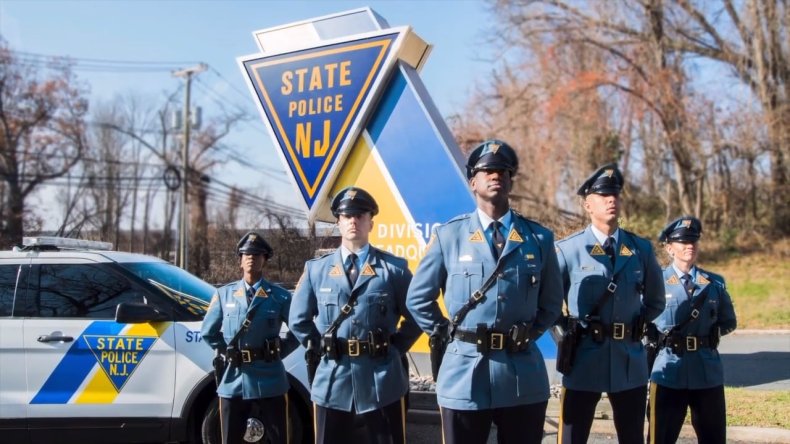 Before the case was transferred to neighboring Morris County, Schweizer's latest arrest fell within the jurisdiction of the same Sussex County barracks in which troopers took him in last time.
Looking back, one New Jersey state trooper who also asked to remain anonymous said the handling of the first case likely set the stage for the latest incident.
"I think that what happened in the first case pretty much enabled him to get this done to this poor girl, who is obviously a victim of the first one as well," the trooper said. "She's the victim of the enabling of the first one."
The trooper felt that "everyone involved who rushed" the original case "is pretty much responsible for what happened in the second one, because they just enabled [Schweizer's] behavior."
And asked what the trooper would say to Gallagher, the response was, "I'm embarrassed about how it was all handled, I feel bad for her."
Gallagher also reacted to the news.
"This is so upsetting," she told Newsweek. "He won't ever stop. This was bound to happen. This is what happens when the justice system protects criminals who continue to offend. It's just so sickening."
Gallagher's attorney, Lauren D. Fraser, a partner at the New Jersey-based Javerbaum Wurgaft Hicks Kahn Wikstrom & Sinins law firm, expounded on her client's experience in light of recent events.
"Laura Gallagher was brave enough to report what happened to her and one of the reasons she did so was to prevent it from happening to anyone else," she told Newsweek. "The people charged with the task of obtaining justice for innocent victims turned their backs on our community and allowed this to happen yet again. They chose to not fully investigate and prosecute Laura's case and now Schweizer has allegedly hurt someone else."
Fraser, too, felt that, had Schweizer been charged in 2017, Wednesday's alleged assault may never have happened.
"This crime could have been prevented if the people responsible for protecting our community chose to do their job in Laura's case instead of choosing to protect themselves and their politically connected friends," she said. "Outraged is not a strong enough emotion for how we feel right now."
Prior reporting by Newsweek and other outlets as The Star-Ledger were featured in a $270,000 investigation conducted by the Chiesa Shahinian & Giantomasi law firm on behalf of the New Jersey Attorney General's Office.
Titled "Investigative Report Regarding a 2017 Sexual Assault Allegation & its Handling By the Sussex County Prosecutor's Office and the New Jersey State Police," the resulting report "concluded that there is no evidence of any improper or corrupt influence that impacted the decisions made by either the SCPO or senior NJSP officials."
The Sussex County Prosecutor's Office and Governor's Office not immediately respond to Newsweek's request for comment.