N.J. Mayor Gives Up on Trying to Change People's Thanksgiving Plans, 'We're Realistic That People Aren't Going to Listen'
A New Jersey mayor has given up on trying to change people's Thanksgiving plans as the nation braces for an onslaught of new COVID-19 cases from holiday travels and gatherings.
"We're realistic that people aren't going to listen to the state or federal guidelines," Jersey City Mayor Steven Fulop told the Daily Beast on Wednesday. "You're not going to get them to change their plans. People are going to make decisions with short-term interests, and that's just what people do. We're not going to tell them they aren't allowed to have people over at Thanksgiving. That's not productive."
New Jersey, a state hit particularly hard during the first wave of the pandemic, is once again facing a massive surge in cases.
Last Saturday, New Jersey reported an all-time high of 4,679 daily new cases, shattering the previous record set in April, according to data from the state's department of health.
While Fulop seems to believe it's unlikely elected officials and coronavirus regulations will be enough convince people to stay home, Governor Phil Murphy has remained adamant in encouraging residents to avoid gathering in large groups over the Thanksgiving weekend.
Murphy has restricted outdoor dining in New Jersey to close at 10 p.m. and urged people to only see their immediate households and to avoid travel. Currently, indoor gatherings are limited to a maximum of 10 people in the state.
"We know that there are those who are so yearning for normalcy that they're willing to risk their family's health for a big Thanksgiving," Murphy said at a Monday press briefing. "We urge you to think beyond this holiday."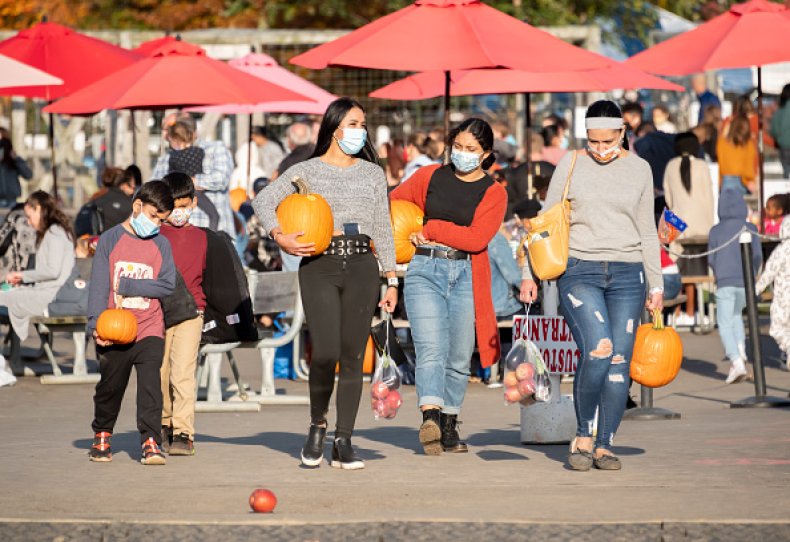 Last week, the Centers for Disease Control and Prevention said that Americans should stay home and avoid traveling over Thanksgiving, but the announcement seemed to come too late for many who had already made their travel plans.
However, if people choose to ignore the CDC's warning, hospital systems across the country may become even more exhausted than they already are.
"If people ignore the CDC recommendations to really dampen down the amount of travel and people at these events and they do it anyway.… It is possible that this would lead to another surge upon the current surge that we're going through," infectious disease expert Dr. Anthony Fauci told the Daily Beast.
"There's obviously the possibility, maybe even the likelihood, that there will be widespread gatherings in large groups with 18 to 25 people coming together from all different places, going through train stations and airports," Fauci said.
Since the end of October, there have been more hospitalizations every day in New Jersey. As of November 29, there are currently 2,902 hospitalizations in the state, according to its health department.
Fulop is not the only state official refusing to hold residents accountable when it comes to violating coronavirus precautions.
Howell Township Police Chief Andrew Kudrick Jr. issued a public memo last Thursday stating that his department would not respond to complaints related to gathering limits, social distancing or mask wearing.
"As a police chief, in charge of 100-plus police officers, I felt it was just incumbent upon me just to let them know, and let my community know, that we're not going to enforce some of these executive orders, which I feel are basically draconian," Kudrick told Fox & Friends Weekend.
Murphy told Good Morning America's George Stephanopoulos that he heard the police chief say he doesn't want to ruin anyone's Thanksgiving, but "what would really ruin your Thanksgiving is if someone gets sick and, God forbid, dies."
Fulop told the Daily Beast that rather than cracking down on Thanksgiving violations, his "goal is to just get more people tested between now and the holiday."
However, health experts have cautioned against relying on COVID-19 testing as a foolproof measure of virus levels because the tests only indicate that levels were high enough to register on a test at the time its taken. Despite these warnings, Fulop's office has continued to emphasize the importance of testing.
In a statement sent to Newsweek, Fulop's press secretary, Kim Wallace-Scalcione, said without a vaccine available, "testing and masks are among the few proven effective ways to protect against the virus," noting the city has expanded access to testing and distributed free masks.
"While we're doing all we can on a city-level to keep our residents healthy and safe, it is ultimately up to each individual person to use good judgement and remain vigilant during the holidays," Wallace-Scalcione said in an email.
She reiterated that Jersey City will not impose fines on residents who fail to keep their Thanksgiving dinners to under 10 people.
"While we will, of course, follow the state's mandates, it's nonsensical to impose fines on already struggling residents and businesses, and so we will continue our approach of working with the public, not against them," Wallace-Scalcione said.