N.J. School Nurse Who Opposes Masks Suspended, Claims They Don't Protect Kids From COVID
A school nurse in New Jersey was reportedly suspended by the Stafford Township school district after she refused to a wear a mask and claimed the facial coverings do not protect kids from the spread of COVID-19.
"I wanted to make a statement to get their attention that masking kids for six to seven hours a day is wrong," the nurse, Erin Pein, said of her decision no longer to wear a mask. "I knew what the consequences would most likely be, and I still wanted to spread the word about how harmful these masks all day are for the students."
Pein's mission is to encourage other parents to stand up for their kids and call out against masks, which she claims are harmful and useless. This comes despite the official requirement from New Jersey's Department of Education that face coverings must be worn by all staff, students and visitors, according to the department's website.
In response to her messaging, Stafford Township Superintendent of Schools George Chidiac suspended Pein without pay on April 20.
Attention to the situation escalated when New Jersey GOP gubernatorial candidate Hirsh Singh voiced support for Pein and said he will be attending a Board of Education meeting on May 10, according to a statement on his Facebook page. Other supporters are planning a rally before the May 10 meeting demanding Pein's return to work: "Let's stop this Child Abuse & Abuse of power!!" a flyer advertising the rally reads.
"I stand with nurse Erin Pein, and all parents, nurses and teachers who refuse to back down and cower before Big Government tyrants like Phil Murphy," Singh said in a statement to Newsweek. "Millions in New Jersey are now vaccinated and it's time for Phil Murphy to start following the actual science instead of the political science. It's time to unmask our children, safely reopen New Jersey, and take back our freedoms."
Singh also shared a video of Pein telling her story to his campaign's Facebook page. In the video, Pein, a mother of three, makes numerous claims about the efficacy of masks that contradict official medical guidance on mask-wearing.
"The masks unfortunately don't prevent [kids] from getting COVID. Because the viruses are so small, it can't be stopped with a mask," she said, adding that masks are also hazardous because they gather bacteria.
The nurse went on in the video to say students were experiencing "anxiety and depression" because of mask requirements.
"I want to continue to speak out about the harmfulness of these masks, I want to make a difference for these kids who need a voice," Pein said. "I am also concerned about the mental health of the students as well. These masks are damaging a generation. Our kids. If the masks worked at preventing COVID, that would be great, but they unfortunately do not."
She said that when she's visited schools across the district, masks caused "multi-faceted" suffering "all day long" for children. Pein cited an instance with a first grade student who came to her office and said the mask made her feel "scared" like something "bad was going to happen."
"Making these kids wear them for 6 or 7 hours a day is awful," Pein said, calling mask policies "child abuse."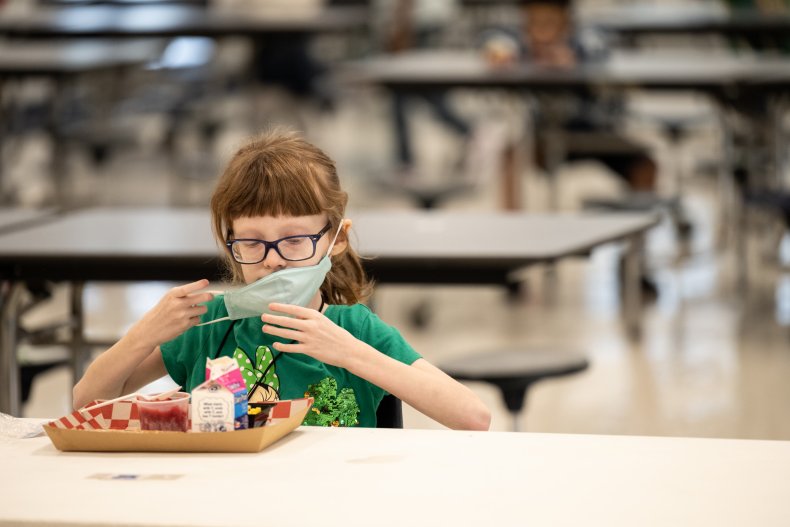 To medical experts, Pein's comments are baseless.
"I'm honestly not sure why this type of misinformation is still circulating more than a year later," Stephanie Silvera, an expert on epidemiology and professor of public health at Montclair State University, said to NJ.com.
"I have yet to see a study that substantiates the claim that mask wearing increases risk to the wearer of bacterial infections," Silvera said. "As for the claim that this is 'child abuse,' that seems to be inflammatory rhetoric and opinion rather than a scientifically supported position."
And the state in which Pein works isn't planning to loosen any mask mandates soon.
New Jersey Governor Phil Murphy said in a press briefing Wednesday that the state won't make separate rules for people how have been fully vaccinated, ultimately mandating all residents to still wear a mask, News 12 reported. This comes despite new guidance from the Centers for Disease Control and Prevention released earlier this week that says fully vaccinated people can go maskless outdoors.
Newsweek has reached out to Chidiac for comment.
Updated 5:24 PM ET to include comment from Singh.
Newsweek, in partnership with NewsGuard, is dedicated to providing accurate and verifiable vaccine and health information. With NewsGuard's HealthGuard browser extension, users can verify if a website is a trustworthy source of health information. Visit the Newsweek VaxFacts website to learn more and to download the HealthGuard browser extension.