N.J. Stops Non-Dealer Car Sales and Tesla Calls Foul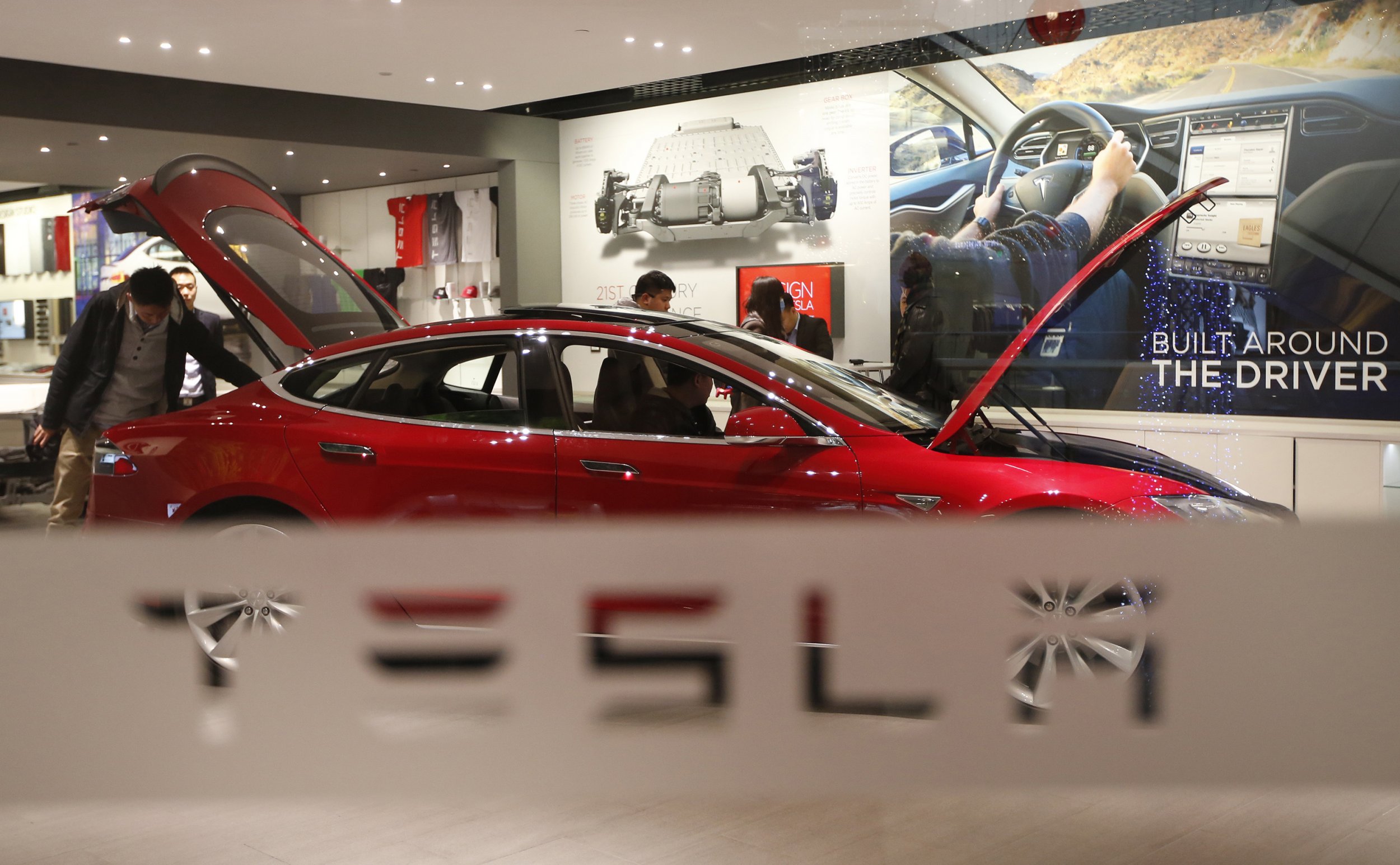 Earlier this month, New Jersey Governor Chris Christie lauded the innovation fostered by the free market. "We need to talk about the fact that we are for a free-market society that allows your effort and ingenuity to determine your success, not the cold, hard hand of the government," he said. Now Christie is being called a hypocrite by a cutting-edge company that says is being stifled by his administration.
Drivers in New Jersey will have to travel out-of-state to test-drive a Tesla, after regulators dealt a major blow to the electric car company's dealership-free sales model on Tuesday.
The N.J. Motor Vehicle Commission approved proposal PRN 2013-138, which will ban direct sales from car manufacturers beginning on April 1. The rule makes New Jersey the third state with a rule barring Tesla from selling its cars itself.
"Since Tesla first began operating in New Jersey one year ago, it was made clear that the company would need to engage the legislature on a bill to establish their new direct-sales operations under New Jersey law," Kevin Roberts, deputy communications director for Christie, said in a statement. "This administration does not find it appropriate to unilaterally change the way cars are sold in New Jersey without legislation, and Tesla has been aware of this position since the beginning."
Tesla did not take the news of the impending rule well. In a blog post before the commission's decision, Tesla Motors accused Christie's administration of going "back on its word." According to Tesla, the administration had promised to allow the question of whether Tesla could sell its cars directly to consumers in the state to "be handled through a fair process in the legislature." Instead, the Christie administration "decided to go outside the legislative process by expediting a rule proposal that would completely change the law in New Jersey."
The company also unleashed a torrent of tweets accusing the Christie administration of being in cahoots with the dealership industry.
The auto dealership industry is a sizable force in national politics. The National Auto Dealers Association spent more than $3.2 million in contributions and nearly $3 million in lobbying expenditures in the 2012 election cycle, according to the Center for Responsive Politics.
In New Jersey, the same practice holds true. AsBusiness Insider pointed out, the New Jersey Coalition of Automotive Retailers' (NJ CAR) political action committee, CAR PAC, has made hundreds of political donations. NJ CAR and its employers gave a whopping $696,749 to politicians between 2003 and 2009 to a list of pols that include the current Democratic president of the State Senate, the current Republican minority leader, and the Democratic majority leader of the New Jersey General Assembly.
Neither Tesla, its employees nor the company's co-founder and Chief Executive Officer Elon Musk has made any donations to politicians, according to records surveyed by Business Insider.
But the president of NJ CAR, Jim Appleton, tells Newsweek he thinks Tesla makes an "excellent and innovative product." He insists his support for the anti-Tesla rule has nothing to do with protecting dealerships but rather about shielding the consumer from Tesla's sticker-price-only policies and to provide third-party peace of mind that warranties would be properly honored. Besides, Tesla's share of the market is too puny to hurt business.
"They sold one tenth of one percent of the market last year. I'm not worried about them hurting auto dealers," says Appleton. "These laws are in place to protect consumers, not dealers."
Tesla, for its part, maintains that its pricing is entirely transparent and its service history impeccable.
Appleton said it was Christie's constitutional duty to curb the company's sales model, which was operating "open and notorious manner in violation of the law."
"The governor isn't stifling innovation. It's Tesla's petulant response that's stifling innovation," Appleton says. "Frankly, if you look at Tesla's blog post, it was so bizarre and off the wall." He tells Newsweek he thought Tesla's public response was a deliberate attempt to "pump up the circus atmosphere" around the brand, perhaps in the hopes that its stock would go up.
Tesla did not immediately respond to request for comment.
Dealers in Texas and Arizona have successfully lobbied for toughest restrictions on Tesla's direct sales to consumers, and similar rules are pending in New York, Minnesota, Georgia, and Ohio. In North Carolina, anti-direct-sales legislation notably failed to make it to a vote after Tesla parked one of its electric vehicles at the state capitol and offered politicians free test-drives, The Charlotte Observer reported.
"It's time for lawmakers in France and North Carolina to realize that innovation cannot be stopped and legislation is not the answer," said CNN's Erin Burnett on the air last year, equating North Carolina's proposed similar legislation with "socialist" lawmaking.
Selling cars directly to buyers has been called an "unfair advantage" over dealerships that could reach monopoly-like proportions. Selling cars without overhead is definitely an advantage, but at Slate, Matthew Yglesias asks, is it actually unfair? Or are car dealerships – one of the last remaining haggle-for-a-price consumer institutions – worried they might go the way of the dodo?