Nigerian High Court Grants Conditional Bail to Pro-Biafra Leader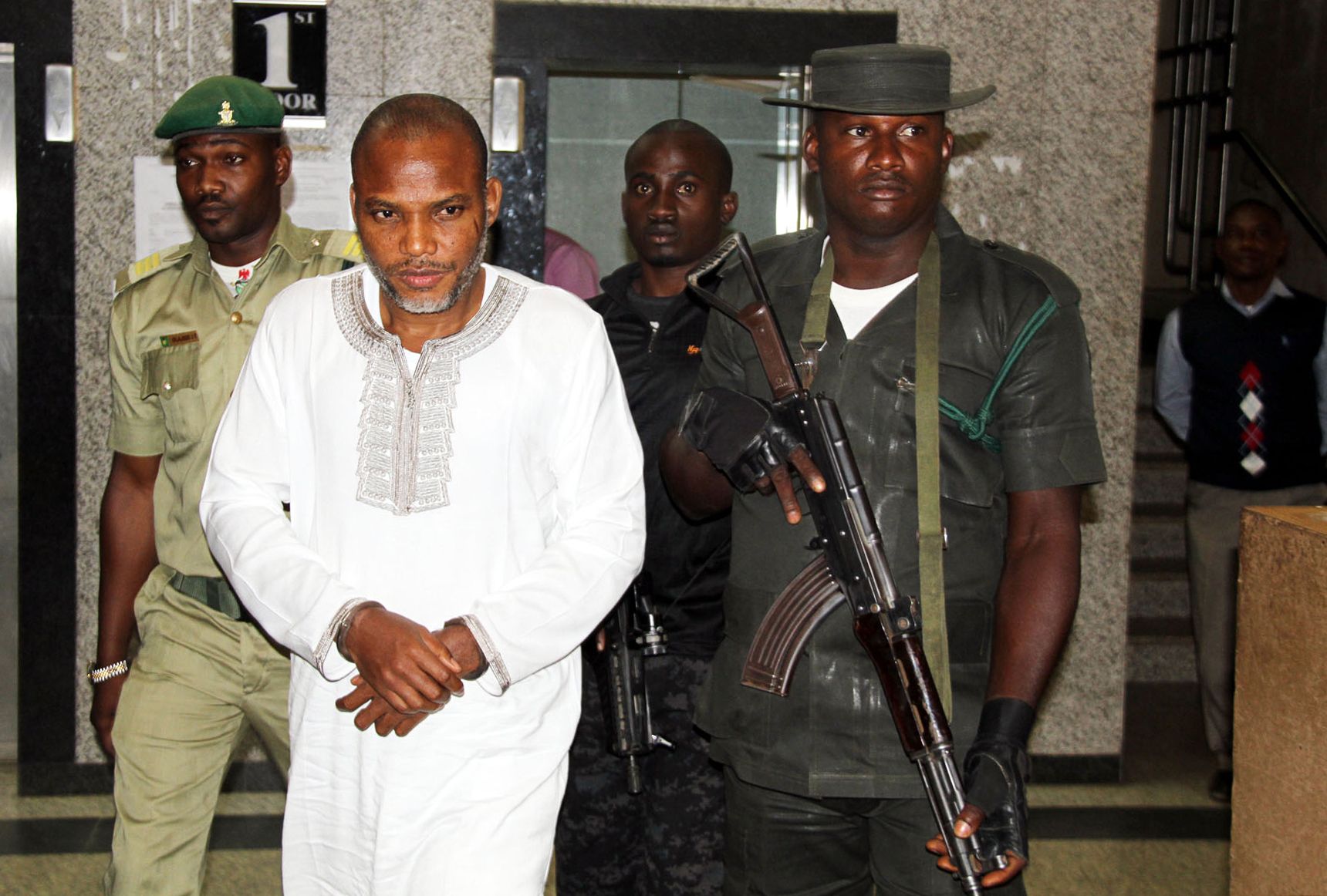 The Federal High Court of Abuja, the capital of Nigeria, has granted bail to the leader of a separatist group on grounds of ill health as long as he meets some conditions, the News Agency of Nigeria reported.
Nnamdi Kanu, leader of the Indigenous People of Biafra (Ipob) and director of UK-based Radio Biafra radio station, is standing trial on treasonable felony charges. He was arrested in Lagos on October 14, 2015.
Ipob and other Pro-Biafra movements are calling for the independence of contested Biafran territories that were forcibly annexed to Nigeria during British colonization. The territories lie in southeastern Nigeria and are inhabited mainly by the Igbo, one of the country's largest ethnic groups.
Nigeria gained independence in 1960, but after two coup d'etats and massacres of Igbo people in northern Nigeria in 1966, a former Nigerian military officer named Odumegwu Ojukwu declared a Biafran Republic in 1967.
The establishment of the Republic of Biafra sparked a bloody civil war that claimed at least a million lives. The Nigerian government fought the separatists and imposed strict blockades on food and medicines in Biafra. It attacked hospitals and facilities run by humanitarian organizations. Nigeria re-annexed the territories in 1970, following the end of the war. After the conflict ended, Ojukwu left for exile to Ivory Coast. Some 12 years later, the Nigerian government led by President Shehu Shagari pardoned him and allowed him to go back to his homeland. He died in the U.K. in 2011 at the age of 78.
Justice Binta Nyako, the judge presiding over Tuesday's trial, said she was convinced Kanu was ill and could be released on bail.
"The first defendant, Nnamdi Kanu, has appealed to the court for bail based on health grounds and it is only the living that can stand trial. So I am minded to grant him bail so that he can attend to his health and face his trial alive," she said.
However, she added that Kanu – who holds both a Nigerian and a British passport – is not allowed to, among other limitations, leave the country, give interviews, be in a crowd of more than ten people, or hold rallies.
Commenting on the bail ruling, Kanu's wife, Uchechi Okwu-Kanu, tells Newsweek : "I commend judge Binta Nyako for her courage and bravery." However, she claimed some conditions set for the bail are "tantamount to infringement on the right of my husband to freely associate and speak his mind as a living being".
Justice Nyako denied bail to the three other defendants standing trial with Kanu, Chidiebere Onwudiwe, Benjamin Madubugwu and David Nwawuisi.
She adjourned the trial till July 11.
Ifeanyi Ejiofor, one of the lawyers representing Kanu, has not replied to a request for comments on the judge's ruling.
However, he told the Premium Times on April 25 his client is expected to meet the bail conditions "within 48 hours."
The Nigerian government has always maintained the country's unity was a priority and that although peaceful pro-Biafran protests were welcome, demanding the breakaway of the Biafran territories went against the constitution.
In November 2016, rights group Amnesty International accused Nigerian security forces of killing pro-Biafra supporters.
The army denied the allegations, claiming it intervened to prevent "ethnic clashes" and accused Amnesty of trying to tarnish its image, according to Reuters.