Nigeria: Ex-Central Bank Governor Calls for Release of Biafra Separatist Nnamdi Kanu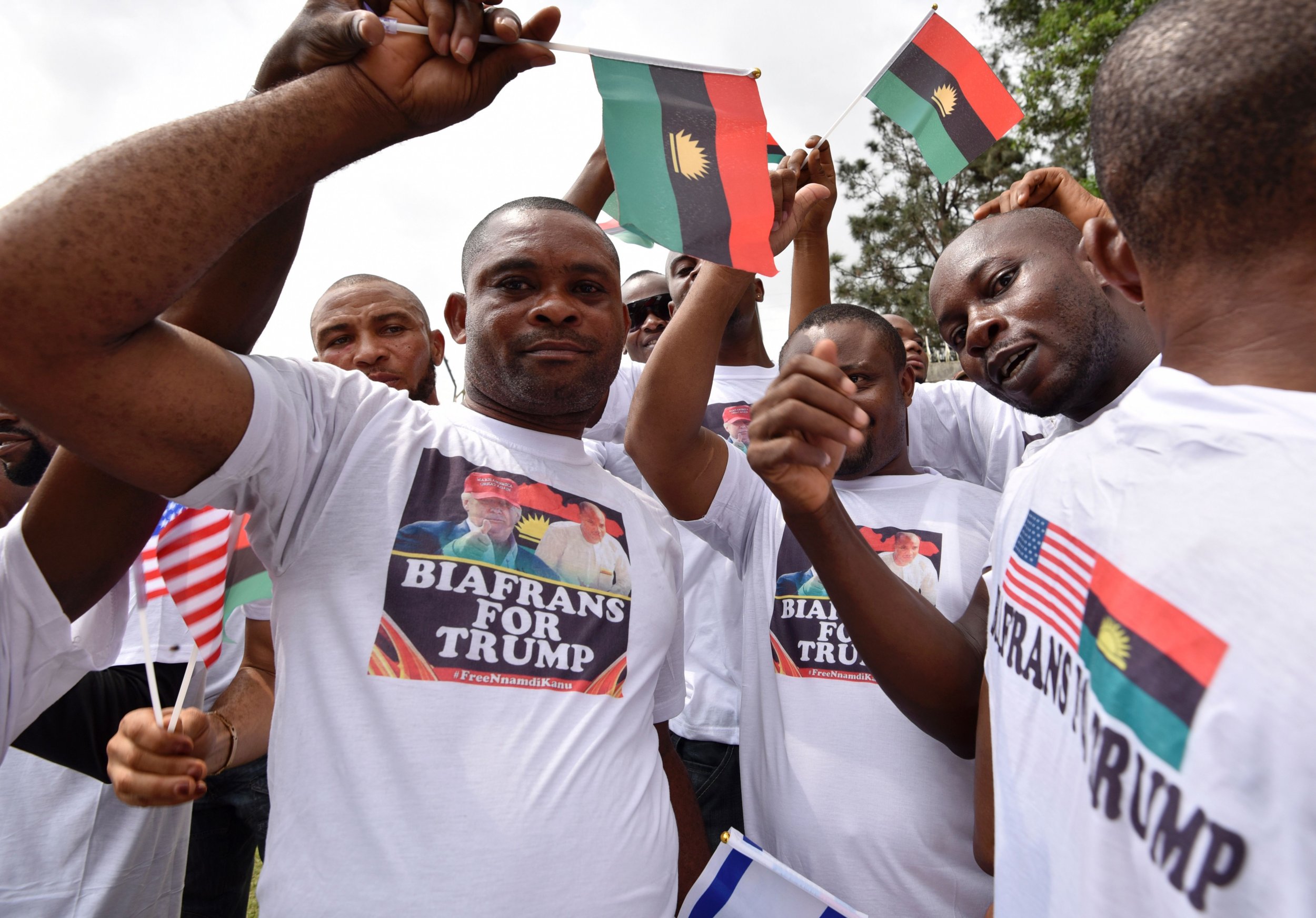 A former governor of Nigeria's central bank has led renewed calls for the Nigerian government to release Nnamdi Kanu, the leader of a pro-Biafra separatist group.
Charles Soludo, who led the Central Bank of Nigeria from 2004-09, made the call at a press conference in the Nigerian capital Abuja Tuesday, Nigeria's Premium Times reported.
"We demand the urgent release of Nnamdi Kanu, his colleagues and all prisoners of conscience, as part of the process of the search for national cohesion and building a new Nigeria," said Soludo.
Nigerian security services arrested Kanu, the leader of the Indigenous People of Biafra (IPOB), in October 2015. He remains in detention despite several court orders granting him bail, and is awaiting trial for treasonable felony.
Biafra was an independent republic that broke away from Nigeria in 1967. Biafra's secession, orchestrated by former Nigerian military officer Odumegwu Ojukwu, resulted in a three-year civil war in which more than 1 million people died. The republic was formed of three states in eastern Nigeria, and most of the population belonged to the Igbo ethnic group. Biafra was reintegrated into Nigeria in 1970.
Soludo was flanked by two other senior Igbos at the press conference: Patrick Utomi, a political professor and former presidential candidate, and the former head of Nigeria's electricity regulator, Sam Amadi. The trio visited Kanu in prison ahead of the press conference, according to New York-based news site Sahara Reporters.
The Federal Court in Abuja denied bail to Kanu, who is a dual U.K.-Nigerian national, in December 2016, but ordered the trial to be expedited and begin within two months, IBTimes U.K. reported. Kanu's wife has called on the British government to intervene in his case and a British Labour politician, Angela Rayman (now shadow education minister), has demanded an investigation into alleged human rights abuses against Kanu while he has been held in detention.
"There is a legitimate debate on the Biafra question, and there are indeed many Igbos who, like many other Nigerians, do not agree with Nnamdi Kanu's objective or means. It needs to be stated, however, that no citizen of Nigeria deserves the kind of treatment meted [out] to him and his colleagues," said Soludo. "Nnamdi Kanu is not above the law, but nor should he be put beneath it."
Nigerian President Muhammadu Buhari, who fought on the Nigerian side in the Biafran war, has dismissed calls for secession. The country's security forces have cracked down on demonstrations calling for Kanu's release and Biafran independence. Amnesty International said that Nigerian police and soldiers have killed at least 150 pro-Biafra activists since August 2015. The Nigerian Army denied the allegations and accused protesters of violence.