No. 1 Duke Falls to Stephen F. Austin in Colossal Upset in Overtime
The top-ranked Duke University basketball team had a sparkling resume heading into a Tuesday night home game against the Stephen F. Austin Lumberjacks from Texas. But the Lumberjacks chopped down the Blue Devils, 85-83, in overtime.
With the game tied at 83-83 in overtime, SFA's Nathan Bain stole the ball and made a breakaway layup as time expired at Duke's Cameron Indoor Stadium to give the Lumberjacks of the Southland Conference a win over one of college basketball's most-stories teams in history.
The win lifts SFA's record to 5-1 on the season, while Duke falls to 6-1, with wins over Kansas, Georgetown and California in its rearview mirror.
Tuesday night's stunner at Duke had all the statistical favorabilities for the Blue Devils, who had a better field-goal percentage, more rebounds, more blocks, more assists and fewer personal fouls.
It was the Lumberjacks that created more turnovers, and subsequent points from them, that helped turn the tide of the game.
Duke led by 15 points, 33-18, at the 9:33 mark remaining in the first half before SFA began slowly chipping away. The Lumberjacks cut at the lead until Duke held a 45-40 lead at halftime.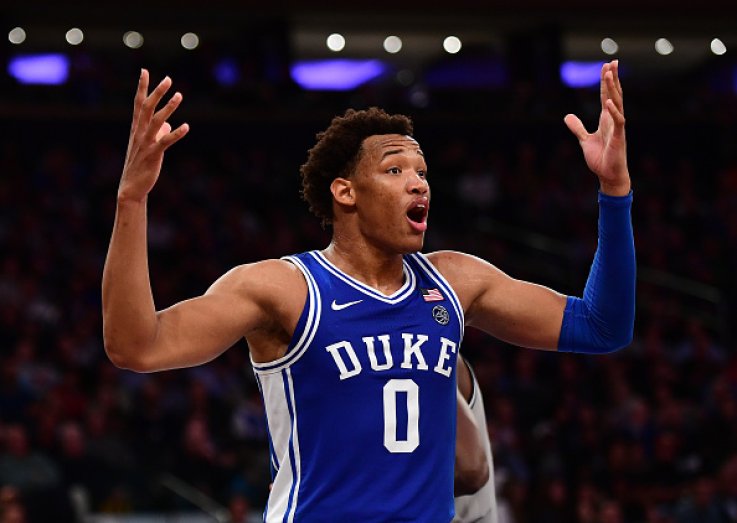 The second half was more of a defensive battle, and SFA kept pecking away. Duke managed to keep a minimal lead by the 10-minute mark, and SFA tied it 62-62 when Cameron Johnson scored on a layup. Johnson later gave the Lumberjacks the lead when he sank two free throws to give SFA a 64-62 lead.
The teams traded leads, and Duke pulled ahead when Tre Jones made two free throws with 29 seconds remaining in regulation. Then SFA's Gavin Kensmil laid a bucket off the glass with 19 seconds left to tie the game at 81-81.
Stephen F. Austin never trailed in a defensive overtime. Johnson made a layup with 2:53 to go in OT. Duke tied the game for its only overtime points, and Bain sealed it at the end.
Kevon Harris scored a game-high 26 points to lead the Lumberjacks, followed by Johnson's 16 off the bench. Duke was led by Vernon Carey Jr., who scored 20 points and grabbed 11 rebounds in 32 minutes of play. Jones had 17 points and 12 assists for the Blue Devils.
Stephen F. Austin does not have nearly the schedule, or pedigree, as Duke. Whereas Duke goes on to play Michigan State before heading into its vaunted ACC schedule, Stephen F. Austin has a date with Arlington Baptist, a school of just 173 students—including post-graduate students—before the Lumberjacks jump into Southland Conference play.
No. 1 Duke Falls to Stephen F. Austin in Colossal Upset in Overtime | Sports