No Arabs Allowed: Segregation on Beitar Jerusalem Soccer Team?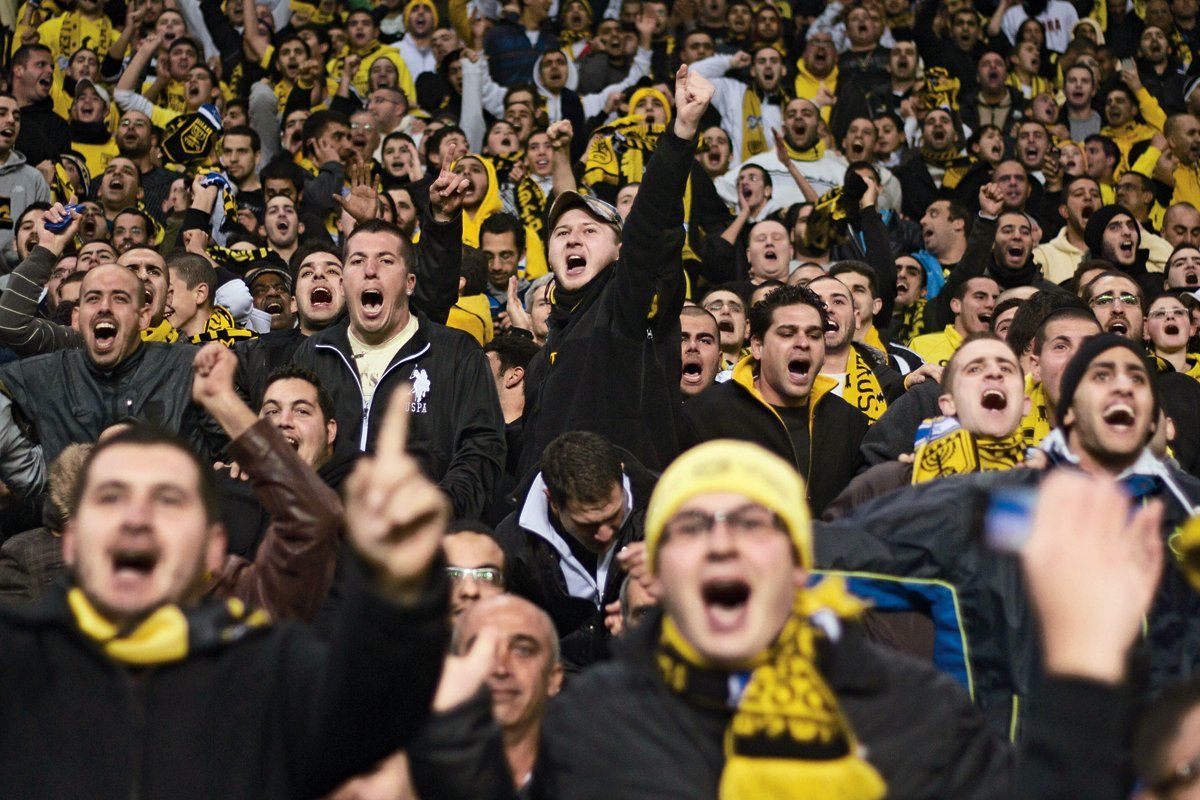 On paper, it looked like a match. Mohammad Ghadir was playing striker for a professional Israeli football team that had too many strikers. Though heralded as a talent, he was spending most games on Hapoel Haifa's bench. On the other side of the country, Beitar Jerusalem was in desperate need of a player who could score goals. Once a powerhouse, the team now ranked near the bottom of the league. So when Ghadir told an Israeli news site that he was interested in moving to Jerusalem, it seemed reasonable to assume Beitar would make him an offer. His phone never rang. Instead, Beitar fans bristled at the idea, and managers closed ranks around an unwritten policy the team has held to for more than 75 years: no Arabs allowed.
By law in Israel, members of the Arab minority have the same rights as Jews. They can vote and run for office; they have served as diplomats and Supreme Court judges. But their status is constantly undermined by a harsh paradox: Israeli Arabs are both citizens of Israel and the kin of Israel's enemies. The result has been a level of discrimination sometimes reminiscent of America's treatment of blacks in the 1950s. In professional sports, where meritocracy is the organizing principle, the discrimination can seem particularly unfair. Israeli football teams started hiring Arabs only in the 1970s; these days they are among the highest scorers in the league. But Beitar, the team of Israel's capital city, has been a holdout, shunning Arabs even as it hired other non-Jewish players from abroad. "It's hard to explain the policy as anything but racism," says Yoav Borowitz, an Israeli journalist who writes regularly about football.
Supporters of the team have a more nuanced explanation. They say the ban is bound up with Beitar's history and with tensions in Jerusalem, a city where Arabs and Jews live mostly in their own segregated neighborhoods (Israeli Arabs make up 20 percent of Israel's population). Until a few years ago, most Israeli football teams were affiliated with political parties. Beitar's sponsor was the right-wing Likud, the party now headed by Prime Minister Benjamin Netanyahu. Though Likud was never an overtly Arab-hating party, Beitar became a magnet for right-wing extremists, who would often shout chants like "Death to Arabs" at players of opposing teams. According to an organization that tracks racist outbursts at football games, Beitar Jerusalem is consistently at the top of the list.
How comfortable Beitar managers are with the Arab ban is hard to say. Several of them contacted by Newsweek would not respond to questions. But people who know Beitar from the inside say the managers fear that any change would prompt a backlash among fans. "Even if the racists are a small minority, they would cause a lot of trouble in the stands if the team suddenly put an Arab on the field," said one person affiliated with the team who did not want to be identified. When Beitar captain Aviram Baruchyan announced in 2009 that he would like to see Arabs on the team, fans bombarded him with criticism, prompting him to recant. "The most painful thing is that I unfortunately hurt Beitar's fans, and I understood that I hurt them very much," he said after a reconciliation meeting with members of La Familia, a Beitar fan club. "I don't care what other people think or write."
The striking thing is that Israel actually has tough anti-discrimination laws on the books that prohibit employers from refusing to hire people on religious or ethnic grounds. It also has a public committee tasked with verifying complaints. But Tali Nir, a lawyer with the Association for Civil Rights in Israel, says the laws are difficult to enforce on sports clubs because they don't select players from a pool of applicants the way a company might hire an employee. "Teams don't get applications. They go after the players they want to hire," Nir explains. That makes it hard to point to a specific victim of discrimination. And without a victim, "the crime is just theoretical."
Borowitz, an Israeli journalist with the newspaper Haaretz,
who accuses others of passively colluding with the discrimination, including officials of the Israeli football association and even Jerusalem's mayor. He likens Beitar to the white-only rugby teams of South Africa during the apartheid era, a comparison most Israelis would find repugnant. In a recent blog post, Borowitz vowed to no longer cover Beitar and called on other journalists to do the same. "A soccer club that's unwilling to sign Arabs belongs in the trash bin of history," he wrote. "I myself have written more than a few articles about Beitar ... I won't do it anymore."