No Charges For Michael Brown's Killer After Third Ferguson Probe in Six Years
The police officer who shot Michael Brown in Ferguson, Missouri nearly six years ago will not be charged for Brown's shooting death, a top prosecutor in St. Louis County announced Thursday.
This is the third probe in almost six years of Brown's death. Before the recent investigation by the local prosecutors, the other probes included a grand jury and then the justice department of President Barack Obama's administration.
Wesley Bell is the county's prosecuting attorney, and its first Black prosecutor, according to the Associated Press. After taking office in January 2019, Bell began re-investigating the case of white police officer Darren Wilson's shooting of Brown, which was captured on video that year, distributed on social media and sparked nationwide protests.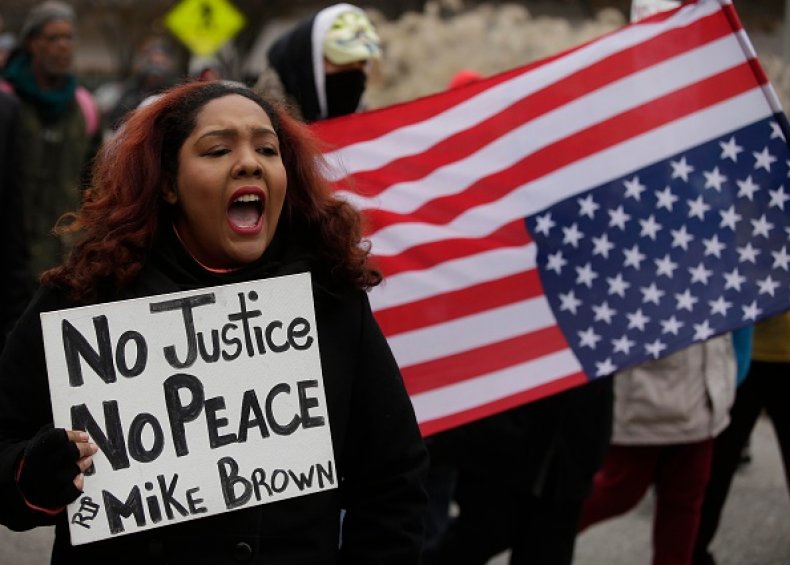 Bell said Thursday during his announcement that it was "one of the most difficult things I've had to do," speaking of five months worth of investigations that involved forensic reports, witness statements and other evidence that could have potentially prove Wilson murdered Brown, Bell said, "we cannot prove that he did."
On that Sunday afternoon in 2014, Brown and a friend of his were walking down the middle Canfield Drive when Wilson told them to leave the street. Brown was 18 at the time of his death.
Brown and Wilson got into a dust up, which ended with the officer shooting Brown. Wilson said he fired in self-defense after Brown reached for his weapon.
Brown's body laid in the street for about four hours, which infuriated residents who saw what happened.
Some witnesses said Brown had his hands in the air as a sign of surrender when he was shot. Neither the local grand jury nor the Department of Justice found enough evidence to prosecute Wilson.
Regardless of decisions by investigators and prosecutors, the Black Lives Matter movement had already begun after the 2012 killing of Black youth Trayvon Martin in Florida. The Black Lives Movement intensified after Brown's death two years later.
On May 25 of this year, George Floyd was a Black man who died at the hands of white Minneapolis police officer Derek Chauvin. Chauvin is seen in a video kneeling on Floyd's neck for nearly nine minutes. Floyd's last words as heard in the video are "I can't breathe."
Floyd's death reignited the Black Lives Movement with a new fervor, and it brought Brown's death—and many others who were killed by police—back to light.
The latest BLM movement has created chaotic protests in some cities, and sports leagues around the country have adopted new measures to bring equality to social injustice in the country.