No Coulter, No Violence: Berkeley Holds the Peace Amid Protests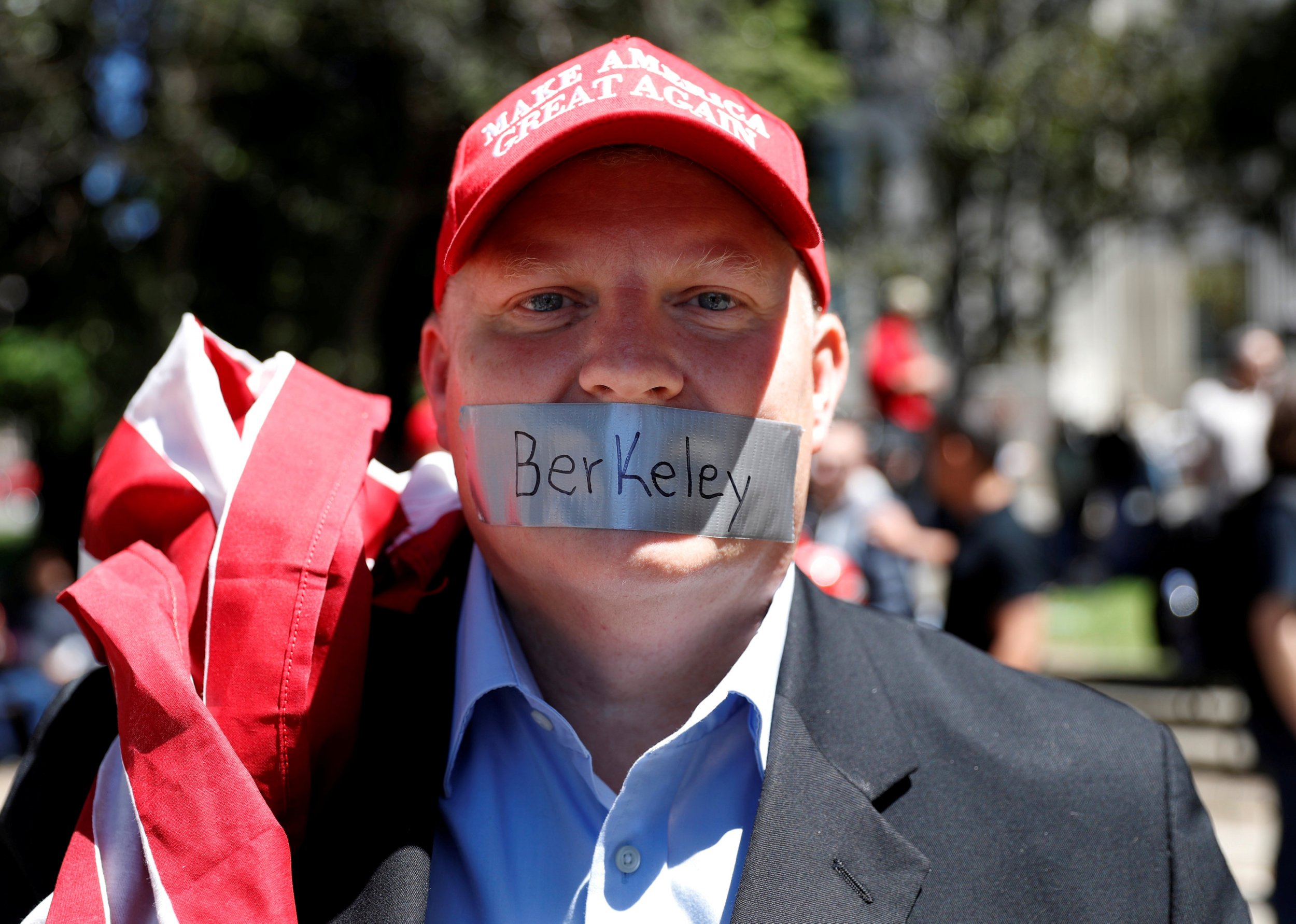 Facing its fourth day of political violence since the election of President Donald J. Trump, Berkeley, California, held the peace Thursday by flooding the streets with police officers, who kept apart the pro-Trump and leftist forces that had clashed in the past. By afternoon, there were only two arrests on the campus of the University of California at Berkeley, including one for the possession of a knife. But there were no scenes of bloodied faces, frenetic skirmishes or broken windows, all of which had marked the preceding confrontations.
This was welcome relief for a city that, in recent months, had somewhat unwillingly reclaimed its mantle as a cauldron of political activism. On February 2, a planned appearance by right-wing provocateur Milo Yiannopoulos was cancelled on the Berkeley campus after so-called black bloc anti-fascist protesters, known as Antifa, burned a light tower, smashed the windows of a campus center and smashed the windows of downtown Berkeley businesses.
Many on the right saw this as a provocation, and they responded in turn. On both April 4 and May 15, Trump supporters showed up in Martin Luther King Jr. Civic Center Park — many coming from out of state — to demonstrate their support not only for the president, but for the loose coalition of right-wing ideas and sentiments for which he had become a nexus. They also plainly sought to provoke those from whom Trump's victory was a source of ongoing dismay and rage. They succeeded marvelously, in part because in both instances, the Berkeley Police Department did little to quell the disorder. That decision was met with criticism, some of which also fell on the city's progressive young mayor, Jesse Arreguin.
This time was different. For more than a week, the city—and the nation—had waited to see if conservative firebrand Ann Coulter would show up on campus, where she had been invited to speak. After days of wrangling that involved legal actions, public recriminations and countless accusatory tweets, Coulter said she would not come to Berkeley, citing safety concerns.
Her supporters had no such worries. They showed up en masse, many of them coming from outside the Bay Area. Because Sproul Plaza — the symbolic center of the Free Speech Movement, which began there in 1964 — was heavily policed, with orange barriers placed around its perimeter, dozens of officers watching the crowd, and fliers warning of potential searches for weapons, the pro-Trumpers congregated at Civic Center Park, their crowd growing throughout the morning of plentiful sun.
Nothing united them like the conviction that free speech was imperiled, though in fact it was Coulter herself who'd decided to stay away from Berkeley : No one had prevented her from appearing there, even if university officials weren't especially eager to host the inevitable brouhaha. That mattered little to those who saw the Antifa protests as the latest manifestation of leftist intolerance that had to be stopped at every turn.
"They are animals — all animals," one Trump supporter said. "Freedom of Speech is Sexy," said a sign carried by another member of the Civic Center Park crowd, which appeared to top 100 in size by about noon.
For some reason, one Trump supporter carried a hockey stick.
"Free Hugs," said a sign hoisted another, which the young man carrying that placard assured was an offer made in earnest. Another young man carried a poster with the image of Pepe the Frog. "Green Lives Matter," the poster said. He bristled at the notion that Pepe was an anti-Semitic symbol, calling any such intimations "retarded."
Daryl Tempesta, a Republican operative, covered his mouth with a piece of tape on which "Berkeley" was written. People wore helmets and military vests; some carried shields. One of the leaders of the pro-Trump forces wore what appeared to be an American-flag jumpsuit; a military veteran wore a leather vest on which a patch stated his "sexual preference: often."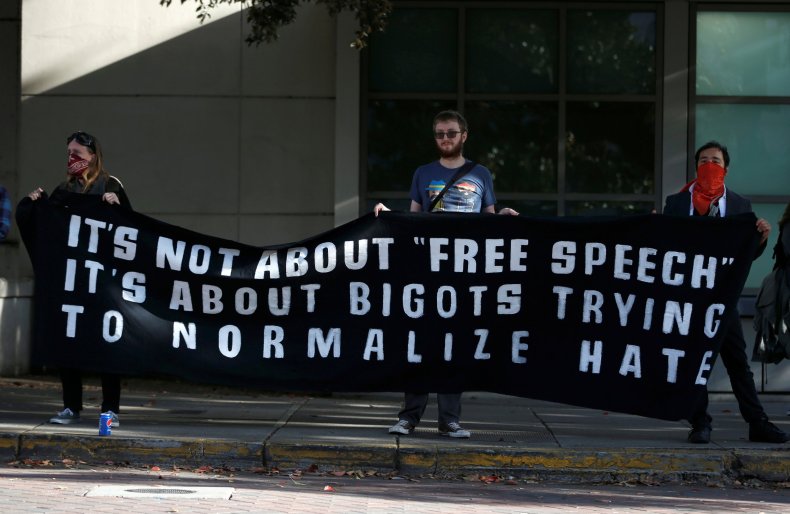 The whole afternoon, helicopters buzzed overhead. Closer to the ground, a drone whiled right over the crowd. People happily greeted each other, eagerly awaiting the leftist forces. The scene was partly college reunion, partly an army camp before battle. By later afternoon, pro-Trump forces were ready to declare victory, even if Coulter, the speaker they had come to support, never showed up. "This movement was here before Ann Coulter, and it will be here after Ann Coulter."
"What's going on in the schools is just insane. We can't let these assholes win," said a man who gave his name only as Sabo and who wore a t-shirt that said "Republican is the new punk." Like many of those present, he had travelled from Southern California. The city of Anaheim seemed to be especially well represented.
"We won't just win the battles for Berkeley," said Lauren Southern, a popular alt-right figure from Canada. "We will win the war for Berkeley." According to video shot by Blake Montgomery of BuzzFeed and posted on Twitter, alt-right activist Kyle Chapman, also known as Based Stick Man, "declared victory" shortly after 4 p.m., to loud chants of "USA."
The leftists did show up as the gathering at Civic Center Plaza dwindled, but without the belligerence that had marked their earlier confrontation with the Trumpists. Several dozen anti-Trump activists gathered in front of Berkeley High School, across the street from the Civic Center park where the pro-Trump forces were holding a jubilant rally. They faced a line of officers who made clear, this time around, that there would be little patience with violence.
"Trump says Jim Crow, we say 'Hell no," the anti-Trump forces chanted. At one point, a homeless man and a Trump supporter nearly came to blows, largely resulting from an argument over who'd had the harder upbringing. Both had had it pretty rough, but this brought no unity. A circle formed but no fight transpired. Another homeless man, taunting Trump supporters who, in his estimation, didn't belong in Berkeley, was arrested for reasons that weren't entirely clear. A large gaggle of reporters followed him, in a sign of how little there was otherwise to report.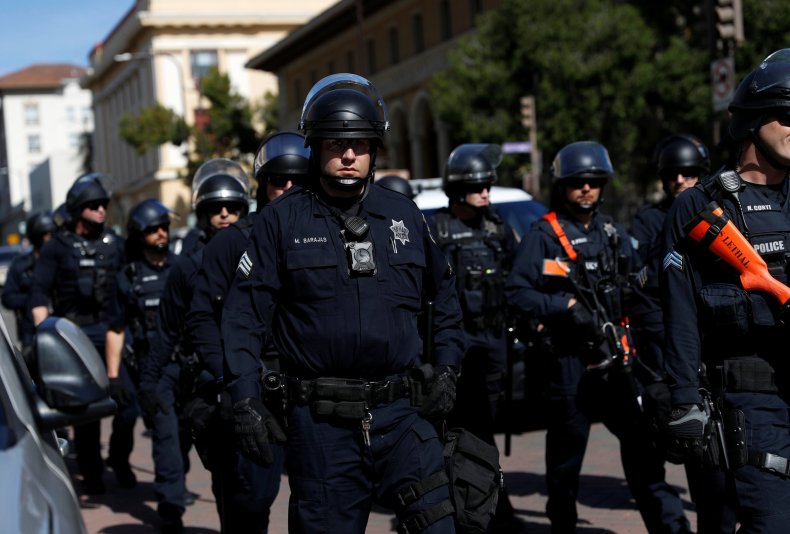 On a stretch of grass behind the Trump supporters stood a man with a sign strikingly different from most of the others. "We Are All In This Together," the sign said. Yet he was largely ignored.
Both sides will soon have another chance to air their differences before the nation: Milo Yiannopoulos is planning a "Free Speech Week" at Berkeley next month, starting with a "Cinco de Milo" event on May 5.