No Electricity? Ford F-150 Lighting Can Power a House for 10 Days
Ford's new partnership with solar energy company Sunrun could enable a 2022 Ford F-150 Lightning to power a house for up to 10 days during a blackout
The move expands the deal Ford already has with Sunrun as the company's preferred F-150 Lightning home charging system installer.
After installing an 80-amp Ford Charge Station Pro at a home, a driver can contact Sunrun to purchase a Home Integration System. Pricing details have yet to be released, though interested customers can ask for a quote from Sunrun.
According to utility company PG&E, the average Level 2 home charger installation can cost between $500 to $700. The labor cost of installing it can add to that final price.
That system is built with a power inverter, a dark start battery and a transfer switch to enable two-way power flow.
The upgraded F-150 Lightning, with the optional extended range battery, is capable of up to 131 kilowatt-hours of electric energy storage. Those who buy that model get the Ford Charge Station Pro as standard, while other F-150 Lightning customers can purchase a unit separately. Pricing details are currently unavailable.
Ford has said that if a power outage occurs while the truck is plugged into a Sunrun's Home Integration System, the truck can detect that and automatically provide 9.6 kW of power to the home. After the outage is resolved, the truck will return to charging.
In an interview with Newsweek, Ford energy services lead Ryan O'Gorman said that the system gives customers the choice of having the Lightning's power backup happen automatically or manually.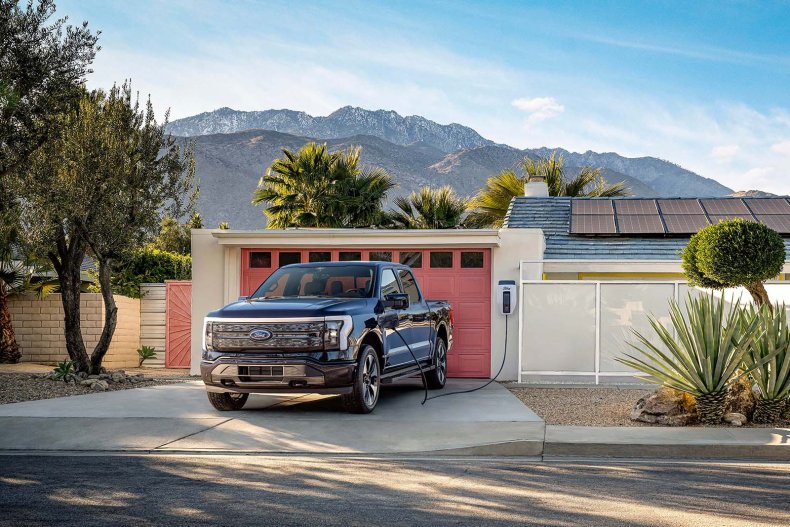 If a customer wants to control the length of time they want the Lightning to provide power, or if they want to set a lower limit on how much of the truck's power they want to deplete, the company makes that available through settings in the FordPass app.
"These are the types of things we've put in the customers' hands," he said. "We've given them that seamless experience if they want it. And if they want some sort of control or some sort of insight over when that truck's discharging power and things like that, we've given them that access to be able to do that."
O'Gorman says that "unconstrained" backup power usage would drain a Lightning of about 100 miles of range in a day. Reserving and rationing power usage can provide power for up to 10 days.
The standard battery pack on the 2022 Ford F-150 Lightning is EPA-rated for about 230 miles while the extended pack is rated for 300 miles.
He's also interested in learning more about how customers respond to this new capability from their vehicles.
"I think, once we do this, we're going to know how customers react to their vehicles as an energy source," he said. "I think we'll start to ponder new ways to provide new capabilities of that resource to the consumer."
A base F-150 Lightning Pro, starting at $39,974, is only available with the standard battery pack. Geared towards commercial customers, Intelligent Backup Power is a standard feature.
Installations on the Charge Station Pro and the Home Integration System will begin in the spring as deliveries of the Lightning begin.