'No End in Sight': New Passages Found in Longest Cave in the World
The world's longest cave has just been discovered to be even longer. Kentucky's Mammoth Cave National Park posted that mapping and exploration by the Cave Research Foundation revealed eight new miles of passageways in the Mammoth Cave system. There are now officially 420 known miles of passages.
"When it comes to discoveries in Mammoth Cave, there truly is no end in sight!" the Facebook post read.
According to the National Park Service, the Cave Research Foundation is an official partner with the park. It has mapped and explored Mammoth Cave since the late 1950s, but the organization wasn't the first to explore the passages.
"Prehistoric American Indians were the first to enter the cave around 5,000 years ago and explored over 19 miles of cave passage within what is now Mammoth Cave National Park," the National Park Service wrote.
In the 1840s, Stephen Bishop, an enslaved Mammoth Cave guide, created one of the first maps and discovered new passages with other guides for tourists to explore. The United States Department of the Interior noted that he came across the Bottomless Pit and found unmapped areas of the cave system.
These types of discoveries in the cave system continued for years. The National Park Service wrote that two guide families explored "lost" passageways in their free time and contributed what they learned to the known mileage.
Eventually, in 1972, explorers discovered a connection between the Mammoth Cave system and the Flint Ridge Cave system.
A group of explorers traveled 12 hours through the cave, entering on the Flint Ridge side to find the connection. The leader of the group, John Wilcox, discovered a large room, spotted a tourist trail and notified the others. This confirmed the connection between the two cave systems.
"As they all came rushing through the passage to join Wilcox, they realized, at that moment, they were in Mammoth Cave and they had climbed the Mt. Everest of the caving world," the article from the National Park Service read.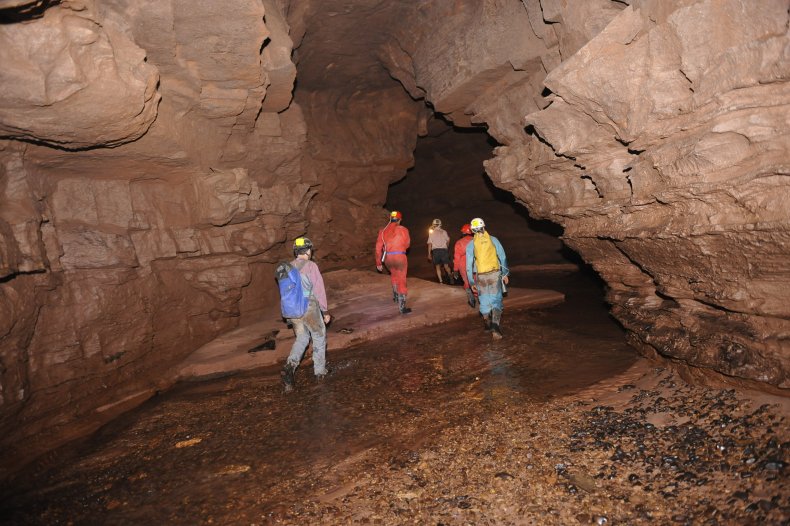 A press release from the National Park System stated that other connections with smaller cave systems were subsequently discovered.
And, while 420 miles of passageways are already impressive, the Department of the Interior stated that there are another 200 caves in the park that are disconnected from the Mammoth Cave system, and the park estimated there may be another 600 miles in the system.
Through the process of limestone erosion, also known as karst topography, the soft limestone dissolved from rain and rivers, which carved out the caves and passages. New passages continue to be created by underground rivers to this day.
The Lexington Herald-Leader reported the cave system will continue to grow as explorers from the Cave Research Foundation visit for mapping.
A representative from the Mammoth Cave National Park was unavailable for comment at press time.