Still No Evidence North Korea Will Give up Nukes, U.S. Representative Says Ahead of Kim Jong Un's Looming Deadline
America's special representative for North Korea told senators Wednesday there is still no evidence that Kim Jong Un has accepted the concept of denuclearization, and urged Pyongyang to seize the opportunity of fresh negotiations.
Stephen Biegun updated the Senate Foreign Relations Committee on the progress of U.S.-North Korean denuclearization talks as part of his confirmation hearing to become deputy secretary of state, Reuters reported.
Talks between the U.S. and North Korea have achieved little since President Donald Trump and Kim signed what the White House touted as a historic accord in Singapore last year. Negotiations have broken down several times, including at a February summit between the two leaders in Hanoi.
North Korea has given the U.S. an end-of-year deadline to present a new approach to talks or risk a total collapse of the negotiations.
In the meantime, Pyongyang has fired a series of short- and medium-range missiles to keep the pressure on Washington, though has refrained from testing ICBMs or nuclear warheads.
The infographic below from Statista shows the 2019 spike in North Korean weapons tests, following a a freeze on such activities in 2018.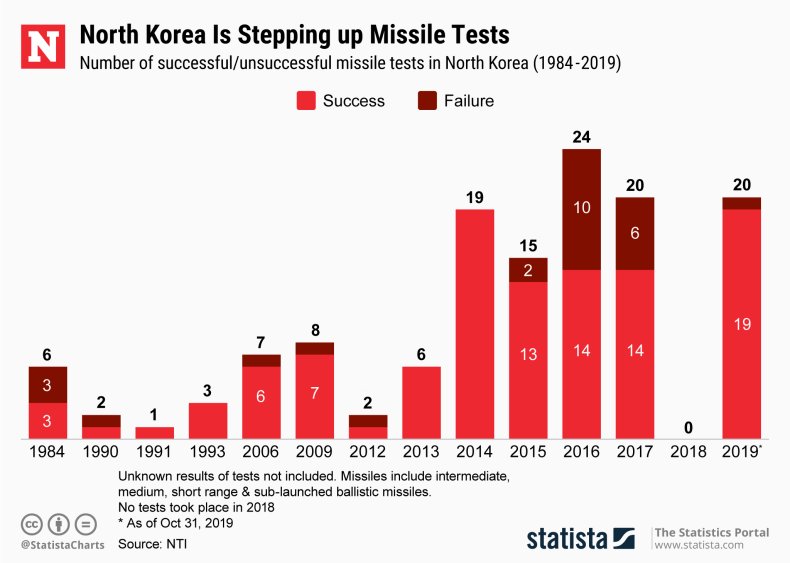 But Biegun—who has led working-level negotiations with the North Koreans—told senators that the U.S. does not have "any verifiable or meaningful evidence" that Kim has decided to move towards denuclearization. "Ultimately, it's the North Koreans that have to make the choice," Biegun added.
He said that the "window is still open" for Kim to engage in a diplomatic solution, and said that the president "remains of the view" that the North Korean leader "can make this decision to move forward."
"We do not have that they have yet made that choice. Our hypothesis is they can make that choice," Biegun explained, calling on Pyongyang to "seize the moment."
Biegun also dismissed the significance of Kim's "artificial" deadline, and said American negotiators "will be at this as long as it takes."
Any "provocative steps" by the North Koreans to undermine such efforts would be a "huge mistake and a missed opportunity," he added.
The two sides remain at odds over a roadmap to denuclearization, with the North Koreans demanding significant sanctions relief before offering up any of the location and status of their nuclear warheads. The U.S., however, is demanding such information before sanctions are eased.
Earlier this week, the U.S. and South Korea postponed a planned joint military drill in an effort to encourage negotiations, but North Korea—having complained about the exercise for weeks—dismissed the concession and demanded Washington end joint war games with Seoul "once and for all."
Trump has lauded his engagement with North Korea as a historic foreign policy win, one of few that can be considered at all successful after almost three tumultuous years in office. The surprise detente between the two nations soothed fears of imminent conflict on the Korean peninsula, but little of note has been achieved since.
Deteriorating relations could undermine Trump's 2020 re-election campaign, especially if Kim resumes long-range missile or nuclear weapon tests.
This article has been updated to include an infographic.