No Free Speech 'Crisis' on Campuses, Trump and Legislators Should Leave Discipline to Administrators, Report Says
While free speech on college campuses has been a hot button topic recently, a new report has concluded there isn't a "crisis" brewing in American higher education and encourages lawmakers and President Donald Trump to leave disciplinary actions up to administrators.
On March 21, Trump signed an executive order to withhold federal tax dollars from colleges and universities deemed inadequate in promoting free speech. He applauded several students from across the country for challenging the "rigid, far-left ideology," as well as Turning Point USA founder Charlie Kirk.
"If a college or university does not allow you to speak, we will not give them money. It's very simple," Trump said.
PEN America, an organization dedicated to free expression, including research on campus free speech, analyzed over 100 speech-related incidents on college campuses since 2016. The organization found a rise in reports of hateful expression nationwide, along with increased demand among students for hateful speech to be "strongly opposed and sometimes censored."
PEN America said there's a "looming danger" that the "bedrock faith" in free speech as a foundation of American society could give way to the belief that regulating "harmful expression" could allow people to live peacefully. However, the organization disagreed that the free speech problems affecting college campuses are any different from the ones "pulling apart American society" overall.
"They represent an area of serious concern but not a wholesale 'crisis' for free speech on campus," PEN America said.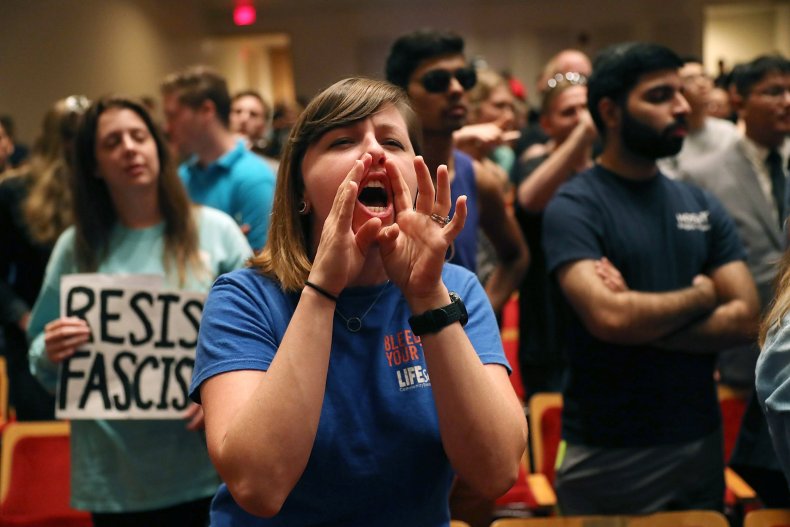 The report's authors recommended that students have robust debates and engage with new ideas, and they said administrators should ensure there are spaces and opportunities for divergent political perspectives. While PEN America acknowledged there are provocateurs, it said administrators should rescind speaker invitations only on rare occasions.
"Except in the most extreme cases, concerns over threats of violence or the potential outbreak of violence should not be grounds for withdrawing an invitation or canceling a controversial speech or event," PEN America said. "That a campus event may meet with protests should not be considered a reason to suspend it."
The same goes for protesting speakers, the report said. As long as it's not incidental and doesn't deprive audience members of hearing the speaker, there should be broad leeway for a protest, as it's also a protected speech.
Trump isn't the first person to promote government intervention with regard to campus speech, and PEN America identified more than 25 pieces of legislation across more than 15 states. The organization said it was "not surprising" that some have pushed for legislation to protect constitutional rights but said it's best left up to the universities, which are likely to have a fuller understanding of the context of the event in question.
Along with state and federal bodies not extending broad overreach into academic institutions, PEN America recommended that school officials resist pressure from "external actors" pushing for the curtailing and punishment of free speech.
"In a country generally recognized as offering the most protective standard in the world for speech, it is imperative that American institutions of higher learning set an example and staunchly guard the principles of diversity and inclusion in ways that simultaneously reinforce their commitment to supporting free speech for all," the report said.