'No Harm Done': IT Employee Goes Viral For Automating Job & Playing Video Games
One IT employee is going viral in a popular internet forum for automating their entire job and spending their work days playing video games.
In a viral thread posted in Reddit's popular r/antiwork subreddit, an anonymous Redditor said that they work in the IT department at a small law firm, and that they have spent nearly every day since the beginning of the global pandemic doing whatever they want. Titled, "I automated my job over a year ago and haven't told anyone," the viral thread has received nearly 56,000 votes and more than 3,300 comments in just six hours.
In their original post, the anonymous IT employee said that they handle all of the digital evidence their employer uses during trials and that when COVID arrived, they requested to work from home. Within a week of working from home, the Redditor said that they wrote, debugged, and perfected a simple script to perform all their entire job for them.
Since implementing the script, the Redditor said their work days are completely transformed.
"I clock in every day, play video games or do whatever, and at the end of the day I look over the logs to make sure everything ran smoothly...then clock out," they wrote. "I'm only at my desk maybe 10 minutes a day."
One Google search will reveal numerous articles and studies examining the effect of COVID on work and the global pandemic's impact on what work will look like moving forward.
At the end of 2020, the Pew Research Center reported that 71 percent of American workers who were able to work at home were doing just that. As a result of extensive vaccination efforts (the Mayo Clinic reports that, as of January 11, 62.6 percent of Americans are fully vaccinated against COVID) and relaxed CDC guidelines for quarantine times following a positive COVID test, office buildings are filling back up.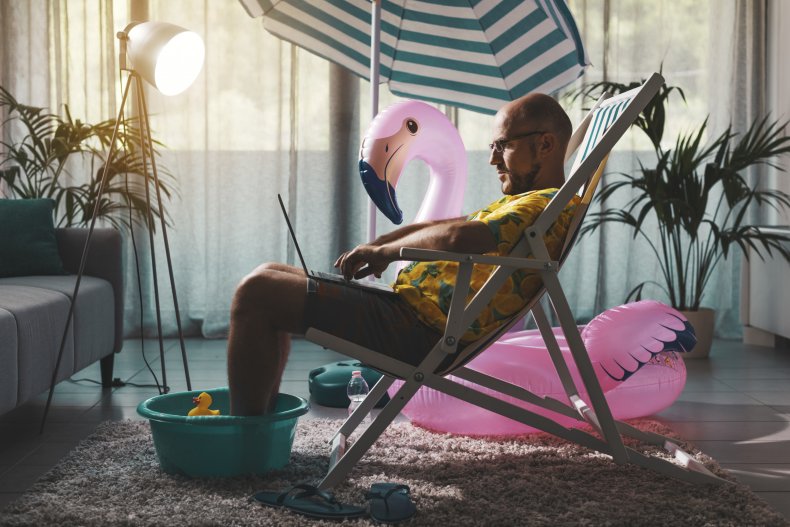 Despite the emphasis on returning to the office, many workers across the country have expressed a desire to continue working from home. Pew reports that, in December, 2020, 54 percent of surveyed employees wanted to continue working from home, instead of returning to the office.
In a report published by McKinsey & Company, the management consulting firm said they analyzed the potential of persistent remote work across 2,000 tasks in 800 occupations in eight focus countries. According to the report, Mckinsey found that about 20 and 25 percent of workforces in advanced economies could work from home between three and five days per week—aka "four to five times more remote work than before the pandemic."
While the pandemic revolutionized work from home capabilities, however, it also allowed for shrewd employees to maximize their leisure time and minimize their workloads.
In the viral Reddit post, the anonymous IT employee explained that they initially felt guilty for writing a script to perform their job, but ultimately concluded that the situation was symbiotic.
"For a while I felt guilty, like I was ripping the law firm off, but eventually I convinced myself that as long as everyone is happy and there's no harm done, I'm doing exactly what they hired me to do," they wrote. "All of the work is done in a timely manner, and I get to enjoy my life. Win win for everyone involved."
In the post's top comment, which has received 14,700 votes, Redditor u/BlobTheBuilderz reframed the job automation, and provided a new perspective on the original poster's work hack.
"Think of your wages as a subscription service to your automation program lol," they wrote. "Big companies love subscription services right?"
Redditor u/StrugglingStressBall, who acknowledged the viral Reddit post is just an example of a greater trend, said the original post was informative and could potentially influence their next employment decision.
"I feel like all these type of posts teach me is I need to 1.) learn how to code and 2.) find a laid back office job," they wrote.
Although many Redditors were impressed by the original poster's technological savvy, others exclaimed at their ability to skirt around conventional work hours and expectations. Telling the anonymous IT employee that their story fits perfectly within the r/antiwork subreddit's overarching message of getting the most out of a 'work-free' life, Redditor u/precsenz applauded them for their ingenuity.
"Legend," they commented. "This is true anti-work. You're providing the exact services as required, and they're paying for said services."
"Well done, I clap for you," they added.