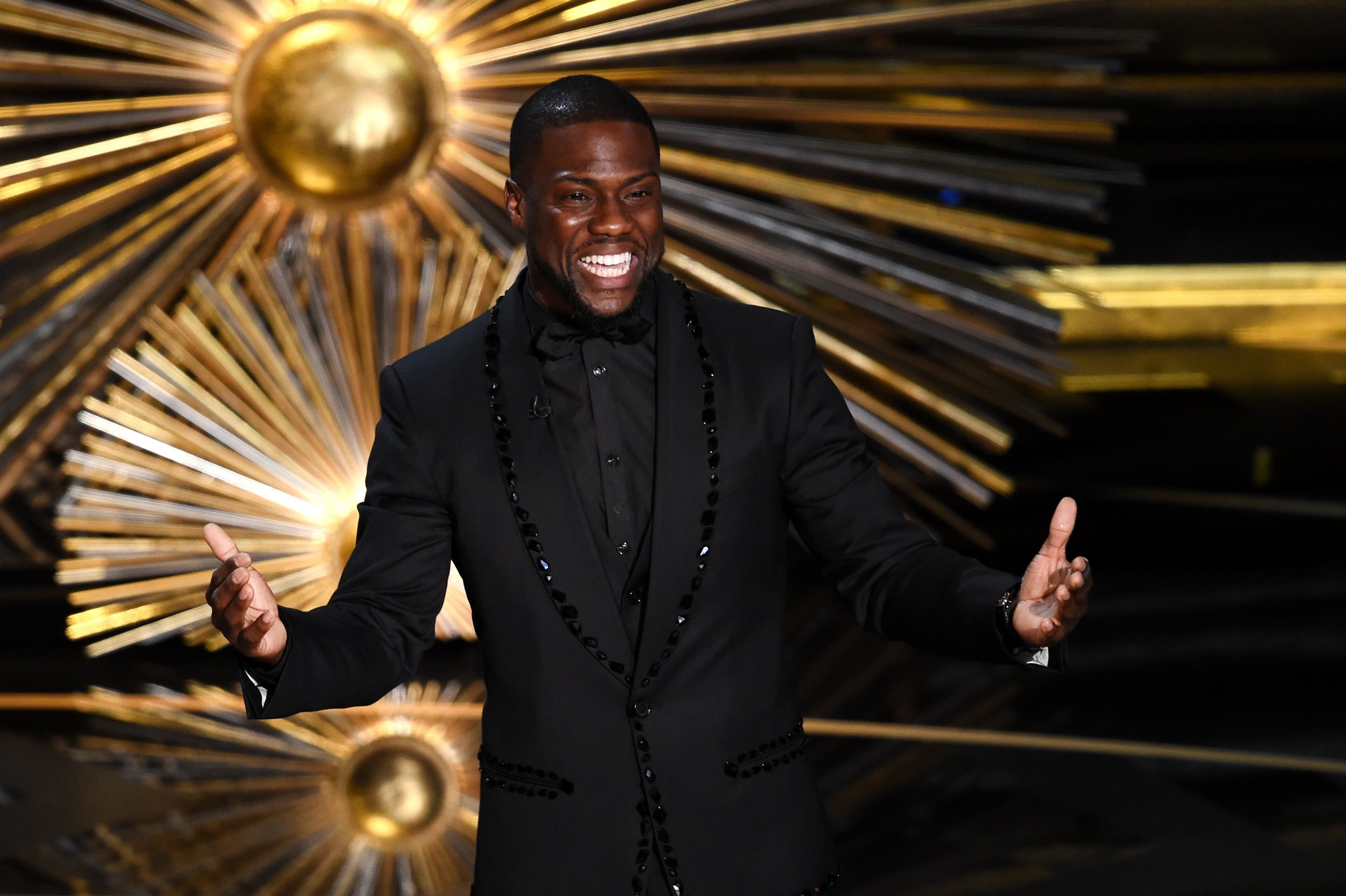 Maybe the 91st Academy Awards don't need a host to facilitate the 2019 ceremonies.
That certainly seems to be the official word in the latest update over the high-profile speculation of who will host the most prestigious event of the Hollywood film industry. The show airs at 8 p.m. EST on Sunday, February 24 on ABC.
Former Oscars host Whoopi Goldberg is among the presenters, along with Awkwafina, Jennifer Lopez and Daniel Craig.
Following weeks of controversy surrounding the issue – and after the Academy of Motion Picture Arts and Sciences dumped original 2019 host, comedian Kevin Hart, after his previous twitter comments about gays surfaced and resurfaced years later – TVLine reported Tuesday the gala will simply do without an official host or hostess.
A spokesperson for the academy confirmed the no-host decision on Monday, reported TVLine.
Homophobic tweets from Hart's past resurfaced two days after he announced he was hosting.
After the old tweets came to light, the academy reportedly offered Hart an ultimatum: apologize immediately or give up the hosting job. His reaction was to post, "I do not wish to be a distraction." He lost the gig.
Then comedian Ellen DeGeneres, an LGBTQ pioneer and a strong advocate for LGBTQ rights, surprisingly took Hart's side, churning over the academy's firing when Hart appeared as her guest on her January 4 episode of The Ellen DeGeneres Show.
TVLine characterized the guest appearance as "an hour-long rehabilitation of his image, orchestrated by the host herself."
DeGeneres tried talking Hart into reconsider hosting the Oscars, saying she had personally urged the academy to reconsider him for the gig.
However, LGBTQ camps roundly criticized her for criticizing Hart's critics; she called them a "loud minority" of haters and trolls.
TVLine counted that Hart has said publicly, "I'm over it" at least 14 times since the academy fired him.
"I'm not saying how I changed anymore, I'm not saying what I've done and what the 'new me' is," Hart said on Good Morning America. "I'm not giving no more explanation of who I am. I've done it."
Earlier, before meeting with DeGeneres, Hart posted on Instagram December 6, 2018: "Stop looking for reasons to be negative. Stop searching for reasons to be angry," adding that he has changed since posting the early homophobic jokes.
Still, the LGBTQ community let DeGeneres know it was upset with her odd support of Hart.
At the time, the Guardian Liberty Voice wrote that because of her stance, DeGeneres "lost her LGBT card for supporting Kevin Hart."
On December 6, 2018, BuzzFeed and several media outlets reposted Hart's 2011 tweet that surfaced years later and started the backlash about his Oscars job before Hart reportedly started deleting past tweets:
"Yo if my son comes home & try's 2 play with my daughters doll house I'm going 2 break it over his head & say n my voice 'stop that's gay,'" read a 2011 tweet that Hart has now deleted.
Immediately after the academy fired Hart, The Atlantic called him out on his "phantom apologies for his homophobic remarks" even as DeGeneres tried to be some sort of counselor:
" … it's a tale about celebrity cluelessness, arrogance, and the troubling trend of dismissing all online criticism, of any validity, as 'trolling,'" wrote The Atlantic on January 4.
To Hart, the firing was conspiratorial, as he told DeGeneres, as The Atlantic reported:
"This was to destroy me. This was to end all partnerships, all brand relationships, all investment opportunities, studio relationships, my production company, and the people that work underneath me. This was to damage the lives that have been invested in me. It's bigger than just the Oscars."