Protests Planned After Grand Jury Clears Officer in Garner Chokehold Case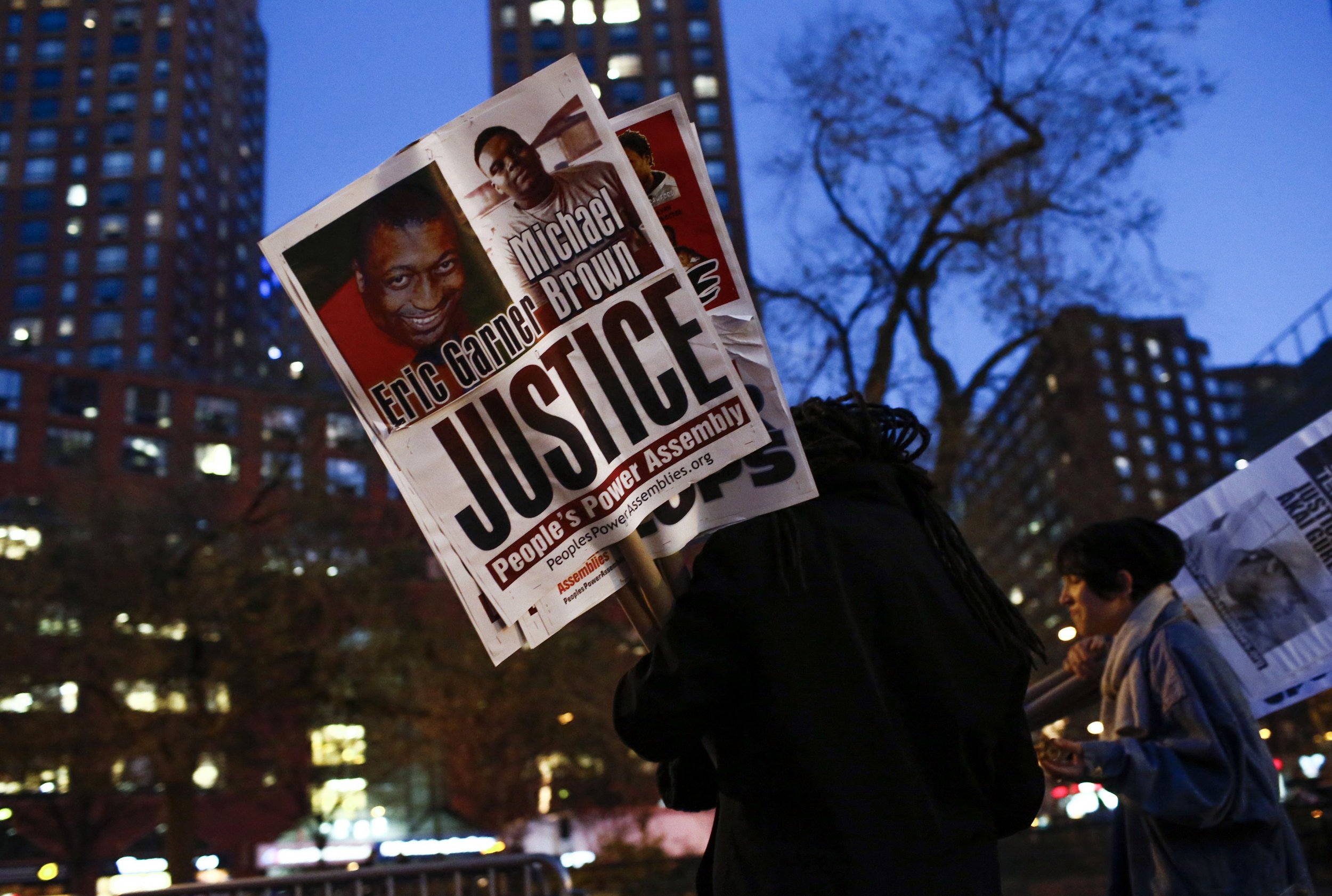 Protesters gathered in locations across New York City Wednesday night after a grand jury decided not to indict the New York Police Department officer who restrained Eric Garner in a chokehold during a confrontation in July. Garner's subsequent death was found to have occurred in part from chokehold, and was ruled a homicide.
Garner, an asthmatic African American man, was placed in the chokehold by Officer Daniel Pantaleo in Staten Island during his arrest for illegally selling loose cigarettes.
A video recording of the arrest, posted on the Daily News website, sparked furious debate about police and community relations, and Garner's case later became closely tied to the nationwide protests around the shooting of unarmed 18-year-old Michael Brown in Ferguson.
The grand jury reviewed a number of possible charges against Pantaleo, including manslaughter, reckless endangerment and criminal negligence.
The news was first reported by NY1, citing sources. Lawyers in Garner's case later confirmed the news. The Associated Press reported late Wednesday afternoon that the Justice Department plans to investigate Garner's death, according to an unnamed official.
City officials have been preparing for the possiblity of protests as a response to the grand jury decision:
Shortly after the grand jury decision was made, plans were made on social media for a number of organized protests Wednesday night. According to two organizers, protesters are planning to gather at locations in Union Square, across from New York Police Department headquarters in downtown Manhattan, and outside Grand Central Terminal. The Garner family is expected to make a statement at Times Square around 5pm this evening and protesters are reportedly planning to make their way to nearby Rockefeller Center, where live performances and the annual Christmas Tree lighting is scheduled to take place tonight between 7 and 9pm. The event draws tens of thousands of spectators and is televised live.
New York City mayor Bill de Blasio canceled his appearance at the tree lighting following the decision. He issued this statement Wednesday afternoon:
This is a deeply emotional day – for the Garner Family, and all New Yorkers. His death was a terrible tragedy that no family should have to endure. This is a subject that is never far from my family's minds – or our hearts. And Eric Garner's death put a spotlight on police-community relations and civil rights – some of most critical issues our nation faces today.

Today's outcome is one that many in our city did not want. Yet New York City owns a proud and powerful tradition of expressing ourselves through non-violent protest. We trust that those unhappy with today's grand jury decision will make their views known in the same peaceful, constructive way. We all agree that demonstrations and free speech are valuable contributions to debate, and that violence and disorder are not only wrong – but hurt the critically important goals we are trying to achieve together.

These goals – of bringing police and community closer together and changing the culture of law enforcement -- are why we have introduced so many reforms this year. It starts at the top with Commissioner Bratton - a strong, proven change agent. We have dramatically reduced the overuse and abuse of stop-and-frisk. We have initiated a comprehensive plan to retrain the entire NYPD to reduce the use of excessive force and to work with the community. We have changed our marijuana policy to reduce low-level arrests, and we have launched a new pilot program for body cameras for officers to improve transparency and accountability.

These are the long term reforms we are making to ensure we don't endure tragedies like this one again in the future. But we also know that this chapter is not yet complete. The grand jury is but one part of the process. There will still be an NYPD internal investigation. And we know the US Attorney is continuing her investigation. Should the federal government choose to act, we stand ready to cooperate.

Dr. Martin Luther King Jr. – one of our nation's most profound thinkers on these issues – taught us something very simple: 'Injustice anywhere is a threat to justice everywhere.' The problem of police-community relations and civil rights is not just an issue for people of color – or young people – or people who get stopped by police. This is a fundamental issue for every American who cares about justice.

All of us must work together to make this right – to work for justice – and to build the kind of city – and nation – we need to be.