'No Irish Pub': St. Patrick's Day Experiment Denies Bar Entry to Revelers to Spark Conversation on Immigration
Some revelers in Detroit were denied entry to a pub Saturday along the route of the city's St. Patrick's Day Parade after the bouncer derided Irish people as "lazy" and "lower-class citizens." But it was all in the name of a social experiment.
Creator Dan Margulis set up a fake, temporary pub and filmed as people claiming to be Irish or wearing green were denied entry. The setup was part of a social experiment to raise awareness about how badly Irish immigrants were treated in the U.S. and how newer immigrant groups are being treated now.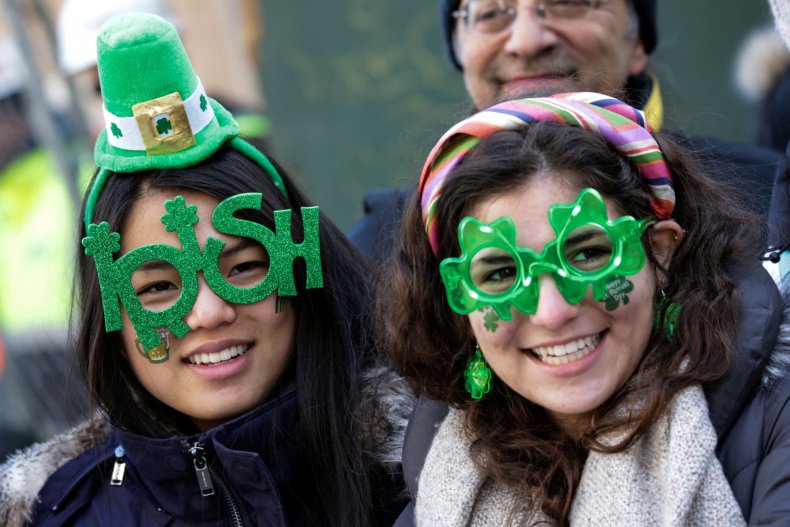 "On a day when everyone is proclaiming solidarity with an immigrant group … we wanted them to feel what it was like to be treated like an Irish immigrant … years ago in this country, and hopefully that would get them to think about the way we treat current immigrant groups," Margulis told the Detroit Free Press.
A video of the interactions was posted on Margulis's website, NoIrishPub.com.
"We don't need no more immigrants in this country. They're ruining this country," fake bouncer Bill Johns says in the video, as parade attendees look shocked and angered. Johns's language was influenced by century-old newspaper clippings, which called Irish immigrants "too lazy to work" and members of "a servant race."
Signs set up between popular bars Nemo's and McShane's on Michigan Avenue read, "No Irish Pub." Margulis said the comments and signs made people "outraged," with some asking why Johns could be so racist.
"People were shocked and offended, rightfully so," he told Newsweek. "Being generations away from the immigrant experience, many younger people didn't get why we would possibly label Irish people as 'lazy' or 'simians' or 'job stealers' or 'a servant class'—all terms ripped from actual newspapers and posters from the time."
According to the Detroit Free Press, anyone who got really angry was given a brochure to explain what the experiment was all about. Someone also gave out brochures down the street.
"When we let them in on what we were doing, we could see the light bulbs go off. They got it and thought it was powerful," Margulis told Newsweek. He said that the experiment was stopped "immediately" if anyone got too worked up.
Margulis said he hoped his experiment would force people "to feel the discrimination their ancestors felt, it would shock them into empathy." He argued that the current national debate on immigration was "too focused on immigration status [legal versus illegal] and not the human story."
Asked if he'd conduct the experiment again, Margulis told Newsweek that he would "love to continue to find disruptive ways to raise awareness of this issue and others."
He said, "We're generating a ton of conversation. And getting a lot of people to draw a connection between their own families' origin stories…to the plight of current [Hispanic] immigrants. It's been really powerful and moving to know we've opened some eyes and engaged people in an issue they may not have thought they were tied to."