No, ISIS Doesn't Use Nutella, Kittens to Lure Female Recruits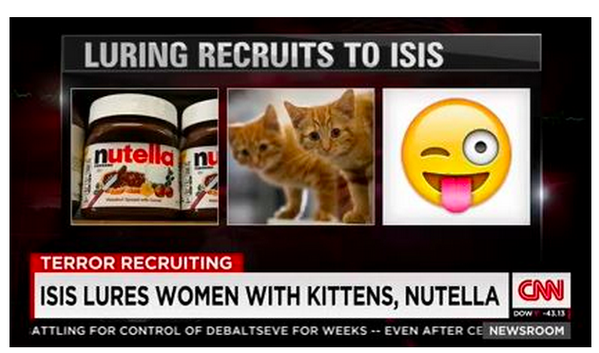 On Wednesday, Nimmi Gowrinathan, a visiting professor at City College, joined CNN's Carol Costello to discuss the role of female militants in the Islamic State (ISIS) terrorist organization.
CNN prefaced the segment with a banner that read, "ISIS lures women with kittens, Nutella," while Costello said: "ISIS is talking online about jars of Nutella, pictures of kittens and emojis. These three images are, in part, helping ISIS recruiters lure Westerners into their fight because they want people to believe their life on the battlefield isn't so different than yours. They actually eat Nutella, and I guess they have pet kittens."
Costello's assertions were based on unconfirmed social media claims, and her guest, who is also a human rights researcher and a political science Ph.D., disagreed with them.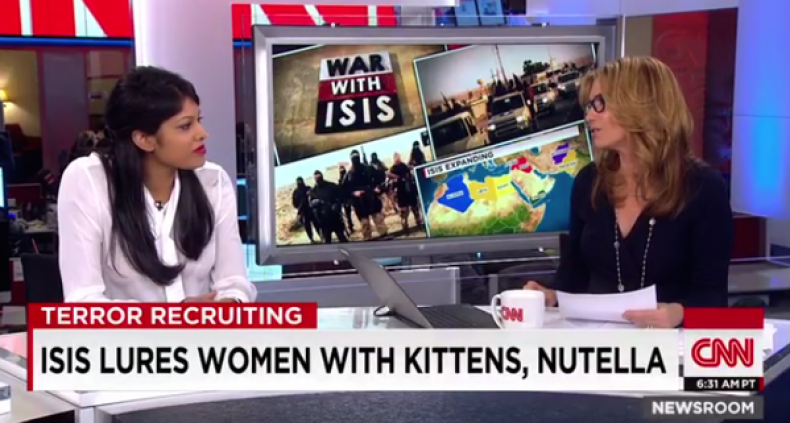 Following the segment and during the subsequent Internet uproar over CNN's choice of banner, Gowrinathan tweeted, "I do not believe emoticons are relevant in recruitment of women to ISIS. Do listen to the interview."
In an interview withNewsweek, Gowrinathan again asserted that she does not believe ISIS uses Nutella, kittens or emojis to recruit women.
CNN "had said the conversation would be about why women were joining ISIS," Gowrinathan explained. "It was only when I was sitting up there that I saw this banner come up on the screen."
Gowrinathan is an expert on female extremism, and in an August 2014 article for Foreign Affairs she contemplated the Western world's position on the topic. "For many, the idea of women as violent extremists seems paradoxical," she wrote. "After all, why should women want to join a political struggle that so blatantly oppresses them? That question reveals more about the experts than the fighters."
This same line of thinking, Gowrinathan speculates, is why CNN would choose such an attention-grabbing, albeit unconfirmed, banner for her interview. "I think there is a lot of confusion about female militants, a fascination with the idea that women would join something that is oppressive to women," she toldNewsweek. "People have a hard time with the idea of Western women joining ISIS.... This put it in words we are familiar with."
In reality, Gowrinathan believes female militants rarely spend much time thinking of material objects, let alone Nutella. "In any of the female fighters that I have interviewed...their entire context has shifted so dramatically, its hard to even see those things having a place in their reality."
In a diary discovered by the jihadist watchdog SITE Intel Group, an ISIS militant's wife reminisces about only one Western material possession: makeup. In its research, SITE has uncovered ISIS members posting images of food and ice cream, but watchdog President Rita Katz said she doesn't believe Nutella has been used. "I think that the reference to Nutella was more a general [term] for 'good stuff,'" she told Newsweek.
CNN and Nutella did not respond to requests for comment.