No, 'JFC' Doesn't Stand for 'Jentucky Fried Chicken'
In the era of social media and texting, it's not all that uncommon for people to speak—err, write—in shorthand. Acronyms have become a standard vernacular for many, especially when it comes to communicating on the Internet.
Terms like "LOL"—laugh out loud—and "LMAO"—laughing my a** off—are among the most common of internet slang, but there are some acronyms and phrases that oftentimes leave people completely stumped. Like, for instance, "JFC," which, contrary to what some folks on Twitter believe, doesn't stand for "Jentucky Fried Chicken."
As it stands, "JFC" is shorthand for the phrase "Jesus F**king Christ." However, after one person on Twitter claimed that sometimes the phrase "John F. Cennedy" came to mind when they see the acronym, others chimed in that they sometimes associate "JFC" with 
"Jentucky Fried Chicken."
"First time my brain saw JFC: Jentucky Fried Chicken," one person wrote on Twitter.
"For me it's Jentucky Fried Chicken," wrote another.
"Jentucky Fried Chicken" is not a new a restaurant where you can pile up on orders of extra crispy wings and warm biscuits, nor is "Jentucky" a place established by a person named Jen. In fact, "Jentucky" isn't even an actual word, and it can't be found anywhere in the Merriam-Webster dictionary.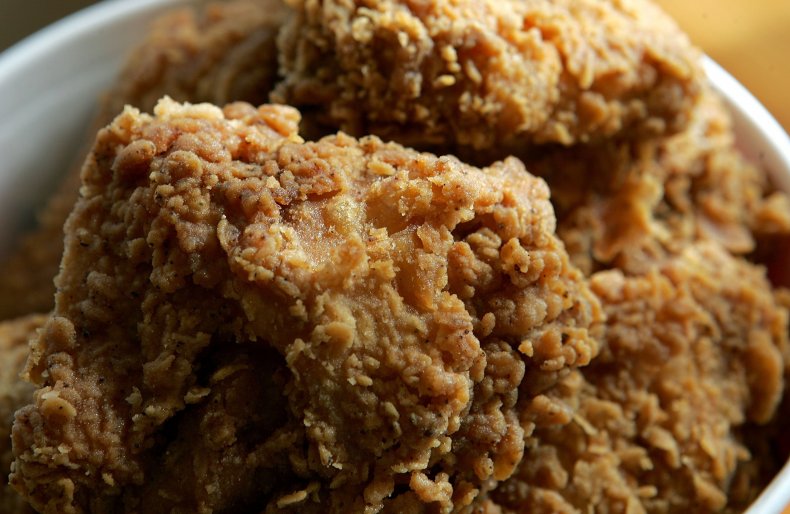 But that hasn't stopped the actual KFC from getting in on all the fun. After "Jentucky Fried Chicken" began trending on Twitter on Wednesday, the chicken chain's official social media handle changed its account name to Jentucky Fried Chicken, frying up a heap of reactions from fans.
"Absolutely dying that @kfc actually changed their twitter name to Jentucky Fried Chicken," one person wrote.
Another person teased that KFC's new "Jentucky Fried Chicken" account was only following "6 herbs and 5 Spice Girls."
Some people apparently presumed that President Donald Trump started the trend; they guessed that he had posted a tweet about the actual fast-food chain but typed the word "Jentucky" instead. But even though Trump does have a tendency to misspell a word or two while tweeting, the president has nothing to do with the "Jentucky Fried Chicken" that's spreading all across the Twitter-sphere.
"I saw #JentuckyFriedChicken and just assumed it was another typo from the President. I still do not know why it is trending so I will continue to assume it was a middle of the night typo from Teflon Don," one Twitter use commented.
"I saw Jentucky Fried Chicken and just assumed Trump had tweeted his breakfast order instead of texting it to Melania [Trump]. (And misspelled it, of course)," a Twitter user wrote.
"Jentucky Fried Chicken is trending and I'm sure it has something to do with Trump's mispronunciation problems stemming from his declining mental state," another person wrote.
Some folks who were already aware of what "JFC" actually stands for still took a moment to join in on all the social media fun.
"Jentucky Fried Chicken??? sorry i only know of sentucky fried chicken, get on my level," one Twitter user wrote.