Why is There No Mail Today? USPS, FedEx, UPS Hours on George H. W. Bush Day of Mourning
Following the death of President George H. W. Bush on November 30, President Donald J. Trump ordered a National Day of Mourning for December 5.
The day of mourning is one of the measures taken to honor the late president in addition to flags flying at half-staff for the 30 days following his death. The president or the governor of a state can order the flags be flown at half-mast and it's a tradition for when the country is in mourning.
There will be a funeral for the late president at 11 a.m. EST at the Washington National Cathedral Wednesday before his body is sent back to Texas, his final resting place.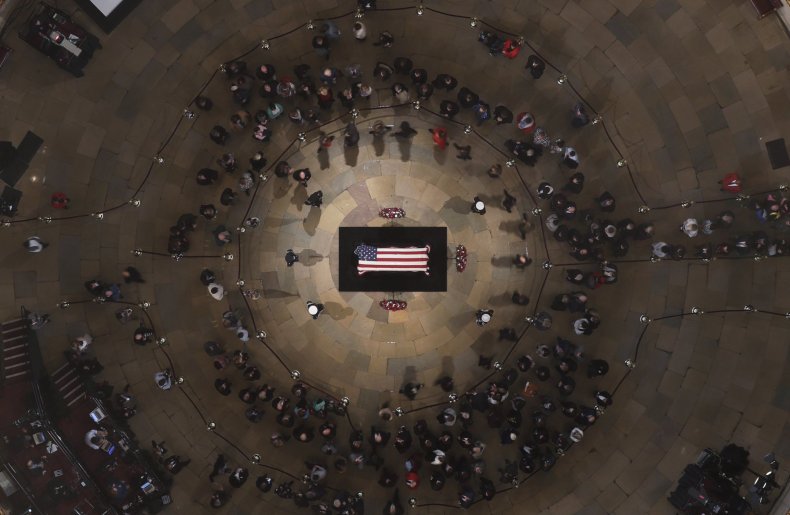 "I call on the American people to assemble on that day in their respective places of worship, there to pay homage to the memory of President George H.W. Bush. I invite the people of the world who share our grief to join us in this solemn observance," said the proclamation from President Donald Trump.
This means that many government offices will also be closed Wednesday, including the post office, for the observance of the day. The USPS put a notice on its website Monday notifying customers that there would be no services on Wednesday. The notice said that the postal service would be suspending regular mail and retail services on Wednesday. That means the post office locations could be closed and no regular mail delivery would happen. Regular operations are expected to resume at the post office Thursday.
Even though the USPS would be closed Wednesday other shippers would still be making deliveries. UPS confirmed to Newsweek that the company would be operating on a regular schedule. FedEx will also be operating normally, the only packages that will be impacted are the Smartpost parcels that are delivered by the USPS, FedEx told Newsweek.
Other days of mourning have been held when other presidents passed away as well. One happened in 2007 and another in 2004 for President Gerald Ford and Ronald Reagan respectively.
The New York Stock Exchange will be closed Wednesday as well and the Supreme Court has postponed hearing cases for the day too. Public schools are open on the day of mourning in most places and so are VA hospitals.