No, Ma'Khia Bryant is Not the Next George Floyd | Opinion
Ma'Khia Bryant is not the next George Floyd.
Neither is Adam Toledo.
George Floyd was sitting in his car, unarmed, when a police officer tapped on his window, pulled out his gun, and screamed "Show me your (expletive) hands!"
Floyd complied. He wasn't a threat. He was unarmed. Then he was handcuffed. Still, he ended up dead.
What happened to George Floyd was horrific, unmitigated, inexcusable, murderous police brutality.
But that is not what happened in the two cases now being held up by the media, celebrities, teen magazines, activists, NBA players and even politicians as the next instances of police brutality and state sanctioned murder.
While the stories that led to the deaths of Ma'Khia Bryant and Adam Toledo, both of whom were teens, are tragic, they are a far cry from the overt murderous police brutality for which Chauvin has gone to prison.
Ma'Khia Bryant was armed. She was wielding a knife at the moment that police appeared on the scene, threatening the life of another woman. And she was given a chance to disarm herself. The police officer asked, "What's going on?" and followed up with, "Hey, hey, hey, get down, get down, get down," commands that Bryant ignored as she went after the other woman with her knife. At that point, the officer shot Bryant. In doing so, he most probably saved the other woman's life.
Adam Toledo, too, was armed. He was holding a 9mm Ruger pistol that had just been fired at least eight times when police arrived on the scene. A police officer chased him, shouting "Police, stop! Stop right (expletive) now!" Adam kept on running. The officer continued, "Hey, show me your (expletive) hands. Drop it!" And then two things happened almost simultaneously, within half a second of each other: Adam dropped the pistol and whirled around. The officer shot in self defense.
You would not know this from the way the media is covering these stories.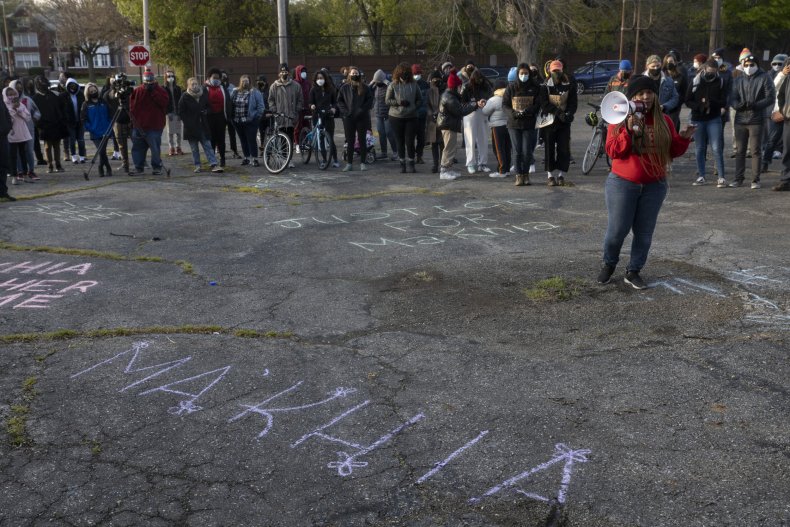 The New York Times' initial tweet failed to mention the knife at all. "Ma'Khia Bryant, 16, was fatally shot by a Columbus, Ohio, police officer on Tuesday," the paper of record tweeted. Only after fierce criticism did they quietly remove their tweet for "lacking context," in this case, the fact that Ma'Khia was trying to stab someone. Not to be outdone, the Washington Post's misleading headline read, "Ohio Police fatally shoot Black teenage girl just before Chauvin verdict."
It wasn't just the media, though. Sports icon LeBron James posted and later deleted a picture of the officer who shot at Ma'Khia Bryant over which James ominously wrote, "You're next." Actress Jada Pinkett Smith posted a graphic of Ma'Khia with the hashtag #SayHerName, a social movement that, in the words of the African American Policy Forum, "brings awareness to the often invisible names and stories of Black women and girls who have been victimized by racist police violence." Black Lives Matter posted about Adam Toledo, "13 years old. No, we will NEVER be alright with killer cops on the loose."
This overgeneralization is false and misleading. Worse, it's dangerous. There are practical outcomes to smearing legitimate policing as police brutality that will undermine the cause of Black Lives Matter and larger efforts at police reform.
Think about it: The average, reasonable individual observing cases like Ma'Khia Bryant's or Adam Toledo's will correctly conclude that in both cases, the officers' actions were justified. When such a person encounters the media labeling these cases police brutality, it undermines the seriousness of that charge—which is a disaster, because police brutality is actually serious and in need urgent attention.
It just wasn't present in these cases. Ma'Khia Bryant and Adam Toledo's deaths are tragic stories of teens caught up in violence, not police brutality. Bryant was in the midst of stabbing someone, and Toledo, who bore a freshly inked Latin Kings tattoo, had just been in the company of a man who shot a gun eight times. Responding officers acted as they did due to a much greater threat to Black and brown life than police brutality: 2020's major homicide spike. The past year has seen historic levels of murder across the nation; the vast majority of the victims have been Black and Latino.
And there is a strong argument to be made that it is the very over-generalization about police brutality that has enabled this spike in crime. Data links the spike to a "Minneapolis Effect" similar to a "Ferguson Effect": police diverting resources from policing to controlling protests. And even when there are no protests, police have "scaled back on proactive or officer-initiated law enforcement, such as street-stops and other forms of policing designed to prevent firearms crimes." As a result of this kind of de-policing, in July and June of 2020, 710 additional victims were murdered, according to Paul Cassell, a leading researcher on criminal justice issues. This is no doubt why so many Black lawmakers oppose defunding the police.
Police brutality is a real and urgent problem. But if we allow ourselves to overgeneralize to cases that are clearly instances of police officers doing their jobs, we are enabling, rather than solving, the conditions whereby Black life is lost.
As prosecutor Steve Schleicher made clear during George Floyd's trial, true police brutality is something the police themselves view with disgust. Chauvin "betrayed the badge and everything it stood for," Schleicher argued. "It's not how they're trained, it's not following the rules."
America is a country that loves justice. But justice requires careful attention to facts. If we want meaningful police reform, if we want to prevent more murders like George Floyd's, we must acknowledge the differences between the shooting deaths of armed assailants like Ma'Khia Bryant and Adam Toledo, however tragic they are, and the callous execution of an unarmed man pinned beneath a white man's knee. Truth demands it. But so does the fight for Black lives.
Olivia Friedman holds an MSEd from Northwestern and is a high school teacher in the Chicago area.
The views in this article are the writer's own.