No Man's Sky NEXT is set to release July 24 alongside the game's Xbox One debut, so Hello Games Managing Director Sean Murray recently sat down with publications like The Guardian and IGN to discuss the project's past, present and future. Two years ago, No Man's Sky's early days were disastrous but next week's new additions pave the way for an interesting few months and possible redemption.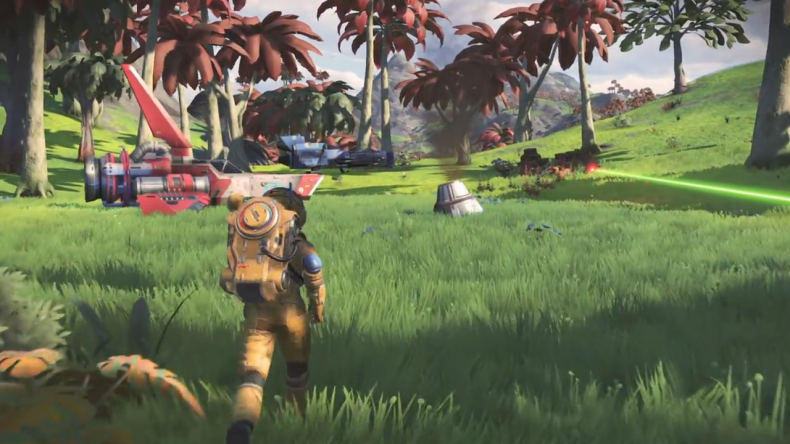 Speaking briefly about No Man's Sky's unprecedented post-launch backlash, Murray admitted to The Guardian that the vitriol was just as bad as it appeared. Emotions ran so high that criticism came from some pretty unexpected places.
"I remember getting a death threat about the fact that there were butterflies in our original trailer, and you could see them as you walked past them, but there weren't any butterflies in the launch game," Murray recalled. "I remember thinking to myself: 'Maybe when you're sending a death threat about butterflies in a game, you might be the bad guy.'" Considering altercations like these, Murray and his small team were in regular contact with local law enforcement officials.
During that period, Hello Games remained dedicated to the small community that was still supportive of the studio. While player counts dropped in the months after release, Murray suggested the stats were no different than any other high-profile release. In fact, he was most impressed by the amount of time those players spent on each save file. In many ways, NEXT serves as both a thank you to those with hundreds of hours of playtime and an adequate response to the internal player data that was available.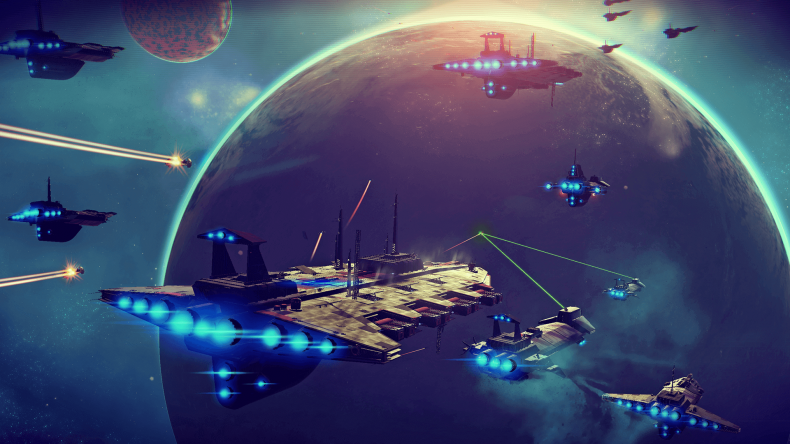 Based on the latest trailer and Friday's hands-on impressions, here are a few new features players can expect from NEXT:
Multiplayer: Multiplayer is turned on by default, but the universe is so large that encounters will remain fairly rare. Friends can enjoy the universe together in four-person Squads as long as save files correspond to the same mode. While partied up, players can stay as close together or far apart as they wish. Supplies can be shared as necessary. While you can attack others, No Man's Sky is more rewarding as a co-op experience.
Missions: Missions exist in No Man's Sky today, but there will be more of them related to aspects like base building, capital ships and ship fleets. They're essentially short-term challenges that offer in-game rewards.
Cosmetics: Those rewards can be spent on suit cosmetics, ship cosmetics, special building parts and emotes. Now that No Man's Sky is a third-person game by default, the way players look is very important. Every part of a suit and even the race of your character can be changed via kiosks at space stations and inside bases.
Base Building Untamed: In NEXT, players will be able to build a base anywhere they like using hundreds of new pieces. Those who'd like to build an underwater neighborhood can feasibly do so. There are no restrictions to crafting.
Fleets: Mentioned briefly above, players can now land on freighters and send them off to accomplish missions. Along the way they may encounter trouble, and you can fly in to save them. Players receive in-game messages when each mission is complete.
Expanding the Old Systems: The Mining laser can now find buried treasure, and ship components can be repaired individually instead of all at once. NEXT has many quality-of-life fixes for returning players.
Once explorers step back into No Man's Sky, Hello Games will do more to keep them there. To stand in for the months of silence between major feature additions, the game will now receive free weekly updates. These updates include new challenges and events with special rewards, and they'll be available at no cost across all platforms.
In short, previews of No Man's Sky NEXT suggest Sean Murray and Hello Games are through with being the butt of jokes from gamers and industry pundits. This is a new beginning for what started out as a massive disaster. It's unclear just how much excitement these fresh elements will add to an occasionally mundane gameplay loop, but we can't wait to find out.
No Man's Sky is available now on PS4 and PC. It launches on Xbox One alongside NEXT July 24.
Are you more excited for No Man's Sky NEXT based on these previews? Can Hello Games repair its mixed reputation? Tell us in the comments section!