'No Man's Sky' Releasing on Xbox This Summer With Next Update
No Man's Sky will finally release on Xbox One approximately two years after its PS4 and PC counterparts. In a recent email conversation with Kotaku, Hello Games Founder Sean Murray confirmed the news.
An Xbox One release of No Man's Sky has been "hotly requested by patient Xbox fans," he said, adding that the Xbox One build of the game will feature all previous updates alongside special enhancements for Xbox One X. In contrast to the previous version, which was published by Hello Games directly, the Xbox port will be distributed by 505 Games.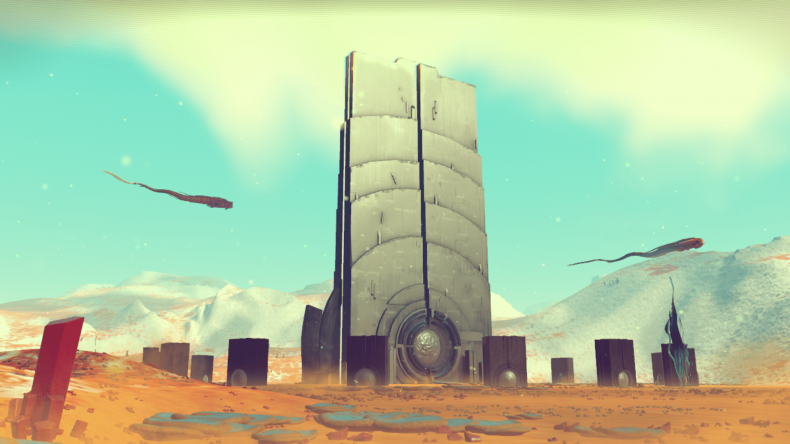 In addition to revealing the the Xbox One version of No Man's Sky, Murray also teased the game's upcoming major update called "Next." Next will go live on all three platforms simultaneously and is described as "by far our biggest update so far." When it arrives, Next will be free to all players and will be just one of many major overhauls planned in the months ahead.
The announcement of an Xbox port of No Man's Sky arrives at a critical time for fans of the controversial space exploration experience. Earlier this week, a mysterious website called Ware-tech was uncovered via an IP address tied to No Man's Sky's Waking Titan ARG. The site, while fully in Chinese, features references to virtual reality gaming, mirrors and sleep. These themes were also discussed when Waking Titan briefly resurfaced in January, and they tie back to a strange tweet Murray posted around that same time. He said "if you fall asleep with a mirror on your face you wake up in your dreams."
It's still unclear what this might mean for No Man's Sky and Next, but fans have plenty of theories. Mentions of mirrors possibly suggest that players will finally be able to see their own avatars and possibly the avatars of other players in the area. As for virtual reality, is it possible we'll finally be able to enjoy the universe of No Man's Sky from inside an Oculus Rift or PlayStation VR headset? It would seem rather unlikely given how small the team at Hello Games is, but Murray has previously been cagey when asked how No Man's Sky and VR might eventually fit together.
No Man's Sky is available now on PS4 and PC and will launch on Xbox One this summer.
Are you surprised to learn that No Man's Sky will finally come to Xbox? What would you like to see in the Next update? Tell us in the comments section!