No Man's Sky Update 1.75 releases this Thursday on PS4 and Xbox One. The free content drop, called Visions, focuses on adding variety to Hello Games' limitless universe. With new planet types to traverse, creatures to discover and skies to gaze at, your space exploration missions just got a whole lot better.
Read the full patch notes below courtesy of a blog post from Hello Games.
No Man's Sky Update 1.75 Patch Notes
New Visions Features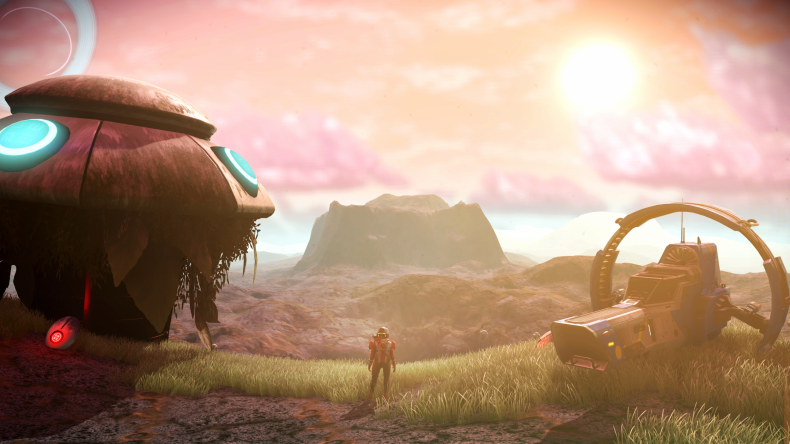 New Worlds: Barren planets are filled with life and alien trophies to collect.
Bizarre New Creatures: Includes predatory flora and fauna such as venus fly traps.
More Variety: Additions include rainbows, in-game weather effects, ancient alien bones, fallen satellites and corrupted Sentinels.
Community Mission: Progress is shared between all players as they work together to unlock the Eye of Korvax helmet and other goodies.
Bug Fixes
Missions and Progression
Fixed an issue where players could be prevented from earning a free freighter in the tutorial.
Allowed the Dreams of the Deep mission to detect if the a Nautilon Chamber had been built nearby before the mission started.
Fixed an issue where missions that visited trade terminals could advance without their objective being completed.
Fixed an issue that prevented higher level Aeration Membrane upgrade modules from appearing in the Space Station tech shops.
Fixed an issue that prevented Freighter Hyperdrive upgrade modules from appearing in the Space Station tech shops.
Fixed an issue where players could fail to learn the Living Glass blueprint at the correct time.
Fixed an issue where players could fail to learn the Exocraft Boost blueprint at the correct time.
NipNip blueprints can now be acquired from the Base farmer after their mission chain is complete.
Fixed an issue where NPCs awarding procedurally generated upgrade modules would select from an insufficiently random pool.
Fixed an issue that prevented some doors + items that require Atlas Pass v1 from accepting v2 or v3.
Adjusted the behaviour of wanted level timers, so that the wanted level decays as the timer does.
UI
Improved the appearance of the planetary readout from space.
Added a new section to the inventory item popup hinting at the item's use.
Improved the visual feedback when collecting items, especially rare items.
Improved the text labels for armoured objects.
Added a filter for "Not Owned" to the Quicksilver Shop.
Fixed an issue which would allow players to browse their existing fleet whilst purchasing a new frigate.
Fixed a rare case where certain game inputs could temporarily fail to be recognised if remapped then reverted to defaults.
Prevented an erroneous boost icon appearing while piloting the Nautilon (on PS4 and Xbox One).
Bases and Buildings
Fixed an issue preventing building multiples of storage container 1 (on PS4 and Xbox One).
Planets and Discoveries
Fixed an issue where extreme weather planets could fail to generate storms.
Improved the distribution of ammonia and uranium on toxic and radioactive planets.
Improved some analysis visor text descriptions.
Fixed an issue where the terrain manipulator could destroy valuable objects.
Fixed an issue where other players' discoveries could prevent fauna and flora from being scanned with the analysis visor.
Added identifiable descriptors for all anomalous planet types.
Fixed an issue where resource crystals (eg Di-Hydrogen) could be rediscovered on every planet.
Fixed an issue where many minerals would be called Yukovsite.
Allowed the torch to be used when exploring crashed freighters.
Visuals
Fixed an issue where exocraft customisation colours could be incorrect until refreshed in the customiser.
Fixed a rendering issue with oversized fungi.
Fixed an issue where stationary objects could sometimes appear blurred.
Improved the draw distance on some exotic planet objects.
System
Fixed some out of memory crashes.
Fixed a crash when quitting the game during a gesture.
As seen in the reveal trailer above, No Man's Sky update 1.75 is all about taking the sterile parts of the Galactic Map and making them more interesting for players to discover. Even with its various terrain and content updates over the past few months. There are still huge swaths of No Man's Sky that have felt empty and devoid of life since launch. With Visions, those barren spots are supposed to become more interesting.
There is, of course, a decent assortment of bug fixes here as well, but it's nice to see that list of fixes continue to shrink as Hello Games pushes out its steady stream of stable and free updates. Now more than two years removed from its disastrous 2016 launch, it's hard to think of No Man's Sky as the cautionary tale it once was. Since the release of NEXT in July, this small independent development team has iterated on its project far quicker than most fans ever thought possible. Once infamous for misleading fans, Hello Games has made promises and kept them as good or better than most triple-A studios. Visions appears to be another strong example of that.
No Man's Sky is available now on PS4, Xbox One and PC. Visions goes live on all platforms Nov. 22.
What are your thoughts on the Visions update for No Man's Sky? Will this latest patch bring you back? Tell us in the comments section!