No Money for Arts? Trump Wants to Cut Funding, So Norman Lear Will Skip White House Reception in Protest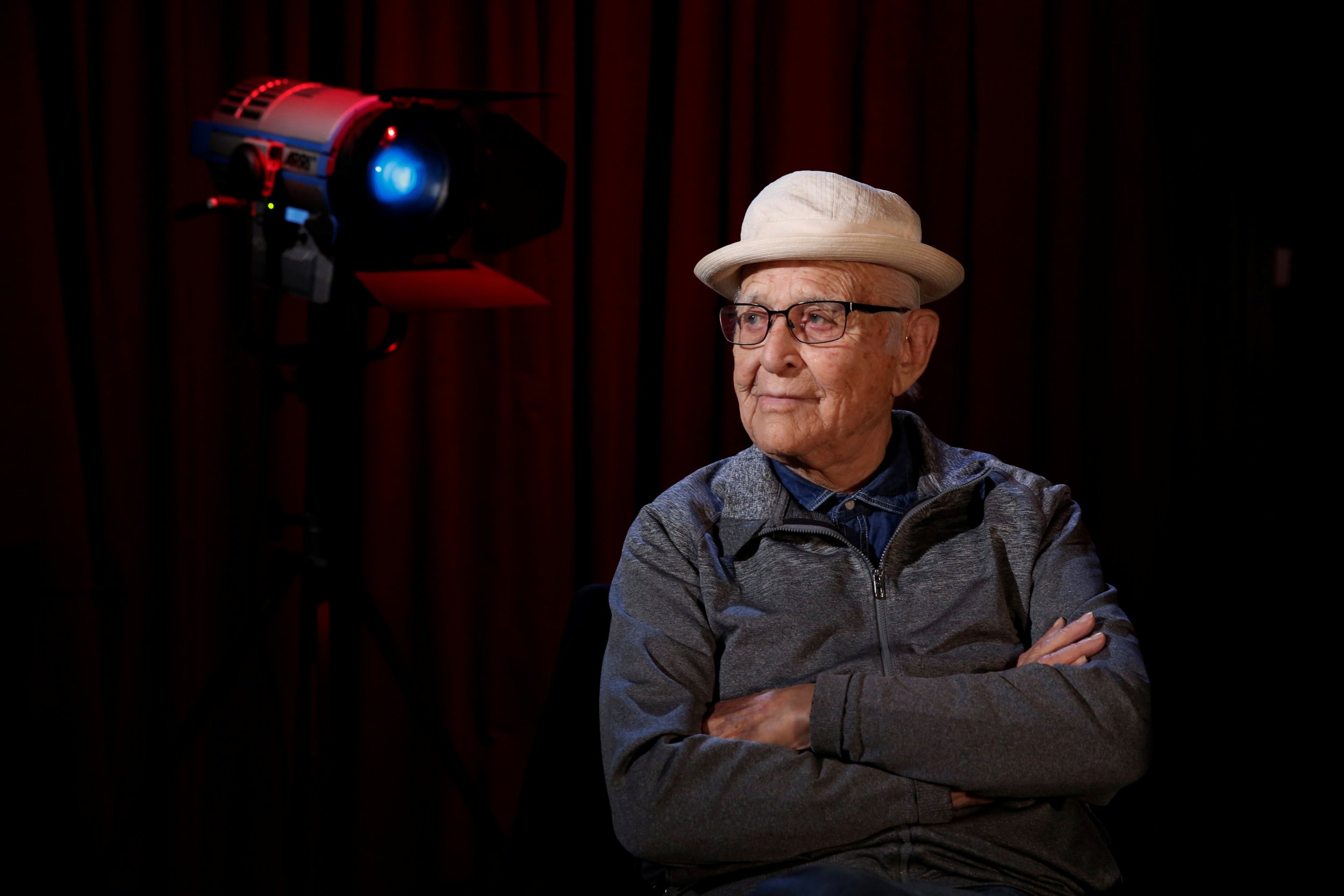 Norman Lear isn't interested in going to a reception hosted by a president who is trying to gut government spending for the arts and humanities.
The 95-year-old television writer and producer—who brought audiences shows such as All in the Family, Sanford and Son, One Day at a Time, The Jeffersons, Good Times and Maude—is one of five recipients of the annual Kennedy Center Honors, the John F. Kennedy Center for the Arts announced on Thursday.
He'd be in good company at the December gala celebrating his lifetime artistic achievement, along with those of Gloria Estefan, LL Cool J, Lionel Richie and Carmen de Lavallade. But while his fellow honorees have indicated they will attend the traditional pre-gala reception at the White House, hosted by President Donald Trump and first lady Melania Trump, Lear has decided to sit it out.
"This is a presidency that has chosen to neglect totally the arts and humanities—deliberately defund them—and that doesn't rest pleasantly with me," Lear told The New York Times.
Newsweek subscription offers >
Trump's administration has repeatedly called for the complete elimination of the National Endowment for the Arts (NEA) and the National Endowment for the Humanities (NEH) in its budget proposals for 2017 and 2018.
"It's fascinating: Now I've been working in this field for so long that we've gone full circle and gone right back to again defending the role of the NEA," Deborah F. Rutter, president of the Kennedy Center, said in February of the Trump administration's attempts to cut funding. "The funding is important, and it's symbolic," she continued. "It is art and culture which defines us."
It was Rutter who called Lear a few weeks ago to let him know the Kennedy Center had selected him as one of this year's honorees, Variety reports. Lear reportedly "told them before they accepted my acceptance, 'I will have to tell you how I feel.'" And, he said, "they understood exactly how I felt."
"I think the arts are important for our humanity, and that includes this administration," Lear told Variety. If Trump calls off his attack on government support for the arts and humanities, he added, "maybe that will cause me to change my mind."
Newsweek subscription offers >
Lear has long expressed his disdain for Trump. "I have enough confidence in the American people to believe that Trump is the middle finger of their right hand. He is [the right's] f— you to all the clowns and the establishment," he said early on in the 2016 presidential campaign, before each party had selected its nominee. "But I don't think it's going to take him all the way, and I think they'll retract that finger. They have to."
Lear's fellow honoree Estefan was his partner on the reboot of the series One Day at a Time, which came out on Netflix in January, just a few weeks before Trump's inauguration. Estefan also has been a vocal critic of the new president but sees the reception as "the perfect opportunity to make clear and express" her views to the president.
"Mr. President, as a proud immigrant of this country, it's very important for me that you see the wonderful contributions we have made," Estefan said. "We have seen a lot of anti-immigrant backlash this year, so for us, it may hold even more beauty than for someone who has lived here all their lives. To get this kind of award is so American."
No Money for Arts? Trump Wants to Cut Funding, So Norman Lear Will Skip White House Reception in Protest | Culture