Senate Republicans on Tuesday soundly rejected the Trump administration's push to include $1.75 billion for a new FBI headquarters in a stimulus package meant to combat the economic impact of the coronavirus pandemic.
GOP lawmakers, including top Republican leaders and close allies to President Donald Trump, said they did not understand why the unrelated funding was included in the $1 trillion package and would support excluding it from any legislation that is eventually passed.
"I am opposed to non-germane amendments, whether it's funding for the FBI building" or other non-coronavirus measures included in previous proposals, Senate Majority Leader Mitch McConnell said. As examples, he cited House Democrats' $3 trillion stimulus plan in the Spring that included money for some undocumented immigrants, marijuana studies and tax cuts that would overwhelmingly benefit the wealthy.
"When we get to the end of the process, I would hope that all of the non-COVID-related measures are out, no matter what bills they were in at the start," the Kentucky Republican added.
The stark remarks from the majority leader were a clear and direct message to the White House that support for such an endeavor among Republicans was lacking. The FBI money, which would pay for the bureau to rebuild a new headquarters at its current location in downtown Washington, D.C., had become a distraction to ongoing negotiations with Democrats.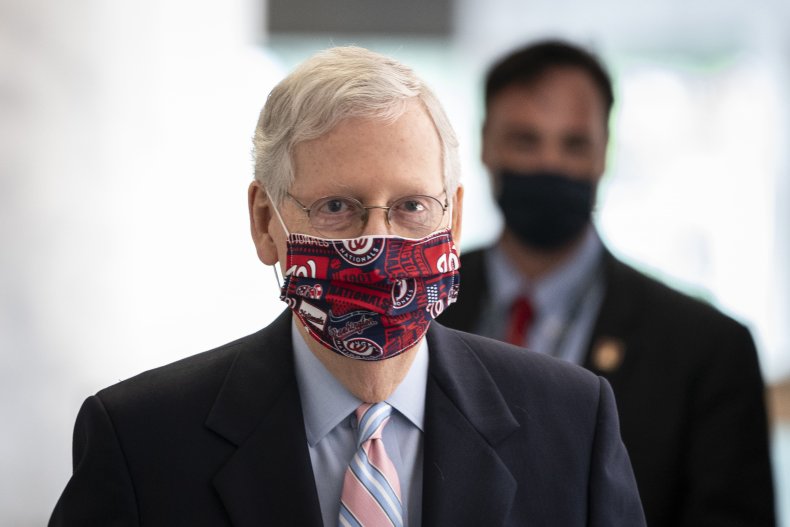 White House Chief of Staff Mark Meadows, a key coronavirus relief negotiator acting on behalf of Trump, conceded the funding was unrelated but saw an opportunity to get it passed.
"There are a number of things in the last bill that had nothing to do with the coronavirus," Meadows told Capitol Hill reporters as he met with Republican and Democratic leaders throughout Tuesday. "I think everybody acknowledges that it's a funding mechanism. And I don't see it standing in the way of us getting a deal."
While the White House has said the funding is "critical" in order to "keep the building responsibly near the Department of Justice," keeping the FBI's headquarters across the street from President Trump's D.C. hotel has long been a priority. Trump in 2017 nixed plans for the FBI to construct a modern headquarters just outside of the city, causing Democrats to allege that personal gain is Trump's motivator because re-location would mean a business competitor could obtain the prime real estate spot across from his hotel.
First questioned Monday evening about the $1.75 billion after the stimulus bill was unveiled, McConnell appeared unaware the funds were allocated before punting the matter to the White House, saying the provision was a direct result of their demand.
But his pointed opposition Tuesday echoed many of what his fellow GOP colleagues told reporters throughout the day: The FBI money needs to go.
"That makes no sense to me," Senator Lindsey Graham (R-S.C.), a Trump confidant, said of the $1.75 billion. "I'd be okay with stripping it out."
"I didn't expect seeing it there," said Senator John Barrasso (R-Wyo.), a leadership member. "I'd rather have this go through the regular appropriations process."
"If somebody can explain to me how—I just don't get it," Senator Rick Scott (R-Fla.) said. "I mean, how's it tied to coronavirus?"
Senator Mike Braun (R-Ind.), as Meadows walked nearby into a closed-door GOP lunch to talk about the stimulus, told reporters that "even if the White House wanted it, I'd be against it because it's certainly not necessary."
Senator Pat Toomey (R-Pa.) said he "was a little surprised" to see the FBI funds.
The White House did not immediately respond to Newsweek's request for comment on Tuesday about the push by McConnell and Republicans to strip the money from the GOP stimulus proposal.