'No More Masks!': Video Shows Parents Erupting After Tennessee School Board Reimposes Mandate
A special session held by Tennessee's Williamson County Board of Education on Tuesday lasted nearly four hours and resulted in a temporary mask mandate for students, staff and visitors at the elementary grade levels inside all buildings and buses. This new mandate took effect on Thursday and will end September 21.
The meeting drew people to participate in a heated public comment portion to discuss whether students should continue wearing a mask.
Most of the people who attended were not wearing masks and said parents should be the ones to decide if their child would wear a mask to school. The masked attendees expressed their concern over the Delta variant and how quickly it can spread to other children and members of the staff.
One parent, who identified himself as an emergency room doctor, said he sees children and adults with COVID-19 every shift he works.
"The masks are not any harm at all," he said during the public comment period. "If we don't mitigate this, we're going to have so many positive cases. We're arguing over masks in school, but we're not going to have school in session because we'll have teachers out, everyone is going to be quarantined and we're going to be at home again. Masks will allow us to stay in school most of the time."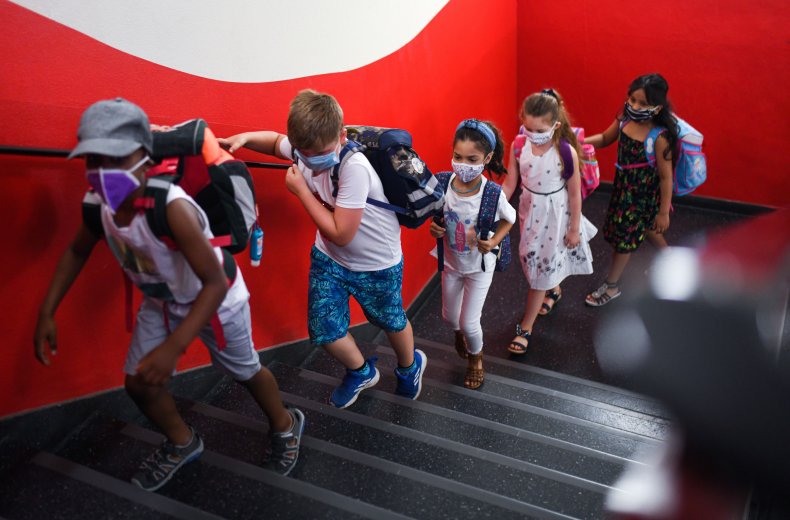 WCS Superintendent Jason Golden said he took several factors into consideration when he made the recommendation to pass a mask mandate for the elementary schools, including the area's vaccination rate, the number of positive COVID-19 cases in the community and the new guidance for schools released by the Centers for Disease Control and Prevention.
As of August 4, the CDC updated its guidelines to recommend universal indoor masking for all students, staff, teachers and visitors to K-12, regardless of vaccination status.
Since school reopened on August 6, Golden said 25 elementary school students tested positive for COVID-19.
Golden was frequently interrupted until one dissenting man was escorted out of the meeting by Williamson County Deputies. Members of the crowd then chanted "No more masks" before the meeting took a short pause.
"What we are recommending is the best judgment we have based on all the analysis we have," Golden said.
According to The Tennessean, hundreds of people showed up for the meeting before it started. The chair of the school board Nancy Garrett said she received 781 emails from people requesting a mask mandate and 348 emails from people who did not want a mandate.
The Tennessean also reported that the district cannot switch in-person schools to remote learning if cases surge due to a change in state policy.
Communications Director Carol Birdsong told Newsweek if an elementary student is sent to school without a mask, they will be provided with one. She also said the district did not receive this much pushback on students wearing masks from parents last year.