No More Snow Days: New York School Districts Can Replace Them With Virtual Learning
Excitedly hoping for snow days and the strange rituals that precede them may be a thing of the past for New York students. The state recently told school districts that they'll be allowed to replace snow days with virtual classes in order to keep students and educators on track.
In a memo sent out to districts, schools and the Boards of Cooperative Educational Services this month, the State Education Department notified educators and school staff of a one-year "Snow Day Pilot Program" that'll provide districts with flexibility to meet local needs and expectations during the coronavirus pandemic.
"The Department is establishing a one-year pilot to enable school districts, at district option, and consistent with each district's re-opening educational plan, to pivot to remote instruction to provide continuity of instruction on what would otherwise be a day of school closure due to a snow emergency," said Director of Education Finance Brian S. Cechnicki in the memo.
The plan will be effective throughout the 2020-21 school year. At the end of the year, the Department will review the outcomes and evaluate whether they will continue this flexibility effort in subsequent years.
Eliminating snow days in favor of online learning will be done at the discretion of local school districts, with each district deciding if they want to implement this plan individually.
New York Governor Andrew Cuomo announced on Tuesday that every K-12 school will be issued a daily "COVID-19 Report Card," indicating testing information and case data, while also scoring how well each school is implementing reopening plans ahead of students returning in-person in September.
"I think this will give parents confidence, teachers confidence, they'll know on a day-to-day basis exactly what is happening," said Cuomo at a press briefing. "They won't be reliant on communication from the school district, from the principal, from anyone else."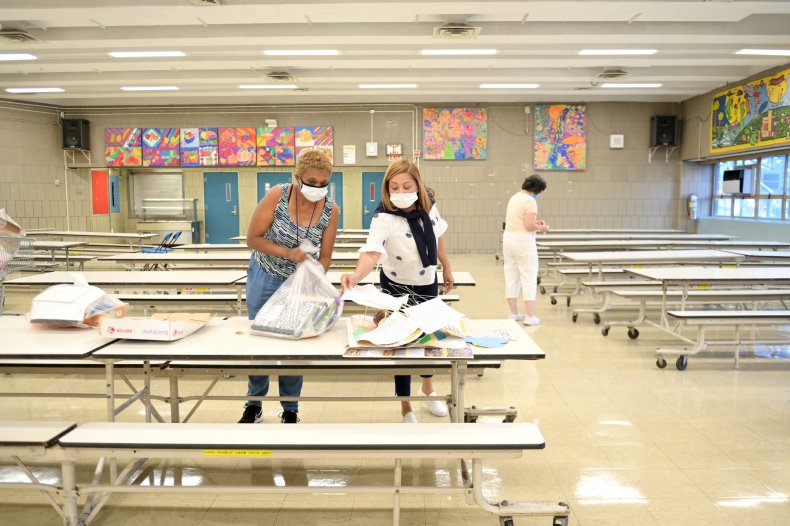 The New York State Department of Health will publicly report information provided by each state school district. This will allow parents to see how many positive cases are reported, the number of students at school, the percentage of students and staff testing positive and the number of tests administered by the school.
Last month, Cuomo announced that all 749 New York school districts—including New York City, which contains the largest school district in the country—can safely reopen in September. He commissioned school officials in each district to formulate their own back-to-school plan.
New York City public schools, however, reported that they will delay the start of the school year until September 21, after local labor unions asked for more coronavirus safety plans and regulations in schools.