No, Most Latinos are Not Undocumented | Opinion
"Is your mother undocumented?" a colleague once asked me.
It was during a conversation about undocumented students at the university where I teach and how they were vulnerable to stress and deportation during the Trump administration.
"No," I said and walked out of her office dumbfounded.
How she made the leap from me talking about some of my students to an intrusive question about my family background still bothers me.
A new poll may explain her question. It found that most Americans overestimate the number of Latinos they think are undocumented. They put the number of undocumented immigrants in the U.S. at almost three times larger than the reality.
Those polled estimated the Latino undocumented population to be 33 percent when the actual percent of Latinos undocumented is 13 percent, according to data from the U.S. Census and the Department of Homeland Security.
Two-thirds, or 67 percent of Latinos who live in the U.S. are native born and 79 percent are U.S. citizens, including those who are naturalized citizens. The rest who are not undocumented are either permanent residents or have temporary status.
Why do these numbers matter?
They matter because when most Americans think a sizable portion of U.S. Latinos are undocumented immigrants it leads to misrepresentation in society in general and in the media in particular.
It's Hispanic Heritage Month and it's time more people learn about the Latinx community and their contributions.
The total economic output of U.S. Latinos reached $2.7 trillion in 2019 and the GDP growth from 2010 to 2019 for U.S Latinos outpaced Germany, the United Kingdom and Japan, according to a study by the Latino Donor Collaborative.
Latinos started more small businesses than any other racial or ethnic group in the U.S. over the past 10 years. The number of Latino-owned businesses has grown 34 percent over the last 10 years compared to just 1 percent for all other small businesses, according to the 2020 State of Latino Entrepreneurship report released by the Stanford Graduate School of Business.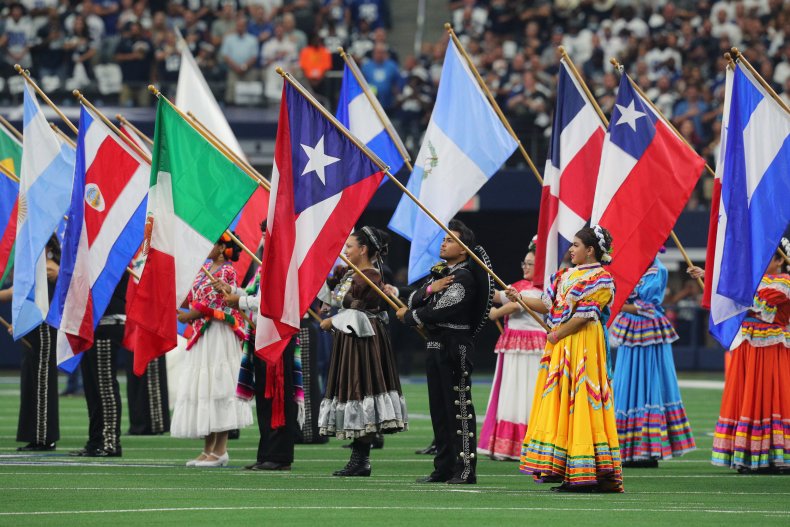 Despite inequitable access to credit, Latinos are also increasing their home ownership rate more than any other racial or ethnic group, according to a recent study by the Urban Institute. The study projected that from 2020 to 2040, 70 percent of new homeowners will be Hispanic.
There are 62 million Latinos in the U.S., around 19 percent of the total U.S. population. Some identify as Latino, Hispanic, or Chicano/Chicana. Latinx aims to be a gender neutral term but it is not widely used. Around half of Latinos identify more with their country of origin such as Mexican or Mexican American or Cuban or Cuban American.
Still, diverse Latino communities are not adequately reflected in film and media.
The latest report from the USC Annenberg Inclusion Initiative found that only 7 percent of 2019's top films featured a Hispanic/Latinx lead or co-lead, and just 3.5 percent of leads/co-leads across the 13-year sample were Hispanic/Latinx.
Their characters are often stereotyped as criminals, poor or foreign. Almost a third of Hispanic/Latino speaking characters across 100 movies of 2019 were depicted as criminals, the study found. Also, 13.8 percent of all Hispanic/Latinx speaking characters were depicted as poor and 8.5 percent of speaking characters were portrayed as foreign.
The Congressional Hispanic Caucus asked the U.S. Government Accountability Office (GAO) to investigate and they released a study last month. U.S. Representative Joaquin Castro (D-Texas) called for more Latino representation in the media.
"None of this has been an effort to tell people exactly what to write, but to encourage that media institutions reflect the face of America. Because then we believe that the stories will be more accurate and more reflective of the truth and less stereotypical," Castro said in an interview with The Associated Press. "American media, including print journalism, has relied on stereotypes of Latinos. If the goal is the truth, well that certainly has not served the truth."
The GAO report found in 2019, Hispanics made up an estimated 12 percent of the media industry workforce compared to an estimated 18 percent of workers in the rest of the workforce. Hispanics also made up an estimated 8 percent of the newspaper, periodical, book and directory publishers' workforce. Approximately 11 percent of news analysts, reporters and journalists were Hispanic.
This lack of representation has been a driver for my 25-year career in journalism to tell more fair and accurate stories about Latinos in the U.S. and also to train young journalists to do the same.
It's maddening to see the figures change only slightly year after year. It is up to everyone in media to create change so that the Latino community is portrayed with accuracy and complexity.
It's also important that we tell immigrant narratives, but ones that are not exploitative or sensational and also tell more stories about the contributions of immigrants to the U.S. It's frustrating that some people assume that I, or my mother, or most Latinos, are immigrants.
I'm a fourth-generation Mexican American in the U.S. in case you were wondering. But I shouldn't have to explain myself.
The next time someone asks me if my mother is undocumented, I will ask, "Is yours?"
Teresa Puente is an assistant professor of journalism at Cal State Long Beach, a senior facilitator with The OpEd Project and co-editor of the forthcoming book Reporting on Latino/a/x Communities: A Guide for Journalists.
The views expressed in this article are the writer's own.