With No NHL, Manufacturer Bauer Will Produce 2,000 Protective Visors a Day to Help First Responders Battle Coronavirus
With the coronavirus pandemic causing the NHL to suspend the remainder of its season, hockey equipment and apparel manufacturer Bauer will use its resources to produce 2,000 protective visors a day to send to first responders battling the virus.
Dan Bourgeois, vice president of Bauer Hockey's product innovation, recently spoke with Canadian sports news site RDS.ca to detail the company's plan to send the visors. The new plan came to fruition after a videoconference meeting where managers asked their research and development specialists to come up with new ways to use Bauer's platform and resources to help combat the coronavirus, according to RDS.
"We contacted Quebec government officials to tell them about our project. We are awaiting their authorization and will be ready to launch our production as soon as we have received the green light. We could deliver our first visors as of next week," Bourgeois told RDS.
Bauer's move comes as the coronavirus is running rampant throughout the world, infecting over 438,000 people, according to a Johns Hopkins University tracker. In Canada, there are at least 2,792 confirmed cases and 27 deaths, which has led to a number of business and travel restrictions, including the closing of all nonessential businesses.
Bourgeois told RDS that during the NHL season Bauer normally has "between 50 to 80 people who makes skates for professional hockey players," but the pandemic has forced a number of those employees to work from home, as well as stopping all production of hockey equipment.
As for the design and production of the visors, Bourgeois explained that Bauer used molds and created a prototype that was presented to a doctor who is the father of one of the company's employees. He also noted that the current model is for "single use," but the company is in the process of creating one for "permanent use."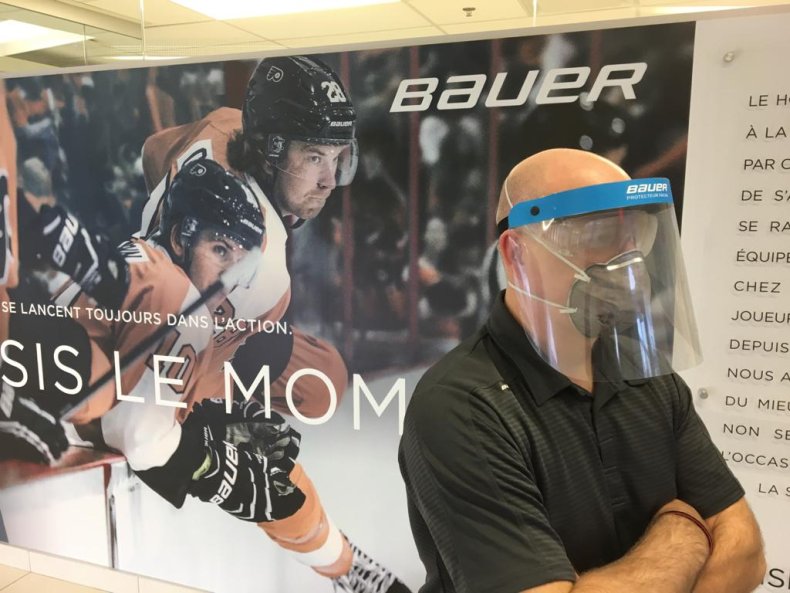 "We wanted to test the safety and comfort levels of our visor, which resembles a mask normally used to perform welding work," Bourgeois told RDS. "We have refined our visor and arrived with the model that we are ready to produce."
Bourgeois told Newsweek that in order to produce the visors, Bauer was able to use many of the same resources it employs to produce its hockey equipment. "We slightly modified our assembly line, but [it] wasn't so complex," he said.
While Bauer's production facilities are able to produce 2,000 visors a day, Bourgeois said they have the necessary materials to produce 10,000. According to RDS, the Montreal's police department has already contacted the company to obtain details about the visors and "on the possibility of ordering 50,000."
Bourgeois also told Newsweek that Bauer is ready to offer the visors to hospitals and medical facilities in the U.S. as well as Canada. "We are also deploying the same products to our manufacturing site in Liverpool, New York."
He added, "We are working nonstop and not counting hours to deploy a solution ASAP to help the community."