No One Agrees on Mammography Guidelines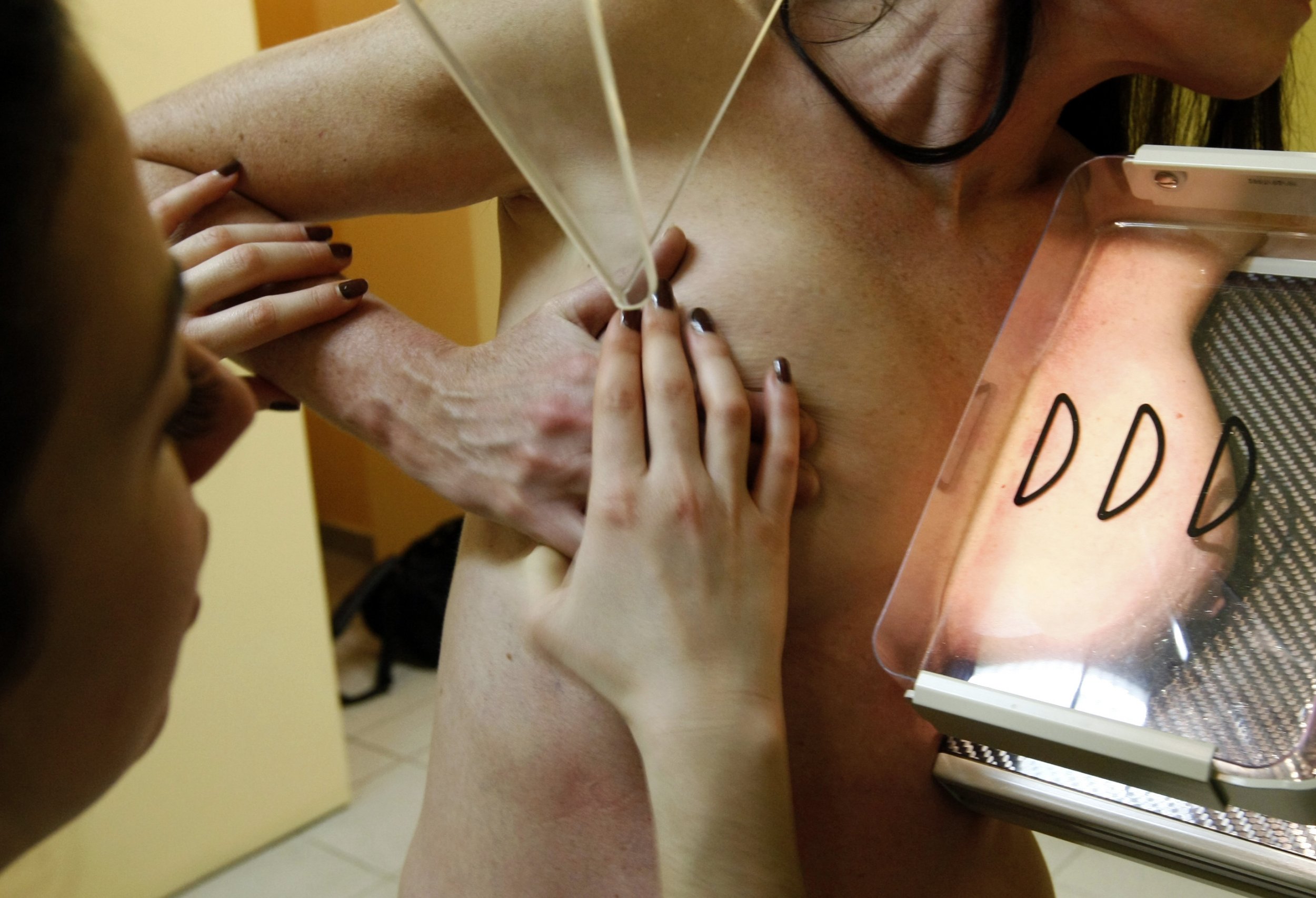 Breast cancer is a leading cause of death in women, which is why physicians and women's health advocates are adamantly in favor of routine screening. However, in recent years, many experts and researchers have started to question when—and how frequently—to screen for the disease, which is diagnosed in one of eight women in the U.S.
On Tuesday, JAMA published updated guidelines for breast cancer screening from the American Cancer Society (ACS). The ACS last updated its breast cancer screening recommendations in 2003. Critics of the new guidelines say they are not sufficient for early detection of breast cancer or for reducing the mortality rate for the disease. The other problem is that the guidelines—based on an analysis of existing studies and additional research conducted by the ACS—are much more complicated than the 2003 recommendations.
Up until this point, the ACS and many other organizations recommended that all women begin annual breast cancer screening with mammography starting at age 40 and continue through her life as long as she's in good health, or has a life expectancy of at least 10 more years. But the ACS now recommends a woman with an average risk for breast cancer begin annual mammography at 45 and move to biennial screening when she turns 55. The ACS also now recommends against clinical breast exams; they say the research doesn't support it as a reliable way to screen for cancer.
The ACS says its guidelines aren't meant to dissuade a patient from starting screening earlier if she wants to, especially in cases where a woman already is a breast cancer survivor, or has a known family or genetic history of the disease such as mutations in the BRCA 1 and BRCA 2 genes. (Genetically inherited breast cancer accounts for less than 10 percent of diagnoses.)
"The new guideline is more personalized and tailored, and it creates a roadmap to guide a woman's screening decisions throughout her lifespan," says Dr. Richard Wender, chief cancer control officer at ACS and co-author on the guidelines. "It will require that women have a richer understanding of the different recommendations matching to different age groups."
However, some say the ACS guidelines don't match up with recommendations from other professional organizations, making it challenging for a woman to feel confident about her decision on when to get screened. This is despite the fact that mammography detects approximately 84 percent of breast cancers in patients, according to the Susan G. Komen Foundation.
In 2009, the mammography debate took center stage when the U.S. Preventive Services Task Force (USPSTF) updated its breast cancer screening guidelines, recommending that women undergo annual mammograms beginning at age 50 rather than 40. The panel, which is made up of independent physicians and supported by the U.S. Department of Health and Human Services, concluded that there isn't enough data to support screening women before age 50. The USPSTF, which updates guidelines approximately every five years, is expected to release its latest recommendations soon; a draft of their newly revised guidelines was up for public comment in the spring. As it stands, the panel hasn't changed its view on breast cancer screening before age 50.
"We both found that the benefit of mammography increases with age, with women in their 50s, 60s, and early 70s benefiting most from regular mammography screening," the USPSTF said in a statement. "The USPSTF's draft recommendations and the new ACS guidelines both recognize that a mammogram is a good test, but not a perfect one, and that there are health benefits to beginning mammography screening for women in their 40s."
Guidelines created by professional societies and organizations such as the USPSTF and ACS inform the decisions of millions of physicians and patient. But they also, in part, determine access to affordable preventive care. For example, under the Affordable Care Act, insurance companies are only required to cover screening tests for which the Task Force assigns a grade of A or B; in the 2009 guidelines, the USPSTF assigned a C to breast cancer screening with mammography for women under age 50.
The USPSTF hasn't said when it will release the final version of its updated guidelines. Wendel says the ACS didn't time the release of its guidelines to pressure the USPSTF to recommend earlier screening this time around. However, the USPSTF says it will consider the ACS's research when finalizing recommendations in the coming months.
A number of other organizations, such as the American College of Obstetrics and Gynecology (ACOG) have stuck with guidelines that advocate starting screening earlier. In response to the new ACS guidelines, ACOG issued a statement affirming the benefits of beginning breast cancer screening at age 40.
"We recognize that guidelines and recommendations evolve as new evidence emerges, but currently ACOG continues to support routine mammograms beginning at 40 years as well as continued use of clinical breast examinations," ACOG said in a press statement. "ACOG recommendations differ from the American Cancer Society's because of different interpretation of data and the weight assigned to the harms versus the benefits."
Dr. Therese Bevers, medical director at MD Anderson's Cancer Prevention Center in Houston, says she and her colleagues will continue to recommend patients begin routine mammography at age 40. "They seemed to have an overly strong emphasis of the harms at the expense of the benefits," says Bevers of the new ACS guidelines." In the harms analysis, one is presupposing that all women agree that a false positive is a harm. It doesn't consider the flipside of the coin: What are the harms of not screening?"
And statistically, the harms could have real consequences. For women, breast cancer risk increases with age. At 30, approximately 1 in 233 women have a 10-year risk for breast cancer. By age 40, that skyrockets to 1 in 69. Bevers says it's especially hard to argue in favor of screening women every other year starting at age 55 because the 10-year risk for patients at age 50 is 1 in 38.
On the other hand, approximately 10 percent of women who undergo routine mammography will receive a false positive at some point in her lifetime. False positives are especially common in younger women, who are more likely to have dense breasts that make it challenging to differentiate between healthy tissue and potentially cancerous growths in medical imaging. Studies find false positives frequently result in added anxiety and distress for patients. For most women, the worry goes away once additional imaging tests confirm a negative diagnosis. But Wender says studies do show that some patients continue to experience anxiety long after, and—perhaps most importantly—may in the future opt out of routine screening completely as a result.
The issue of overdiagnosis is more complex. For example: Mammography can detect ductal carcinoma in situ, a type of tumor made up of abnormal cells that hasn't spread but could become invasive cancer in the future, but otherwise isn't life-threatening. But because there's no certainty that these abnormal growths would have actually turned into invasive breast cancer, it's possible that many women in these situations end up going through treatment such as chemotherapy when they don't actually need it.
One study published July in JAMA found that when rates of breast cancer screening increased by 10 percent, diagnoses of breast cancer increased by 16 percent. This included a 25 percent increase in the number of detected tumors that measured 2 centimeters or smaller, which probably otherwise wouldn't have been life-threatening to the patients.
Bevers says physicians are as frustrated as patients by all of the conflicting opinions. In January, members of the ACS, USPSTF, ACOG, American Academy of Family Physicians, American College of Radiology and other organization plan to meet at the Breast Cancer Screening Conference to reevaluate research in the hopes that all of the groups, with patients' best interests in mind, can reach some consensus.
"I think the concern for having all these differing recommendation is that you can't remember all of these details," says Bevers. "It's going to create inertia and women will say 'I don't know what I'm going to do, so I'm going to do nothing.'"