No Pants Subway Ride 2019: Photos from Around the World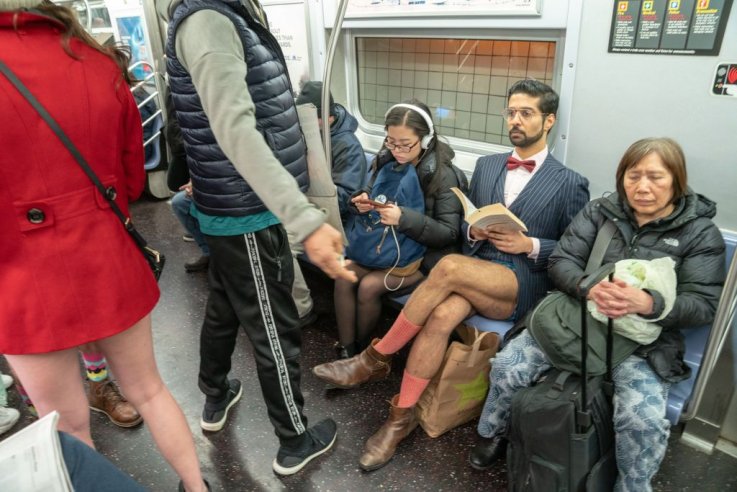 Passengers on public transport systems around the world were treated (if that's the word) to the sight of their fellow commuters' underwear yesterday during the 18th annual "No Pants Subway Ride."
What is the No Pants Subway Ride? It's exactly what it sounds like. As the event's website puts it: "The idea behind the No Pants Subway Ride is simple: Random passengers board a subway car at separate stops in the middle of winter without pants. The participants behave as if they do not know each other, and they all wear winter coats, hats, scarves, and gloves. The only unusual thing is their lack of pants."
Participants are instructed to maintain a nonchalant air, behaving as though everything were normal. "Remember," advises the website, "taking photos is not keeping a straight face. Enjoy the experience and resist the urge to document. Take those Instagram shots when the ride is over."
The website tells particpants that if their fellow passengers ask them why they aren't wearing pants, they should reply that they simply forgot to put them on. They should also insist that it is a coincidence that others also forgot their pants.
"You can wear fun underwear if you like, but nothing that screams out, 'I wore this because I'm doing a silly stunt.' Wear two pairs of underwear if it makes you feel more comfortable. Don't wear a thong or anything else that might offend people. Our aim is to make people laugh, not piss them off," say the organizers.
The event began in 2002 in New York with only seven participants and has grown into a global phenomenon, with events in more than 60 cities around the world. The day is coordinated by Improv Everywhere, who call it "an international celebration of silliness."
Detroit Auto Show 2019: New Trucks, SUVs and Cars at NAIAS
The slideshow below features photos of No Pants Subway Rides in New York City, London, Berlin, Warsaw and Amsterdam.