No Pants Subway Ride 2019: Dates and Cities, When and What Is It?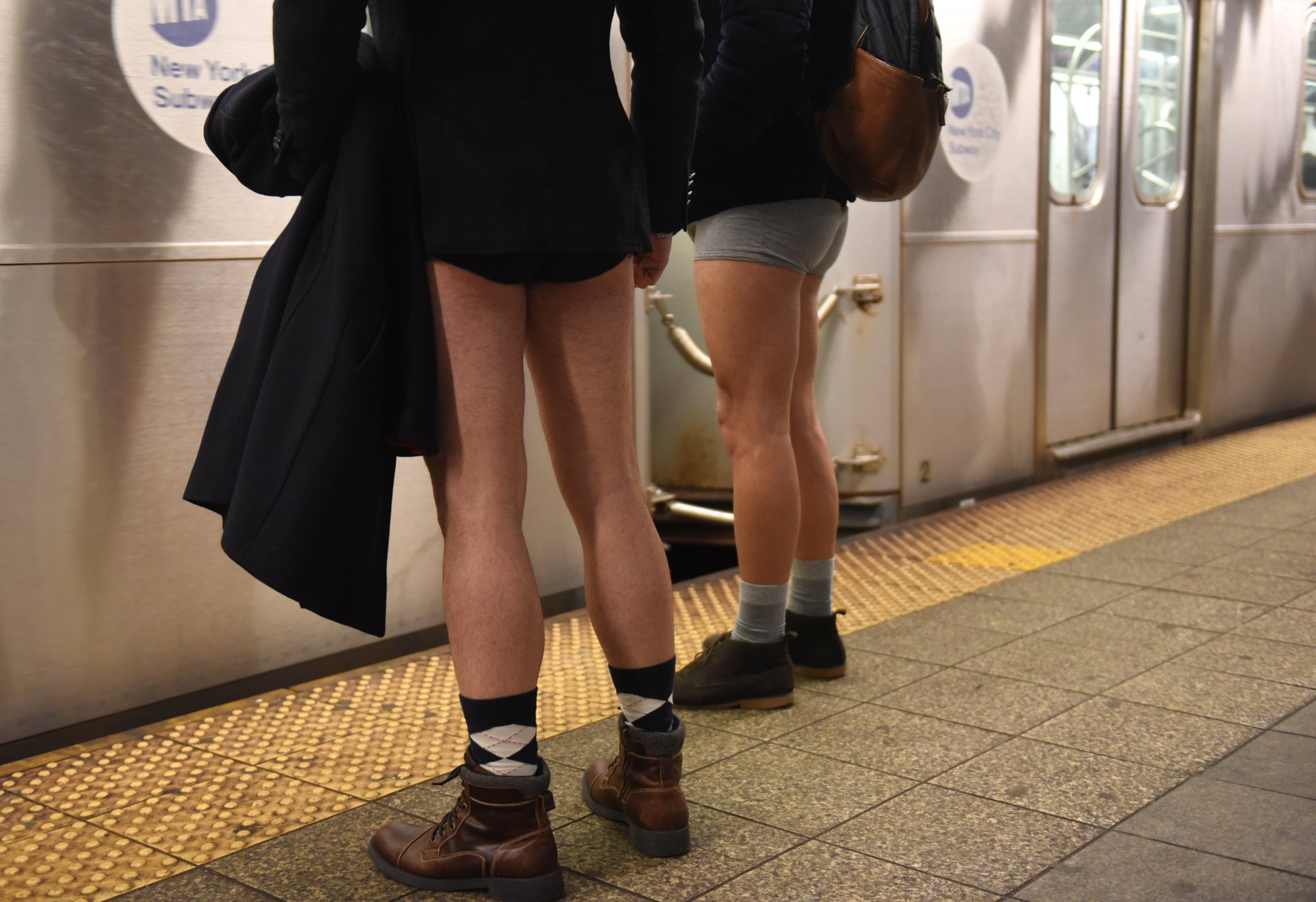 A public transportation tradition that started nearly 20 years ago is scheduled for this weekend in New York City and other countries around the world.
The No Pants Subway Ride is an event arranged by Improv Everywhere that involves exactly what it sounds like, subway and public transportation riders reaching their destinations with no pants on. The requirements for participation, as listed on the Improv Everywhere website says participants only have to be "willing to take pants off on subway" and "able to keep a straight face about it."
Read more: No Pants Subway Ride 2019: Photos from Around the World
"The idea behind the No Pants Subway Ride is simple: Random passengers board a subway car at separate stops in the middle of winter without pants. The participants behave as if they do not know each other, and they all wear winter coats, hats, scarves, and gloves. The only unusual thing is their lack of pants," according to Improv Everywhere.
This year the event is scheduled for Sunday, January 13. The event in New York has six different meeting points throughout the many boroughs and parts of the city for those who wish to participate. Each city around the world has a Facebook event organized with details about times and meeting points.
The first time the No Pants Subway Ride took place was 2002 in New York City and only seven people participated in it. It's since expanded to include more than 60 cities around the world, according to Improv Everywhere.
Improv Everywhere recommends that participants bring their normal winter clothes for before and after their subway rides due to the winter conditions that are expected. In New York as of Monday, the forecast for Sunday was calling for a few inches of snow and a high of 35 degrees.
Pantless rides are planned for cities across the United States. On Sunday there will be bare-legged riders in Boston, Chicago, Dallas, Hartford, Connecticut, Phoenix, Portland, Oregon, San Francisco, Seattle and Washington D.C. In Los Angeles, the event was scheduled for Monday the 7.
Some of the rides have after parties planned for those over the age of 21 while others are simply a group ride on the public transportation of the city. The links to all of the Facebook events for each event are available online from Improv Everywhere.
Other rides are also planned for Canada, Australia, England and other countries as well. The organizers recommend that those participating also bring a backpack and of course a metro card or whatever type of card or money they need to access the transportation of their choice.​